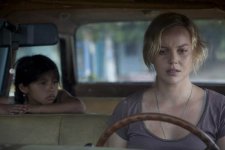 The Girl
Surrogate parents - both unwilling and keen - a cropping up a lot at this year's Tribeca Film Festival. In The Girl, Abbie Cornish puts in a compelling turn as a mum with alcohol issues, whose son has been in foster care since she was caught drink driving with him in the car.
Struggling to keep it together in a bid to win him back, Ashley is also grappling with her loving but difficult relationship with her often-absent trucker dad Tommy (Will Patton). One day, when travelling in his truck from his home in Mexico to hers on the other side of the Texan Border, she realises he's carrying some living, breathing cargo. Desperate to improve her lot and get her son back, she hatches an ill-thought-out plan to be a sort of cut-price coyote. Things, inevitably, do not go according to plan and she finds herself stuck with a young Mexican girl and no clue what to do with her.
There is a lot to enjoy in David Riker's film, the anti-heroine of which carries with her shades of Michelle Monaghan's struggling mum in Trucker. The film is beautifully shot by Martín Boege - whose CV also includes excellent DoP work on El Violin - and Cornish manages to combine just the right combination of fear and steel to make Ashley difficult but still sympathetic.
Non-professional actress Santiago Maritza is perfectly cast as the girl of the title, bringing a wealth of sympathy to the role, while playing naturalistically off Cornish. Riker's scripting also has plenty of bounce, mixing humour in with the more heart-string tugging aspects of the story, with Patton, in particular, getting many of the best lines, such as "One thing I learned from Jesus is don't be a damned martyr!"
Ashley has a sort of kinship with the main character in Cedric Kahn's A Better Life, Yann (played by Tell No One director Guillame Canet). He, too, is struggling to get by, when he meets single mum Nadia. The pair of them share big dreams of the future for them and Nadia's son Slimane but as their loan pyramid begins to collapse, Yann is left in loco parentis of Slimane while Nadia heads to Canada in hope of finding work. Although Kahn's film has its moments, it suffers from the rambling plotline that, necessarily, dumps Nadia out of the picture for what feels like too long. Canet is a personable lead and Slimane Khettabi shows plenty of spark as Nadia's young son but the film's lethargic pacing means it never really gets the emotional hold on you that you suspect Kahn is aiming for.
On a side note, with three films - admittedly originally in three languages - having now used the title A Better Life in the past five years, upcoming filmmakers would be well-advised to think of some other way of describing families in dire straits hoping for better.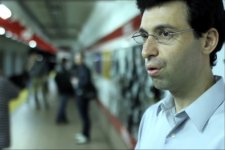 Family connections of an altogether less fortunate kind cast a shadow in Alex Karpovsky's directorial debut Rubberneck. The ubiquitous Karpovsky - currently getting plenty of heat for his small-screen role in Lena Dunham's Girls - features in two films at this year's Tribeca (the other is Supporting Characters) and is fast becoming one of indie film's most recognisable young stars.
Although Rubberneck is flawed, he also shows considerable promise at the other end of a camera lens, with this tale of obsession and succeeds in pulling double-duty as the film's star in a role that is considerably darker than those we're accustomed to seeing him in. He plays lab rat Paul a loner who, in the first few scenes of the film, strikes it lucky with colleague Danielle (Jaime Ray Newman). What he sees as happy-ever-after in the making, however, she views as altogether more temporary - but Paul just can't find a way to let go.
The film works best in the early scenes where there is a creeping dread inherent in Paul's attitude. He remarks that the guinea pigs they keep in the lab need human touch or they get jittery - and he could be talking about himself. This low-key stalking has a European feel - recalling the likes of Insomnia or some of Claude Chabrol's insinuating examinations of love and jealousy. Sadly, however, the film increasingly conforms to more cliched Hollywood ideas, with 'redemptive' aspects that would have been better left unexplored. Nevertheless, the film is interestingly shot, well acted and likely to act as a strong calling card for Karpovsky in future.
Away from the screening rooms, there's always plenty to think about in New York and I'm struck particularly by a street-side rose seller urging people to "romantalise someone tonight" on my way home. Somehow, that suggestion carries with it an ominous, almost Taxi Driver overtone - "forget getting organazized, get romantalazized!". As Rubberneck shows, 'romantalising' may not always be welcome.
Share this with others on...