Planet of Snail
Chatting to Town Of Runners director Jerry Rothwell on the eve of Tribeca Film Festival (read that interview here), he says he has always thought of documentary subjects being all around us and my first couple of days at this year's New York extravaganza certainly bear that out, with even two of the narrative features I catch having a strong documentary vibe.
Of those dedicated to factual storytelling, Planet Of Snail proves the most winning. This moving film - which took home the top prize at the Indernation Documentary Festival of Amsterdam and also played Glasgow Film Festival earlier in the year, charts the unusual and life-affirming love story between deaf-blind would-be writer Young-Chan and his wife - who has a disability of her own - Soon-Ho. The film is as quietly poetic as the snow falling outside the couple's apartment window. Documentarian Seung-Jun Yi is a careful observer, showing us how they communicate through hand taps and a shared life philosophy, when even the seemingly smallest of tasks - such as changing a light bulb - become a testimony to love, teamwork and triumph over adversity.
Off Label, meanwhile, is from the other end of the documentary spectrum, attempting to tackle the mult-headed beast that is big pharma. It includes an examination of what drives people to be human guinea pigs and the ethics surrounding drug studies and "polypharmacy" - the act of prescribing someone what seems to be almost a chemist's worth of drugs without stringent monitoring. Michael Palmieri and Donal Mosher have taken on a lot here and despite the film being well shot and edited, this does take its toll. The actual off-label usage of pyschiatric drugs - the point at which a medicine is used by a doctor for something that it was not tested for, for example, using a depression treatment for insomnia - feels under-explored and the lack of any observations from doctors als rankles. That said, they do a good job of showing how pharamaceutical companies have managed to stitch themselves into the very fabric of US society with a particularly unhealthy impact on the poor and vulnerable.
Una Noche - the debut feature from Brit Lucy Mulloy - is a narrative tale but one that is clearly informed by true stories and infused with a strong documentary aspect. Mulloy spent years in Havana researching her story, which she says aims to capture the "raw energy concealed in the youth" o Cuba. She has done a pretty fine job, showing the contrast between the youthful expectations of those coming of age in the communist country and the crumbling facade of 'old' Cuba. The film tells the story of a brother and sister and the brother's friend who, for very different reasons, decide to try to make it by raft to Florida. Her young cast bring vitality to there roles and, although I'm never crazy about narration, Mulloy has the good sense to use hers against images that immerse us in Havana. By the time the film reaches its climax we are fully invested in the characters, while simultaneously aware that tragedy is likely to cast its shadow.
More stylised in execution - and featuring some visually striking 'ghost' sequences - War Witch's documentary aspect stems from its story more than its setting. There have been plenty of films documenting the plight of those kidnapped from villages across Africa - including Sudan (War Child), Uganda (The Other Side Of The Country) and Congo (Lumo) - and Canadian-based filmmaker Kim Nguyen draws on a real story that took place in Burma to tell the tale of Konoma. We meet her when, as a 12-year-old, she is forced to shoot her parents by rebels before being schooled in the ways of drugs and a gun. Nguyen then takes us on her journey, through some very dark places indeed, as she tries to regain her freedom. Hotly tipped at Berlinale, where she won the Silver Bear, non-professional actress Rachel Mwanza is heartbreakingly good in the central role.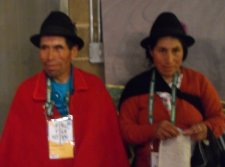 With documentary still on my mind, I mingled with some of the makers at the documentary meet-and-greet. The most striking guests were Ecuadorian Baltazar Ushca and his daughter. Both are in New York for the first time for the screening of The Last Ice Merchant - Sandy Patch's documentary about Baltazar's dying trade. I'm told his daughter has been knitting constantly to help calm her nerves - she was half way through her second scarf of the day when I took my photograph. I can only imagine the huge culture shock that flying from remote and rural Equador to the massive city of Manhattan must be like, it freaks me out sometimes and I come every year.
Among the short films I'm hoping to be checking out and bringing you details of in the next few days are window-cleaning tale Paraiso (www.paraisofilm.com), The Last Ice Merchant (www.railroadinthesky.com), Haiti-in-trouble doc Baseball In A Time Of Cholera and Jean Lewis (www.facebook.com/jeanlewisfilm) - the story of a Hollywood reporter told through an examination of the contents of her house as she moves to a retirement home. After talking to Seth Kramer about Evocateur - a film about Morton Downey Jnr who, I am told was the talk show host who went on to spawn the likes of Glenn Beck - I'm also keen to try to catch that. If someone finds more hours in the day - or a set of knitting needles to help my stress levels - please feel free to send them over.
Share this with others on...