Mathieu Demy and Geraldine Chaplin in Americano
As the 17th edition of Rendez-Vous with French Cinema at The Film Society, the IFC Center and BAMcinématek continues, we take a look at some more of the festival highlights. You can read Part One, here.
First-time director Mathieu Demy, who wrote and also stars in Americano, takes us on a journey to Los Angeles, then to Tijuana, Mexico and into a family's past in an incomparable way. Unique, especially, are the flashbacks, because, as the son of filmmakers Jacques Demy and Agnès Varda, he uses scenes of himself as a little boy from his mother's film Documenteur from 1981. Her title, a play on the French words for documentary (documentaire) and liar (menteur) also informs some of the choices Demy makes in Americano. The biographical past looms large: The Los Angeles captures the feel and tone of Jaques Demy's Model Shop (1969), Salma Hayek plays a night club dancer called Lola, and both Geraldine Chaplin and Chiara Mastroianni know what it means to have world-famous parents. Demy goes beyond and his character Martin does an impressive job cleaning out his estranged mother's house after her death. His journey into the night rings true.
The Well-Digger's Daughter (La Fille du Puisatier) is Daniel Auteuil's third time as an actor in a Marcel Pagnol adaptation (after Jean de Florette and Manon des Sources, both 1986) and his outstanding debut as a director. Remaking Pagnol's film from 1940 of the same name, Auteuil doesn't balk at the challenges this father/daughter tale of honour and prejudice, love and survival imparts. How "a motorbike can take away a family's happiness" and why a letter always arrives at its destination, are indisputably important queries here.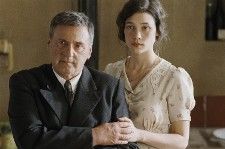 Auteuil plays the well-digger Pascal Amoretti, grumpy, smart, and full of himself, father of six girls, he has to raise on his own. Patricia, his favorite, (Astrid Berges-Frisbey in summer dresses and heavy boots) falls for Jacques Mazel (Nicolas Duvauchelle with just the right amount of disdain) a pilot and son of the local shopkeeper. The way Auteuil handles war, so matter-of-factly, with no set-up for the audience is first-rate, as is the space he gives the viewers to reflect on the events unfolding in the breathtaking French countryside. Sabine Azéma as the "prince's" mother cries beautifully, but she has to do it maybe a little too often throughout the film, and sometimes the music can be overwhelming. Emotional honesty, great Provençal accents, and an outspoken distaste for liars makes for good cinema.
In Unforgivable (Impardonnables) André Téchiné takes us to Venice, where blocked novelist Francis, played with irritable appeal by André Dussollier, finds a house, a new wife (the ever alluring Carole Bouquet), and several private eyes. Never has a film taken smarter advantage of the harbor of Venice and its multitude of boats, not only the gondolas, to explore characters, their conflicts and paranoia.
Téchiné has remarkable confidence in his story-telling and provides major background information at just the right time to keep the audience on their toes. High-society drug dealings, the Venetian real estate market, prisons, a country wedding, the green sea, the blue sky, and the first cherries of the season will beguile you.
The Last Screening (La Dernière Séance) is a casual horror film about a movie projectionist who lives in the basement of the small-town cinema he manages, where he collects female ears to put on photos of Rita Hayworth and Marlene Dietrich, and where he has a shrine of his dead mother. Renoir's French Cancan (1954) is on the screen, Powell's Peeping Tom (1960) is in his eyes, and Phaedra on his mind. On the door that separates the cinema dungeon from the outside world, hangs a huge poster of Jacques Tati's Playtime (1967). The best scenes feel like something out of Matthew Barney's Cremaster Cycle, the bloodiest "sacrifice anything for the spectacle".
This ain't no Cinema Paradiso. See our full review here.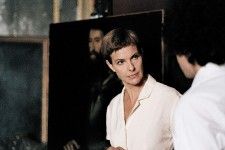 The Snows of Kilimanjaro (Les Neiges du Kilimandjaro) is not a remake of Gregory Peck's 1952 adventures with Ava Gardner, nor is it based on the Hemingway story. Inspired by Victor Hugo's classic poem Les Pauvres Gens, this movie has a very worthwhile subject matter. When an unemployed harbour worker, who alone takes care of his two little brothers, robs a Marseille union representative in early retirement and his family, where do the sympathies go? The presentation of the characters is a bit too sweet, borderline patronising about "the simple life", and collapses into something that doesn't ring true. A sardine wrapped in cotton candy.
In the closing night Rendez-Vous Delicacy (La Délicatesse) you get to watch Nathalie (Audrey Tautou) overcome the death of a spouse and make an unusual choice of her next love interest. This film is about second love and I couldn't help but wonder, how a director like Mia Hansen-Løve, whose Goodbye First Love (2011) is such an excellent and real portrayal of infatuation, would have handled a comedy of mourning.
In Delicacy, David and Stéphane Foenkinos go for a stagey, quirky beginning with polaroids-of-their-love-flashbacks and grief music in the car after the funeral. Tautou's character's married boss, who isn't shy to make advances, is 40 years too late for his behaviour. His red-headed secretary has a pen on a chain around her neck, in homage to Joan P Harris (née Holloway) of Mad Men to make the 60s reference very clear. "I could go on vacation in your hair," says a Swedish co-worker to Tautou. You decide where the delicacy lies in this last macaron of the festival.
In addition: Mathieu Demy, Jean-Pierre Darroussin, Carole Bouquet, Laurent Achard, Pascal Cervo and producer Sylvie Pialat, Robert Guédiguian, David & Stéphane Foenkinos and Audrey Tautou will be attending their public screenings.
Share this with others on...