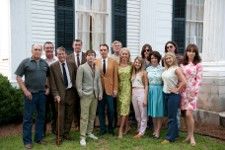 The cast of Jayne Mansfield's Car
With temperatures dropping to below -8C on some nights with rain, snow and sleet, the Berlinale 2012 festival required decent layers in order to enjoy, at least when in transit between the different cinemas.
Though most of the festival takes place in the sophisticated and walkable Potsdamer Platz, some Ubahn and Sbahn trips are required to get further out, such as to the Internationale Soviet cinema in Alexanderplatz, which is a fantastic relic from the GDR era. Luckily, Berlin's famously efficient public transport means time spent in the sub zero temperatures can be kept to a minimum, and also reduces the feel of how crowded the festival areas must be at peak times.
One you are inside though, part of the entertainment is checking out the diverse architecture and sheer massive size of the different cinemas. The Berlinale Palaste, where the main red carpet run is, has a whopping seven different floors where you can enter to take a seat (its usually an orchestra hall).
The festival is bafflingly diverse and large, there is far too much to see for any one visitor (or journalist). The diversity is reflected in the wide range of sections the films are split into, with some making more sense than others.
Films of every genre, length and format find their place in the various sections: the big international and Hollywood films sit in the Competition, independent and art house tends to end up in the Panorama, films for young audiences and starring younger actors go in Generation, the German film scene gets the Perspektive Deutsches Kino, while avant garde and experimental films go in the Forum.
The programme is rounded out by the Berlin Shorts, a Retrospective as well as an Homage to a particular subject or genre curated by the Deutsche Kinemathek – Museum für Film und Fernsehen. One of the more slippery categories - but one where some gems can be found- is Berlinale Special, which is described as being for "new and extraordinary productions under the auspices of the Berlinale Special and the Berlinale Special Gala..to honour great cinema personalities by showing their films and to immerse audiences in cinematic history by screening film classics. Films which deserve special attention due to current events can also be shown as part of the Berlinale Special."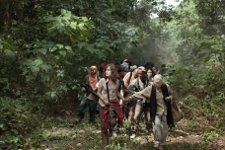 In terms of the big movie studio guns - Hollywood has a presence here, but obviously a far less loud one than at a US-based festival. A French film actually opened the competition and the festival proper: Farewell My Queen (Les adieux à la Reine) from director Benoit Jacquot. There was plenty of attention at the red carpet and at the press conferences for Billy Bob Thornton (promoting his Jayne Mansfield's Car), and much was made in the media buzz of the fact that his. former wife Angelina Jolie was here at the same time with her controversial debut In the Land of Blood and Honey - which attracted some of the biggest crowds at the press events.
Steven Soderbergh was not entering his action picture Haywire into competition, but a press screening and conference on Wednesday also drew the crowds, perhaps not surprising given man-of-the-moment Michael Fassbender, Antonio Banderas and newcomer and martial arts expert Gina Carano were in tow. But the red carpet was also given up for directors such as Brilliante Mendoza from the Phillipines, bringing his film Captive, and veteran German director Christian Petzold with Barbara.
There were also plenty of international collaborative projects on show: Christian Bale made a red carpet appearance, but to promote an Asian project this time around, as his vehicle Flowers Of War is helmed by Chinese director Zhang Yimou.
There are plenty of leaflets and video screens around telling you which director or cast member is going to be where and when, but there is also the chance for surprises. Ticket holders at a normal public screening of Werner Herzog's epic three-hour documentary Death Row at the Berliner Festspiele were suddenly told that the man himself would be giving an introduction and joining the audience (which makes you wonder how many times he can sit through his own depressing material).
Also, journalists sulking at missing major Hollywood fare playing back home due to being stuck in Berlin could catch up with special screenings of films already out in cinemas - Soderbergh's Haywire and Jason Reitman's Young Adult both played, with Young Adult going down well with the audience from the sound of things and Patton Oswalt and Reitman sticking around for a packed press conference after.
Press conferences in the small Grand Hyatt conference room are a scattershot affair, with seemingly the same eager journalists (they must be masters of scheduling as press conference attendance means missing any films scheduled in that slot) and asking the same questions no matter what the film being discussed is. Some conferences make you feel sorry for the filmmakers if there are plenty of empty seats.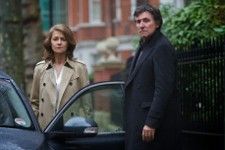 Director Barnaby Southcombe, in town with his debut feature I, Anna, had a sparse crowd. This was perhaps due to his film having a very late press screening at the insanely late time of 11pm, but director and crew had some interesting tidbits of information about working on this debut feature, which also stars Southcombe's mother Charlotte Rampling. Despite the familial relation, Southcombe actually couldn't get his own mother to star in the film when he first offered it to her, it took instead a year of pestering to get her and co-star Gabriel Byrne on board. Proof that being related to a Hollywood great doesn't automatically open all the doors.
In contrast, the press conference for film Coming Home (A Moi Seule) was given extra edge by the questioning of the director Frédéric Videau as to the extent to which his film's subject matter drew on the real life recent scenarios of young girls kidnapped and held prisoner for years, and why his scenario as played out in the film involved no sexual abuse.
In terms of highs and lows: Billy Bob Thornton's dark family clash comedy Jayne Mansfield's Car seemed to go down a treat with the audience, though the Jury will make up their own minds one would think.
Brilliante Mendoza's Captive was an intense ride that sort of took you hostage along with its unlucky characters. Barbara from Christian Petzold felt confidently put together with a touch of old-fashioned class about it, perhaps no surprise given this was a veteran director working with long-time collaborator and star Nina Hoss. Miguel Gomes's Tabu might well play on the same heartstrings that were plucked by The Artist, given it is shot in black and white and is a (sort of) silent film set in decades past, at least in the second half.
Werner Herzog's Death Row feels like an effortlessly high quality piece from a director who needs no guidance when it comes to finding riveting source material for his non fiction works. Less successful at generating tension and surprise however, despite many nods of the hat to Hitchcock, was Dictado from Spain's Antonio Chavarrias. Coming Home felt similarly lacking in weight and effect despite the heavy subject matter.
At the time of writing, the festival is in its last days with the Jury - which this year includes Mike Leigh, Charlotte Gainsburg and Jake Gyllenhall - not deciding on the winners until February 18th.
Share this with others on...