Bertrand Tavernier on the set of La Princesse De Montpensier
French filmmaker
Bertrand Tavernier
turned 70 this year but he shows no sign of flagging. Eye For Film caught up with him just before his latest film
The Princess Of Montpensier
- a period tale of romantic intrigue, set against the backdrop of war - was released on DVD and with a re-release of his sci-fi drama
Death Watch
due next year. Here's what he had to say about costumes and consequences and actors Mélanie Thierry, Grégoire Leprince-Ringuet, Lambert Wilson and Gaspard Ulliel.
Although it is set in the 16th century, your film has a lot of modern themes regarding fundamentalism and fighting over religion and land, was that in your mind when you first came to the project?
Absolutely. When I read the short story, I thought that it was dealing with themes and with emotions which were not belonging to a frozen world or in a museum. I thought that there was a way in that story to explore emotions that are very contemporary - about women's situations, about intolerance and about fanatacism. I think that if you look at history, you can find a lot of things which are 'present'. I never tried to make a period or historical film. The characters are not historical - they do not know that they are historical - they live in the present and I have to film them as though I was filming young people in the suburbs today.
Everything in the film seems to be sealed with blood - even the marriage [a scene depicts an entourage waiting for the princess to have sex, so that the bloodied sheets will provide proof of consummation].
Yes, and it is something happening still in many places in the world, it's not something belonging to the 16th century. I wanted to show that. I remember when I started the project and I wanted to know some facts about the period so I went to see an historian. I asked her about the woman's situation in that period. And she told me: "Bertrand, you must realise one thing. Someone like Marie, even if she is a noble, even if she is of a very high rank, she has no more rights than a 16-year-old Turkish girl who lives in a fundamentalist family, or a 15-year-old girl who lives in a Mormon family or in a fundamentalist Jewish family". All over the world now, you have people who have no moral rights.
After all, the story of the blood during the wedding night was done in Sicily 20 years ago. So I felt that the emotion of all the characters was something which was very modern and I wanted to shoot it in the modern way. I wanted the camera to be contemporary with their emotions. It's not somebody from the 21st century who is filming people of the 16th century. I must be like them. I must think like them. I must be emotionally involved as they were. I wanted to do the film as if the camera had just been invented.
Although the film has a strong female character at the centre of it, all the characters are victims of the society and circumstances that they find themselves in.
Absolutely. This is very true. I think that when I do a film like that, one of my pleasures is to explore and discover and then to share what I have learned with people I do not know. The pleasure of sharing is something which is very important, I hope, in all my films. I have a joy, a pleasure in discovering and then trying to make those things alive. I mean, trying to understand the victim, what are the reasons and how we can see those characters.
You sound so enthusiastic about your work even now after making so many films. In the extras for the film some of your colleagues describe you as a bit of a workaholic and say you're first up and last to bed. Do you find you're as enthusiastic now as you ever were?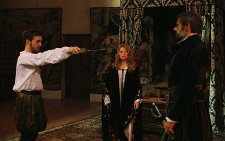 Absolutely. I am trying to make, especially in the last 10 years, every film as though it was the first. I know some directors who become disillusioned or who are resting on a certain kind of knowledge. When I do a film, when I start, I know nothing. I know nothing and I have to explore, I have to discover. It's a great thing that my mentor Michael Powell said. He said he made all of his films because he wanted to learn.
The enthusiasm comes across in the film, although the making of documentary suggests it was quite wet and quite a difficult shoot. How difficult is it to keep actors motivated in those circumstances?
With actors like that, it's not very difficult. They were very, very involved. When I hired them, I told all of them physically it will be difficult. I said I want you to ride - two of them did not know how, they had to learn - I want you to fight, especially the two men, because I will do long takes and there will be no [body] doubles.
So from the beginning I said: "You had better be good, because if you are not it will be seen." I will never hire a double. Then I spent a long time with each of them trying to tell them about the period. But they wanted to astonish me. The first screenwriter I ever worked with, Jean Aurenche, said the first quality in a director is the capacity of creating around him, within all the people working with him, the desire to surprise him. Not only to please but to surprise.
I don't want the actor to explain to me what I have been co-writing with Jean Cosmos. I remember some moments, the way Mélanie was acting or Lambert Wilson, it was as if I had not co-written the text. I was discovering something new. And I try to motivate because we had to motivate - we shot the film very very fast, so the work hours were very long and it was very exhausting but they all said it had been such a joy and a moment of pleasure. Because I think I know how to create enthusiasm around me in a crew.
Was it difficult to get together such a large and talented cast?
It was not so difficult. I already had two actors in mind when we were writing the screenplay and they were cast and I never saw anyone else. For de Guise I had Gaspard Ulliel. I had seen him in a film and I felt by meeting him he had possibilities that had not been explored on film - I thought he was not as well used as he could be.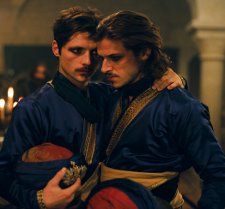 And I loved Grégoire Leprince-Ringuet in the film of Christophe Honoré [Chansons d'Amour] I love his very modern way of acting, very introverted. I thought that with the character of the husband he would get rid of all the cliche. I told him: "You must not play him as a jealous man, you must play him as somebody who unexpectedly falls in love with his wife." It is not something that the character had in mind and he is not able to explain that. He doesn't have the vocabulary. He has not learned and he is making mistake after mistake after mistake. He is falling more passionately in love every minute. I felt he is one of the most moving characters in the film.
For Marie, I made tests. For the first time in my life I made tests and when Mélanie Thierry came, I remember my wife said: "You have Marie." She has the beauty. I saw some very good actresses but they were very modern, you could not make them travel into the past. It was very important to have a series of very complex emotions and different colours. I had that with Lambert Wilson and Mélanie.
Mélanie could go in the same scene from being a young, immature, playful teenager to somebody suddenly in the next second a woman in love, tender, wounded, hopeful, and then she could become an aristocrat who can be very arrogant and then a frail young woman who was hurt. She could have all the colour. I wanted to do very long takes and within those takes she is changing colour, within 10 seconds. I had other actresses who could be very sensual but they could not be naive - I could not see the child in them.
In Mélanie I can see how she can be young and at the same time I can see the senusality, that she can be a woman who loves making love. I adore working with her. I have a tremendous respect for her. And I got along with Mélanie and with all the actors and they all astonish me. And this is not publicity, it was one of the most enjoyable, exciting, lively shoots I've ever done in my life.
It was exhausting and we had long days and they had to ride and to fight. And I was doing long takes. They were very surprised at the beginning because I was doing takes of three, four or five minutes without coverage. And sometimes to surprise them I would say after the first take: "Good. Cut. Go to the next scene." So they knew they had to be good because I would not reshoot.
It was great. The film had been a nightmare to finance. A nightmare. You are meeting bankers who say don't do history, don't do period film, don't talk about the past. The bankers do that in their own job - they are always forgetting. If they knew history, the bankers would not have made the mistakes they made in 2008, if they had known the history of the Depression. If they had known the economical history they would not have made the crime they made. Not knowing history and not knowing the past, lures people to commit crime and mistakes.
Finally, it's good to hear that Death Wish (La Mort en Direct) is being restored and re-released. Are you pleased about that?
I shot it in Glasgow. I adore Scotland, I've been there on holidays about 10 times. That was a great shoot. I think the film is incredibly timely today. I was about 20 years ahead of the time. I would love to come back to Glasgow and go to the Ubiquitous Chip - it's a great restaurant.
The Princess Of Montpensier is out on Studiocanal DVD now. Death Watch is due for re-release by Park Circus Films in early 2012.
Share this with others on...