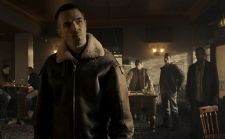 Charlie Creed-Miles in Wild Bill
San Sebastian, like Sundance, has the 'small town' sort of setting that means it's actually easier to bump in to people than not as you go about your business - particularly between the city's high-end Maria Cristina Hotel and the nearby Victoria Eugenia and Kursaal theatres. I got a close-hand look at Glenn Close as she headed off for her Albert Nobbs press screening, cheered on but a small but vocal crowd of fans, while Michael Fassbender - whose talent is finally being rewarded by a string high-profile film roles including Shame, X Men: First Class and Jane Eyre - seemed to pop up all over the place.
I confess there is something slightly odd about meeting familiar name stars outside of an interview - and a fear that they may be utterly awful or think similarly of you - but Fassbender, who seemed to be winning over every male critic he spoke to with tales of motorbiking round Europe with his dad, proved to be perfectly charming.
The cast and crew of Wild Bill were also making their presence felt and I spoke to Dexter Fletcher about his directorial debut and to his star Charlie Creed-Miles, who really gets to sink his teeth into the central role of a con on parole trying to reconnect with his family. On telling Twitter about meeting Fletcher and Fassbender within the space of five minutes, the witty @DanielNothing said: "Thereby thrilling the schoolgirl AND the grown woman in you simultaneously, no doubt." On relaying the gag to Fletcher, he replied - in a way that I think gives you a measure of his high charm level - "I'm pleased to hear I've thrilled the woman...but how did you know Michael Fassbender as a schoolgirl?"
We'll be bringing you the full interviews with Fletcher and Creed-Miles in due course and the film - which will have its UK premiere at London Film Festival and go on general release next February is well worth catching. The film is dedicated to Fletcher's dad.
He said: "It's a film about father and sons. They're always complicated relationships, in my experience, parents - whether you're father/son or mother/daughter. I'm one of three boys and we all loved our dad. Unfortunately he succumbed to cancer in May but he did see the film - an early, early cut. I wanted to make a film that he would like."
He's certainly made a film that audiences like - its premiere screening received a standing ovation an it has picked up the Euskaltel Youth Award, voted for by around 350 delegates aged 17 to 25 (full awards story here). It's easy to see its appeal to youngsters, as it as much the story of 15-year-old Dean (Will Poulter) and his little brother Jimmy (Sammy Williams) as it is about their ex-con dad Bill (Creed-Miles). Read the full review.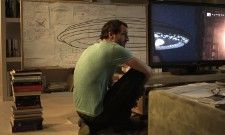 What came next for Nacho Vigalondo - whose twisty time-travelling first film Timecrimes became something of a cult hit on its way round the festival circuit a couple of years ago - is more of the same, only this time with more laughs and a (slightly) bigger budget. Extraterrestre (Extraterrestrial) has the same sort of densely, tricksy plotting that Vigalondo employed in his first film but where in Timecrimes he explored the idea of one mistake leading to another bigger mistake and so on, here his attention is turned to the nature of lies.
It is essentially a four-hander between Julia (Michelle Jenner), Julio (Julián Villagrán) - who may well have slept together after a drunken night out, if only they could remember; Julia's long-term boyfriend Carlos (Raúl Cimas) - who thinks Julio is merely in their apartment because he collapsed on the street; and their neighbour (Miguel Noguera) - who holds a candle for Julia and is therefore determined to spill the beans on her betrayal. The quartet find themselves thrown together by the sudden arrival of alien spacecraft hovering over the world's city's and soon find that one small lie leads to a bigger one until things really start to spin out of control. Not unlike his last film, the plot is firmly to the fore, which has the unfortunate effect of requiring one or two large leaps on the part of the audience as regards character development. Still, this is nevertheless a fun ride with plenty of laughs that should particularly appeal to those who like the comedy of discomfort. Read the full review.
"I love the idea of guilty characters," says Vigalondo "But not as a reason to beat them." Read his full exclusive interview with us.
If you want a guilty character who is taking - and giving - a beating, then you need look no further than Oren Moverman's Rampart, based on the story and screenplay by James Ellroy. Picked up for US distribution by Millennium Entertainment for £2 million, it is essentially award bait for Woody Harrelson. He plays dirty veteran cop Dave "Date Rape" Brown, who finds himself sinking deeper into the mire as his corrupt dealings start to surface.
Harrelson is excellent as a man in meltdown but away from his emotionally compelling performance there really isn't much here to write home about. Brown's complicated homelife - he lives under the same roof as two sisters, with each of whom he has a daughter - lacks coherence and therefore fails to add any dramatic weight. The episodic nature of his encounters with everyone from lawyers to one-night stands, means that the plot never really goes anywhere and some of the later scenes fall back on washed-up cop cliche. Worth seeing for Harrelson's performance but he's let down by the film.
I won't dwell on Ana Katz's lacklustre comedy Los Marziano - which weaves together the story of two estranged brothers and their families as they face a birthday reunion. Guillermo Francella - best known as the comedic sidekick in The Secret Of Their Eyes - shows his knack for timing again here as one of the brothers, while Arturo Puig deftly handles his sibling but the scripting and plotting never gathers steam. Half formed ideas about the nature of family and responsibility can be glimpsed but the action ultimately ends with a whimper rather than a bang.
Which just about leaves me time to extol the virtues of Aki Karusmaki's heartwarming fable Le Havre, which brought my San Sebastian Festival 2011 to an end on a gentle but pleasurable note. The story of French shoe-shiner Marcel (Andre Wilms), whose wife (Kati Outinen) is dying but refuses to let doctors tell him, is augmented by his chance encounter with an illegal immigrant child (Blondin Miguel) that sees him hatch a plot to raise cash to ship the kid from the country before the local cop (Jean-Pierre Darroussin) finds out. Filled with deadpan humour and humanist warmth, the film seems on the one hand quite slight. And yet, its exploration of relationships, the kindness of strangers and the darker flipside to that, lingers on in the mind - aided no doubt by the fact that it is visually arresting, both in terms of exquisite scene composition and colour palette.
All in all, another strong year for San Sebastian which, in an increasingly busy film festival calendar, still makes a unique mark.
Read more festival coverage here.
Share this with others on...