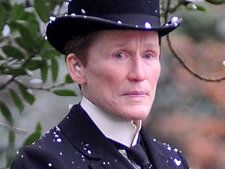 Glenn Close excels in Albert Nobbs
When you think about it shame is an interesting, if unpleasant, emotion. And although we can fear it on our own, in order for it to really get a grip, at least one other person needs to be involved. Somehow by accident rather than design it is a key emotion in two of the films I saw in quick succession - Albert Nobbs and Shame, and it's also present, although to a lesser extent, in The Deep Blue Sea and Take This Waltz.
In Albert Nobbs it is the fear of shame which drives the hotel butler of the film's title to want to keep a secret. Because Albert is really not a man at all, but a woman who, by dint of circumstance, has had to masquerade as a man almost her whole life. Fear of being caught - and of the shame that would attend that - has driven her into a lonely existence, where her only solace is squirrelling away cash under the floorboards in the hopes of one day being able to buy a tobacconist's shop. A chance encounter leads to her dream expanding to include hopes of companionship but Helen (Mia Wasikowska), the hotel maid with whom she hopes to set up shop, knows nothing of her secret identity and has also taken a shine to a newly employed handyman (Aaron Johnson).
I've not read the original short story by George Moore but back in the dark ages I was once in a production of it - and also acted as prompt - so I'm probably more familiar than most with this tale of a woman who finds herself neutered by her circumstances. This adaptation - by Glenn Close and John Banville - breathes fresh life into its dusty corners, adding some welcome moments of humour but retaining the sense of loneliness that Albert feels, along with his dread of being found out and difficulties in trying to reopen channels of communication that have been closed so long they've rusted up.
Glenn Close is brilliant in the central role - and very reminiscent of Gordon Jackson. She's so good, in fact, that it is easy to fall into Albert's world and even come to almost believe that she really is a man. Janet McTeer is also on award-winning form in a small but significant supporting role. This is a quiet film that is less about sexual preference - although there are nods towards the problems that homosexuals faced back in the 19th century - and more about human connection.
Troublesome human connections also lie at the heart of Steve McQueen's follow up to his award-winning Hunger. While perhaps not quite reaching the same heights of emotion, Shame is the sort of film that gets better the more you think about it. Michael Fassbender collaborates with McQueen for a second time, as Brandon, a New Yorker, whose neat-freak tendencies initially recall American Psycho. McQueen's character is considerably more complex than that, however, and thankfully no murderer. His appetites lie not in slaying but in laying anyone he can get - and thanks to his good looks, attractive reserve and high-end job, getting people isn't much of a problem.
In Hunger, McQueen explored the idea of starvation and here he and co-writer Abi Morgan flip to the other end of the scale, putting Brandon's gluttony for sex under the spotlight. McQueen is careful not to condemn what Brandon is doing and, indeed, Brandon himself - though obviously struggling when it comes to emotional commitment - doesn't seem overly bothered by his own predilictions. Or at least he isn't until his emotionally needy sister Sissy (Carey Mulligan) appears on his doorstep. Just as Brandon feels desperate when forced into human connections, Sissy is desperate for them. It's a combination that sets Brandon on the road to 'shame' and all that attends it. Though this is a much more straight forward narrative than Hunger, the idea of the mind mastering bodily cravings is still very much to the fore.
It's not too few human connections that cause the trouble in Take This Waltz but too many, as Michelle Williams' Margot finds herself torn between the comfortable stability of life with her husband (Seth Rogen) and the sugar rush of excitement offered by sexy neighbour Daniel Luke Kirby).
Sarah Polley's directorial debut Away From Her was a finally nuanced study of love and loss and although there are flashes of excellence here, Take This Waltz doesn't hit quite the same heights. Read our full review.
A woman also lies at the heart of matter in Terence Davies' The Deep Blue Sea - but in this case Hester (Rachel Weisz) has already made her choice. The Deep Blue Sea of tranquility (and boredom) is represented by husband William (Simon Russell Beale) - a bearded and monied bear of a judge and the devil of former Battle of Britain pilot Freddie (Tom Hiddleston), whose passionate temperament seems ill- disposed to long-term love. Davies has stripped back Rattigan's play - using silences to say as much as scripting. Emotions ebb and flow to the po9int at which they are almost tactile - although he never lets things slide into sentimentality. I expect the posh voices and period setting ot help this do well Stateside.
Speaking at the press conference afterwards, Davies spoke of the importance of silence to his film saying that when he was growing up in the Fifties homes were a lot more quiet, with maybe just a radio on, but that it was possible to hear the creak of a house as people walked about in it.
"The great thing about cinema is that it photographs what's going on behind the eyes. Cinema touches us viscerally.
"You can play the silences like music. The play is very wordy but the first act is entirely exposition and if can show someone something it's better than telling them something because we can see it - and that's where cinema is so powerful. It's the poetry of the oridinary."
Tom Hiddleston added: "I think that theatre is about words and silences in theatre can often ruin a play. But the camera can read things behind your eyes that you don't need to say."
Share this with others on...