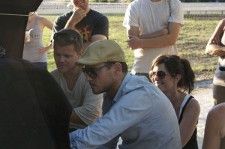 Magyar on the set of his feature debut
Derek Magyar probably isn't a name you'll recognise yet, but he's a face you may have seen in television shows such as Charmed, Boston Legal and Star Trek.
His most famous role so far was as the lead in Boy Culture, an acclaimed independent film that garnered Magyar high praise and a large following for his lead performance as X, a successful street escort who describes in a series of confessions his tangled romantic relationships with his two roommates and an older, enigmatic client.
Come 2012 Magyar will have had his debut directorial feature, Flying Lessons, released, and will probably have developed a cult following of horror whores for his portrayal of Flynn in Midnight Meat Train director Ryuhei Kitamura's return to horror No One Lives. I talked with Magyar about his upcoming projects and what it's like to juggle two thriving careers in Hollywood.
Darren Amner: No One Lives is being billed as a smart, original horror film. Is this what drew you to taking a role in the film?
Derek Magyar: Without a doubt. No One Lives is a very well written film that is creating its own version of the horror/thriller genre. I think I was drawn to it because of the way the script was so well crafted, the amazing character Flynn whom I was so fortunate to get to portray, and of course getting the opportunity to work with an amazing director like Ryuhei Kitamura.
DA: Hollywood is swamped with remakes within the horror genre. What is your opinion of this trend and how important is it for an independent film like this firstly to made and then to find an audience?
DM: There's no question that Hollywood is swamped with horror films in general, in addition to horror film remakes, and I can understand why. If your script and film is one of those few within the multitudes that has the power to transcend the genre then you really have something that creates a storm of excitement from the public. No One Lives is one of those films that has the chance to be something special and unique. It takes the genre of horror/thriller to what I hope and believe is a new level that the public hasn't had the opportunity to discover.
DA: What makes No One Lives stand out from the crowd in an already heavily saturated horror movie market?
DM: This film takes the traditional formula and twists it and turns it and squeezes out all sorts of new discoveries that I have never seen in a project such as this. I think films like this, which push the boundary in some way, shape or form, should continue to be made and explored. The genre itself is fascinating to this generation and to have it evolve is what makes it that much more exciting.
DA: You play Flynn in No One Lives. Please tell me about your character, how challenging it was to play him and your motivation for taking this role.
DM: Flynn is by far the most challenging and amazing role I have had the opportunity to play and to learn from and to grow from. Flynn is a man who has no moral compass, a man who will do what he wants, when he wants to do it and nobody will ever tell him otherwise. He is a man who thinks and truly believes that what he is doing is the only way things are to be done and that they are justified within his own mind.
He is a total Psychopath and to have the opportunity as an artist to explore the depths of someone like that was mind blowing, frightening at times, physically demanding in ways I didn't know existed - also mentally demanding. Ryuhei and I have a very similar idea as to what Flynn was all about when we first met in Los Angeles and we made sure that we both agreed, as did our producer Harry Knapp, that Flynn needs to think in his own mind that the way he does things are the way things are supposed to be done… That they are the right way. If someone else says they are the wrong way, Flynn will kill them because it's his way or no way but, in his own method of madness he thinks that the way he operates is the best and only way to get done what needs to be done.
I had great freedom from both the director and my producer to explore the insanity of Flynn and if he needed to be reeled in, I would always do my best to bring him back from losing his mind totally. I think that served me as an actor very well and also served Flynn as the character really well. I needed to be reeled in sometimes… Flynn makes you uneasy, he is a lost soul and most importantly a man who has no moral compass whatsoever. There's no real method to his madness other than Flynn does what has to do and that is the way it must get done. It was a true honor to play such an amazing character. I am still shedding my Flynn skin today and we wrapped a couple weeks ago.
DA: When I watch a horror movie I want it to pack a punch and not hold back when it comes to all the blood, guts and gore. How hardcore is No One Lives, what can we expect and will true horror film fans be satisfied with the outcome?
DM: I think that No One Lives certainly packs a punch and will satisfy all the true horror film fans. This film certainly uses more blood than I have ever seen on a set and that is not because it is a just gore after gore because it isn't. I think it is important that people go into this film knowing they will get gore in ways they have never seen it but it is about much more than just that. It has a story that will take a true fan of the genre on one HELL of an amazing edge of the seat ride!
DA: Ever since I watched Versus I've been a huge fan of Ryuhei Kitamura; he's a true visualist. Were you familiar with his work previously and how exciting was it to work with him on this film?
DM: I am familiar with Ryuhei's previous work and I think he is a wonderful director. He is a director who knows what he wants and will shoot it all night long over and over again until he gets it! He is someone who has a clear unique style and I think that is something that will become more and more significant as he continues his growth as a director.
He is wonderful to work with, he always makes sure the actors feel good about the work they are doing and he takes the art of it all very, very seriously… He is also a director who like many other great filmmakers loves to get coverage from every single angle possible and I think that is amazing and will give him much freedom to stretch his chops in the editing room as he is able to use bits and pieces from angles that you didn't even think were possible.
I think that was the best thing about him to me personally, it wasn't just about making sure the actors had the coverage but it was about taking the coverage to the next level and beyond, and Ryuhei and Daniel Pearl our amazing DP did that beautifully. I can only hope to work with Ryuhei again in the near future, as it was an honour and a real pleasure.
DA: Midnight Meat Train was his first Hollywood film, which was a great movie full of crazy shots, imagination and style and not your typical horror film. It got a terrible release and he didn't get the debut he deserved. With No One Lives I'm sure he will be back with a point to prove. Could you recall a moment on set working with him that totally blew you away and gave you the feeling you were working with a master of his craft?
DM: I think Midnight Meat Train was a brilliant film and I think what Ryuhei did with it visually was frightening and vulgar and at the same time beautifully artistic. I walked away after seeing that film with a queasy feeling in my stomach because it is truly one of the most powerful and intense uses of the horror genre I have ever seen! In my eyes what he did with that film was a real success… That film alone showed me how visual a filmmaker he is and how every detail is important to him, and my goodness, did he know how to end that film! If you haven't seen it, go rent it and get ready for one heck of a ride…
In No One Lives, everything from the script to what I am sure will be an amazing final product will show audiences around the world that Ryuhei Kitamura is someone who stands apart from the masses and has much more to say and do in future films to come… You watch the film and tell me what moments packed a punch for you and then I will go into detail with you about it and let you know what the moment was like for me as the artist. Rest assured No One Lives is filled with those moments.
DA: Luke Evans stars as Driver; Luke is a great up and coming British talent. Can you talk about working with Luke, tell us a little about his character, the relationship you both have in the movie and perhaps a favorite scene you shot together?
DM: Luke Evans is a great actor and it was a real pleasure to work together. Our characters have a real interesting dynamic in the film and we will see come the end of the film when he and I have quite an epic scene together whether or not we achieved what we want the audience to feel during the big fight scene between the Driver and Flynn. Without question the best scene we shot together is the big finale… It is one hell of an epic fight scene! Amazing!
DA: Without giving away any spoilers, can you tease a scene you're most proud of and one that you can't wait for audiences to see when the movie comes out in 2012?
DM: I am excited for the entire film to be honest… I look forward to seeing and feeling what kind of emotional experience people have towards Flynn and how the audience feels about the dynamic especially between Flynn and Emma, played by Adelaide Clemens.
DA: The movie is produced by WWE who are making their return to the horror genre for the first time since See No Evil. Firstly, are you a wrestling fan? And how will this film satisfy their huge action fan base?
DM: I am a wrestling fan for sure! I grew up when wrestling was at its real prime with Hulk Hogan amongst others… It is something I will always have a love and respect for and I think what they do day in and day out is amazing! I think this film transcends anything WWE Films has ever done before. I know that they want to be really involved in making good films and this couldn't have been a better choice for them to launch the new WWE Films division!
DA: The movie was shot in New Orleans. What were the challenges of shooting on location and how did this add to your overall filming experience?
DM: We didn't shoot the film in New Orleans, we shot the film all over the North Shore of Louisiana which is over the famous causeway and branches out to the rest of Louisiana, from Covington where we were based to Slidell where we did a lot of filming, and places like Abita Springs, and the list goes on… It was essential for No One Lives to film in a place like Louisiana but the scouting team and Harry, our producer, picked amazing areas and locations for us to film in and live in that really made us immerse ourselves into our characters and into the physical world where this film takes place… Yes it was very hot and buggy but in the end, it only makes it that much more real… right?
DA: Not satisfied with having a thriving career as an actor, you also direct both theatre and film, which is no easy task. Please tell us about making your directorial debut with Flying Lessons. What was it about the script that cried out to you to make this film?
DM: Directing is in my blood, as my father Dezso Magyar has been a director all his life. He made wonderful character driven films is Hungary where he was born and began filmmaking and then when he came to the United States continued to direct acclaimed television and independent films. Then, realizing he had become a father of three, he made the rational choice to become a professor of film and a mentor to many amazing filmmakers including the likes of Todd Field and Darren Aronofsky. He was based at the AFI in Los Angeles for almost 14 years and then became a dean at Chapman University where he has helped it become one of the top film schools in the country. I talk about my father with such vigor because I feel that directing is something that comes from deep within the soul and when I read Flying Lessons, a film that a dear friend of mine, Thomas Kuehl, wrote, I felt an instant connection to the words and the story in a way I had never felt before. I realized that my connection was so deeply rooted because I was the one who needed to tell this story on the screen and I knew I had to direct this film.
I was lucky to have a mentor such as my father who was a part of this film in every single aspect of pre-production, giving me an education that was and is priceless. Then when it came time to shoot, what I believe is a natural born instinct to tell a story came out of me in a way that was and is beautiful... I had the help of a brilliant cast that Steve Brooksbank and others help put together and amazing words on the page to help guide me in what was no doubt the most beautiful learning process I have ever experienced in my life.
I say learning because it was and is my first film as a director and I can't tell you how much I learned throughout the life of Flying Lessons, which, in the end, was over three years. I look forward to directing my next feature. In my heart I feel that I am an actor first and foremost but I am an artist and I do feel that directing was and is in my blood and it will continue to unfold and evolve the way it is meant to be.
DA: Some directors are actors' directors; some are all about the visuals, more so than the story. Where do you fit in here and how would you define your own directorial style?
DM: I am without a question an actors' director because my heart belongs to acting and I can watch another actor through the monitor and feel when to talk to him and when to let him or her just do another take because they are finding the words. I think a director has to have a keen eye on the visual style of the story he is telling and without a question has to have an amazing DP as I was blessed to have.
DA: Do you have any cinematic influences? Did you study certain directors and films before making Flying Lessons?
DM: I have many cinematic influences that both inspire me to be a better actor and also resonate within me in terms of the overall style of filmmaking. To answer the question in terms of Flying Lessons specifically, I watched Todd Field's In the Bedroom many times because of how he told such a complex story about the human emotion and the human heart, and as the audience we were invested in them the entire time. I also watched it for its visual texture which was not the same as how I wanted Flying Lessons to look but had an overall tone of being beautiful on the outside while everything is crumbling on the inside that I wanted to resonate deeply in Flying Lessons.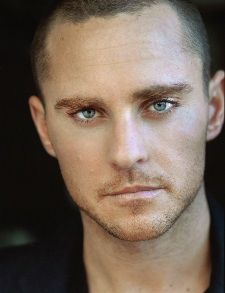 I also watched anything that Terrance Malick has ever done and re- watched Badlands over and over again because his use of the world and the physical textures the world offers us is something that he makes me feel like no other. I watch his pictures and I feel emotionally connected not just to the story and characters but to the outside world. A piece of grass or a tree, it doesn't matter, in my opinion he is the master of visual filmmaking. In terms of directors and films that have influenced me as an artist, directors like Darren Aronofsky, Todd Field, P.T Anderson, Terrance Malick, Marc Forster, Martin Scorsese, Stanley Kubrick and Debra Granik. The list continues but I have to stop before it gets too out of control.
The list of actors that inspire me goes on forever really. Any actor that gives into the circumstances in a given moment and really lets go is someone I admire. That is the core of what acting is for me. It is about letting go…. It is about taking the journey and I will see you at the other side. Javier Bardem, Sean Penn, Phillip Seymour Hoffman, Daniel Day- Lewis, Cate Blanchett, Marion Cotilliard, Meryl Streep, Mia Wasikowska, Leonardo Dicaprio, Michael Fassbender and a man who is very dear to me, Mr. Hal Holbrook.
These are actors that possess the ability to truly let go and take the journey that their given characters in whatever circumstances would take. They are transformational actors, something that is beautiful to watch and learn from and something few of us can fully achieve. What we can do is learn from them and if I can take one little piece from a specific performance or a trait that the actor possess than I am one step closer to being the actor I aspire to be.
DA: I adore Maggie Grace; I think she's beautiful and a totally underrated actress. Please could you talk about casting her as one of the leads in Flying Lessons, what was it like working with her and how hard was it to decide not to co-star with her in this film?
DM: Maggie Grace is a wonderful actor and having the opportunity to work with her was a joy. She is very intelligent and well spoken; she is mesmerising when the camera rolls and she is just as mesmerising when the camera is off. The choice to cast her was without question clear to me within five minutes of meeting her for coffee. Her ideas on who Sophie is and how to inhabit her skin were exactly how I saw them. Not only how I saw them as the director, but also how I saw Sophie as an actor. Her continued success is without question and I would cherish working with her again. She made me bring my A game every day at work because she had dissected every single piece of Sophie down. Had I not been on my game, I think she would have swallowed me whole. A really beautiful woman both on the outside and the inside with talent that will only continue to shine.
DA: Can you talk about the release of Flying Lessons? When is it out and how excited are you to travel with it worldwide?
DM: We are excited about the release and what I can say is that it will be coming out before the end of the year. We are blessed to have a theatrical release! These days it is very difficult to even make a film that is a real character drama, it is not something that is a "box-office guarantee" if you know what I mean… However these are the films that inspire us as artists and the kind of films we must continue to make and I know will always be made. I can only hope that I am able to apply all the things I learned during the journey of Flying Lessons, both good and bad, and translate that into my next film.
DA: I must ask about projects you're currently working on or are planning to work on shortly. I have Secrets We Share down as your next directing gig. Can you talk about that movie and tell us when that's likely to be going into production? Will acting take a backseat to this or will you juggle the two?
DM: Secrets We Share is the next film I intend on directing and it is a sexy cutting edge drama that revolves around three girls and a man they meet who will change each one of their lives forever. We are very excited about the project and I am blessed by having someone like Mark Johnson behind me again as he is a real friend and mentor to me. We intend to begin principal photography in the spring of 2012.
Derek Magyar was a pleasure to talk to and is a talent to look for in 2012. For more information on Flying Lessons visit: http://flyinglessonsm ovie.com/
Special thanks also to Stephanie at Framework Entertainment for setting this interview up.
Share this with others on...