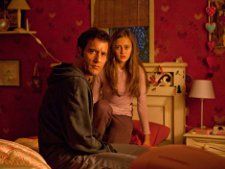 Juan Carlos Fresnadillo's latest film Intruders opened the festival
There ought to be a special word for the way film critics feel at the start of a film festival, with the week stretching away ahead filled with potentially wonderful pieces of cinema. It's a feeling that is one-part exhileration at being among the first to see a film that may turn out to be a classic, one-part pensiveness about the prospect of doing that classic justice in words if you happen across it and one-part sheer luckiness at getting the opportunity to be here in the first place. In any event, I was feeling pretty "exhilivucky" yesterday morning - and that's before you consider the fact that San Sebastian also boasts some of the best food in the world - most of it triple-decker hand-held pintxos, just perfect for critics on the go.
Admittedly, as with pintxos, you occasionally get a bite of something that you don't like very much but past experiences here suggest that you're at least likely to find the choices interesting and eclectic. There was certainly plenty of variety in my first day of San Sebastian 2011, even though the films I saw were mostly in Spanish.
First up was Juan Carlos Fresnadillo's latest film Intruders - you can read the full review here. There's no doubt that Fresnadillo knows how to create tension, but without a decent backbone of story to hang it on, the shocks run out of steam.
Next up was Bonsái, the latest film from Cristián Jiménez - this time writing on his own but adapting from the novel by Alejandro Zambra. Like his earlier Optical Illusions, there are good things here but they're sometimes smothered by an overdose of quirkiness. Last time around it was the number of characters and their interlinking that threatened to derail perfectly good commentary on self-esteem; here it's the over-complicated structure. This is the story of Julio (Diego Noguera) and Emilia (Nathalia Galgani), whose ending we are bluntly told as the film has barely begun - "Julio lives, Emilia dies". It's an odd choice... but then I suppose the implication is that we've all got to go sometime.
Before they don't and do pop off, though, we get to meet Julio as he is now - struggling in everything from writing to love - and how he was eight years ago, when he was quite possibly even more useless but managed to spark up a relationship through a shared lie about having read Proust. That all sounds rather contrived, doesn't it?
Jiménez just about gets away with it, as we see Julio pretending that he's transcribing a book for a famous author in the present to impress his part-time girlfriend, while writing about his remembrances of a relationship past. The idea of the shifting perspectives of past and present is interesting but - and this may be the source text's fault - the 'devices' stack up, including rather twee segments concerning the bonsai tree of the title. That said, the film still has considerable charm, particularly in its portrayal of the fumblings, posturings and overexuberance of student love. If ever Jiménez decides to rein in his urge to put the directorial equivalent of curlicues everywhere, I suspect he's going to make a cracker.
There's not much wrong with the direction of No Peace For The Wicked (No habrá paz para los malvados), with several of Enrique Urbizu's scenes proving exceptionally well framed and memorable. Unfortunately there is quite a bit wrong with the plot, which attempts to cover so much ground at the same time as retaining its mystery that it leaves the viewer caught between the rock of what? and hard place of where?
José Coronado is excellent in the central role of renegade cop Santos, who in an early scene commits more crimes in 10 minutes than the average Spanish copper probably sees in a week. All is not as it seems, however, with the implications of his actions and what led to them echoing round the seedy Spanish underworld of drugs and gun running. The problem is that the plot is bucking so wildly in an attempt to be difficult that it's hard to get a grip on the real motivations or the back story that is fed in dribs and drabs across the runtime. Urbizu and co-writer Michel Gaztambide also fall back on coincidence and contrivance once too often, while the plot quickly slips from intrigue to confusion. Urbizu manages to drag the whole thing back on track for the chilling and craftily worked final scenes but there's a sense of this being only half the film it could have been.
I definitely saved the best for last on my first day - Gerardo Naranjo's Miss Bala. Merging the mechanics of an everyman in the wrong place at the wrong time thriller with some stinging political commentary on the state of modern Mexico, he and co-writer Mauricio Katz have managed to create a film that has something to say but still manages to pack thrills along the way - even if it does make sure you feel bad about them. By placing a largely defenceless woman at its heart rather than the usual plucky and lucky action hero in waiting, they offer a fresh twist on some old themes, which suggests that some dreams are just made to be shattered even if they simultaneously come true.
Laura Guerrero (Stephanie Sigman) has just such a dream - that of being crowned Miss Baha in a beauty pageant. Unfortunately for her, however, she finds herself witnessing the latest killings in a gang war and from then on she becomes increasingly mired in the world of gangs and crime, as things go from bad to worse to - well, let´s just say this stays firmly in the realms of fact not fantasy. Naranjo effortlessly riffs on familiar thriller themes while also finding time to throw in a disturbing take on the tropes of 'underdog in competition' movies. The Mexican tourist board won't like it, but you will - and you don't have to take my word for it for long, as it's out in the UK on October 28. Read our interview with Gerardo Naranjo here.
Share this with others on...