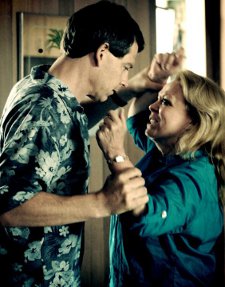 Mendelsohn and Weaver as Pope and Smurf
Gritty crime drama Animal Kingdom takes the emphasis away from the usual scenes of heist and violence that pepper the genre and into an altogether darker psychological realm of the impact it has on the new arrival to one criminal clan. When J's mum dies suddenly of a heroin overdose, he finds himself thrust into the bosom of his mother's estranged family - matriarch with an undercurrent of malevolance, Smurf Cody (Jacqui Weaver) and her brood of boys (Ben Mendelsohn, Sullivan Stapleton and Luke Ford), whose violence runs very close to the surface. Once there, J (James Frecheville) finds it hard not to be sucked into their world, despite a helping hand being offered from a local cop (Guy Pearce).
Weaver received a well-deserved Oscar nomination for her fluffy yet foul portrayal of Smurf, but she is matched step-for-step by the rest of the cast. In particular, Ben Mendelsohn - as her alpha male son 'Pope' - puts in a startlingly intense performance.
In the DVD extras for the film, director David Michôd describes Mendelsohn as a "powerful figure" on set and one who is "playfully manipulative". Thankfully, the 42-year-old actor is far more approachable in real life than his onscreen character and he laughs when asked about it.
He adds: "I think he's absolutely right and particularly in that case. I was always malevolently manipulative with my brothers and the kid [J]. It got fairly full-on at times. People were punching each other... it was a very intense shoot. I think that a lot of the tension that we've created and a lot of the merciless ribbing and stuff that went on made it pretty easy to just go in there and do it. I know it made the days in between very difficult for some of the others. One of them afterwards unloaded a very long tirade to me about what he thought about this and that and the other."
Speaking about newcomer Frencheville, he says: "I wouldn't let him meet me before we started working, I wouldn't be in the same room as him. I didn't want anything to do with him because I didn't want him to get comfortable and chummy and stuff like that because he was a a first-timer and because I wasn't interested in him anyway, so it kind of rolled on that way. I'm actually good friends with James now but that's sort of 'after the war' in a way. When we were doing it I ignored him pretty much until about three-quarters of the way through."
The end result certainly creates an air of tension, as the young J seems utterly lost in the sea of testosterone created by Pope and his brothers. There are echoes of 'the kid' who appears in Michôd's earlier short film Crossbow (which you can watch via Youtube, left), which tells the story of another teenager who is at once part of a family and simultaneously only able to peer in from the outside.
Mendelsohn says it was the short film that drew him to take the role of Pope.
"That's a very hard thing to do what David does in that," he says, "Which is to give you a significant emotional 'in', in a short film. That's not easy."
While connecting with the audience might not be a simple trick, it is one that Michôd pulls off effortlessly, says Mendelsohn.
"He takes you very quickly and very efficiently to another world and he does it in a way that's really beautiful," he says. "I think there's something about the way that David tells his stories that makes them incredibly effective and makes the audience take them on really strongly.
"There's no doubt that David has that quasi-Shakespearean gift of being able to step into the psychology of any of his characters and take a peek at what the world might feel like for them. It's sort of a guarantee of getting good performances because he's not someone who writes from outside the characters.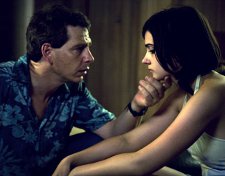 "Pope very much got modelled on two guys. What happened with the characterisation was that David wrote it with me in mind, the same way he wrote Smurf with Jacqui in mind. Jacqui was the first person he thought of for the film and I was the second."
Even though Mendelsohn - who won the Australia Film Institute Award for best actor for playing Pope (his seventh nomination for the coveted gong) - says Pope was "atypical" in terms of the roles he is usually offered, he had no hesitation in accepting the part.
"I wasn't sure it would work," he says. "But I was really sure of one thing and that was that I could never ever bear to watch another actor do it, particularly the more visceral scenes.
"My feeling about that is that one ought, if one can, aim to do stuff that is great. Not just good but fucking great. And affecting and relevant and entertaining and distracting and makes you laugh, makes you cry, turns you on, all those good cinematic things."
He says that this is why he's not fond of DVD extras - "I don't want to see Andrey Rublev's deleted scenes" And he's "not a fan of the modern trend to have it as transparent as you can".
He adds: "For that reason, for a long time I would avoid doing any kind of press or interviews and stuff like that because the people I was trying to emulate and who were heroic to me, I didn't know a lot about."
Given that I'm speaking to Mendelsohn as the final edition of the News Of The World hits the streets and Rupert Murdoch is being painted in an increasingly bleak light, it seems impossible not to ask about his portrayal of the media mogul in 2002's trial drama
Black And White
.
"I did play young Rupert Murdoch," he says. "There were people who said: 'Don't do Animal Kingdom. This is a real family. Are you crazy?' and people said: 'Don't play Rupert Murdoch. He may crush you like a grape.' The truth of the matter is I don't think Rupert gives a damn. One thing I'm sure of, he hasn't seen the film. I'm positive he couldn't give a rat's toss how he's portayed. The more I looked into Rupert, the more sure I was that it wasn't going to enter his world of relevance at all."
As for the death of the newspaper, he says: "I just got the last copy of the News Of The World and I'm very happy to tell you that Animal Kingdom is reviewed.
"I adore Rupert Murdoch, I think he's an incredibly fascinating character. I understand the degree to which people have strong feelings about him. I know that he's had an incredible effect on the landscape here, much more so than he has in Australia and in a much more visceral way than he has in the landscape of America - I'm talking, of course, of the famous Wapping episode, etc.
"But I think that ultimately what you've got to look at with Murdoch is you have this guy, he comes from nothing and he has one newspaper at home and he builds... he is the most powerful person in the world at the height of his powers. He is the person who can get governments of X number of Western, English-speaking countries elected, there's no doubt about that.
"I think, I'm not aware of the landscape that professionals are, but as a more aware lay person, I would think he has to cauterise the wound because of the political fall-out in the US. If something happens in the US that goes down badly then that makes China a problem and China - 50 years from now - is still where all the manoeuvering is occuring. That dwarves all of our markets into irrelevance by comparison. The promise in India and China dwarfs everything else. He has more of a chance in India because he is more in contact with the cultural landscape vis a vis the British element of the cultural landscape there.
"This guy is not a stupid guy. This guy doesn't know the rules, he pretty much makes up the rules. He plays a very long chess game. I think the cutting of the News of the World was probably a knee jerk reaction... but the Sunday Sun is going to come along in a couple of weeks."
As for what's next for the Melbourne-born actor, he's been busy since Animal Kingdom garnered so much critical acclaim, shooting crime drama Trespass, alongside Nicolas Cage and Nicole Kidman, Andrew "Chopper" Dominik's latest thriller Cogan's Trade with Brad Pitt and Jason Statham and Robert De Niro actioner Killer Elite.
He also mentions something with a "ginormous budget" that he can't really talk about right now, although a visit later that afternoon to his authorised Facebook fan page (If you visit, check out the reason for its recent name change) is revealing. It says he has: "A meaty role in the new Batman [The Dark Knight Rises], where he plays a villain."
If he brings anything like the intensity to this role as he does to Pope, it will be a very Dark Kinght indeed and he'll doubtless - and deservedly - be winning over an awful lot more fans.
Animal Kingdom is available on Optimum Releasing DVD now. Watch cast interviews in the feature above.
Share this with others on...