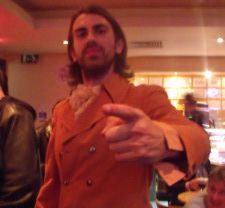 Midnight Movies' Michael Pierce
It's the penultimate night of 2011's edition of the Edinburgh Film Festival and at 10pm the Filmhouse bar is so full it's hard to get a table.
There's a mixed crowd but there's a distinct whiff of Seventies in the air as people begin to assemble for a 30th anniversary screening of John Waters' Polyester - a raucous comedy satire featuring Divine as a downtrodden housewife - in Odorama.
Leading the charge is Michael Pierce, from co-promoter Midnight Movies, sporting a bright orange number of which Austin Powers would be proud. On a table at one side of the bar, staff from soap shop Lush try to tempt people away from their beer and into trying toothpaste tablets. Waters would no doubt approve.
As we head upstairs to Filmhouse 1, we're given our Odorama "scratch and sniff" cards, although we're told that due to the wonders of modern technology rubbing them will be enough.
The movie is preceded by a spot of prize-giving for the best outfit and a short filmed introduction from Waters himself. He talks about the "tribal spirit" of Polyester and the fact that the neighbourhood where it was shot "really hated us".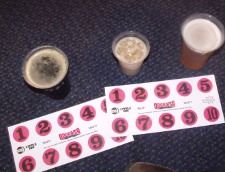 He also claims that before they were allowed to use the scratch and sniff cards in cinemas, they had to prove that they were "safe to eat". An intern's lot, it seems, has improved little down the years and someone was duly despatched to eat a full card. They lived to tell the tale and Odorama went forth.
All in all a night that bore the scent of success (and petrol and skunk and roses).
Polyester is also showing in odorama at Glasgay 2011.
Share this with others on...