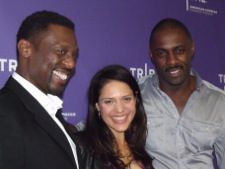 Eammon Walker, Monique Gabriela Curnen and Idris Elba at Tribeca Film Festival Photo: Amber Wilkinson
Legacy: Black Ops tells the story of former special agent Malcolm Gray (Idris Elba), who takes refuge in a Brooklyn Motel after an assassination assignment goes badly wrong. While there, with his mind increasingly playing tricks on him, he considers the role of his senator brother (Eammonn Walker) in his downfall, not to mention the role his sibling seems to be playing in life of his wife (Monique Gabriela Curnen) since Malcolm went missing.
Elba puts in a commanding performance in the film's central role - and it is one the actor took to with relish, particularly as director Thomas Ikimi had originally had him earmarked for the supporting role of the senator.
Ikimi says that it was after he sent the script to Elba that he had a change of heart about the role he wanted to play, thanks to a conversation with his own brother, who suggested that the senator was too similar to roles Elba had played in the past.
"I thought about it and thought that it would be a good idea to offer him something that he's never really done before," says Ikimi. "So I got back in touch with Idris and said, 'How would you like to do the role of Malcolm?'
The star of Luther jumped at the chance.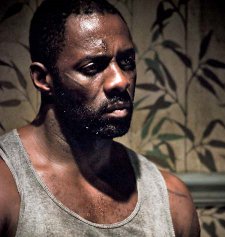 Elba as Malcolm Gray
"I really wanted to play Malcolm," admits Elba, "So I was relieved that I didn't have to have this long speech about why I should have a shot at him. So that was good. I was over the moon at Thomas' dedication to seeing me doing something different. So it worked itself out organically."
Most of the action takes place within the confines of Malcolm's grimy hotel room - a decision that Ikimi says came from his love of classic films.
He adds: "I'd seen 12 Angry Men and I was pretty impressed with the way that all the tension and drama and story were created in one room. And I started watching a lot of films with similar premises, like Rear Window, like Dial M For Murder and at that point I started writing the script for Legacy."
The film takes some interesting psychological twists and turns and it requires the audience to pay attention right from the outset, with even the credits holding clues to the action. Ikimi cites an altogether more modern influence as a reason behind wanting to make the film challenging for the audience.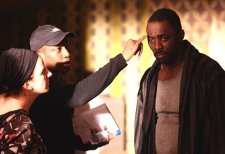 Ikimi and Elba on the set of the film
"One of my favourite directors is
Christopher Nolan
," he says. "He said a thing that I usually think about. He believed that cinema was going in the way that you could put a movie on the TV, go and make a pizza and come back and jump right back in. But he makes films that say, 'Once you've invested in my movie, if you leave, you're out.'
"And you've got to pay attention - you can't step away from Memento or Insomnia or The Prestige without simply being lost. And that's what I thought with this. What I've discovered is that the people who like the movie the most feel almost proud that they've worked it out. I can just feel that they feel a sense of achievement."
Walker agrees that the script's complexity is key to its success. "I think the most exciting thing about the first time I read it was the intelligence in the writing," he says. "As actors, because of the formulaic thing that is part of what we do, when you get something that has not got that attached you can really start. It's like reading a good book but getting a chance to be in it."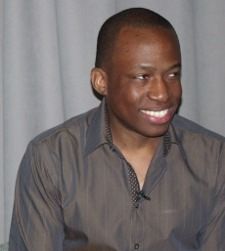 Director Thomas Ikimi
Despite the cast's praise for the script, Ikimi also gave them scope to play around with their characters, creating detailed back stories for everyone in the film, even though few of the details are revealed during the course of the action. And he says he had no qualms about letting Elba - who also executive produced the film - and the rest of the cast improvise where they felt it necessary.
"Once I've picked the actors, I feel I have to trust them to do the job, so I was willing to let that happen," he says. "I think that provided a lot of the most natural elements of the film. Some of the best lines, Idris just came up with. In fact, my favourite lines in the movie - I didn't write them and that wouldn't have been the case if they didn't have that freedom."
As for what Ikimi hopes people will take from the film - he thinks that depends on who it is.
"I've found this film to be one of perspectives, it's really about the particular person and the frame of mind they are in when they go in," he says.
I guess that means you'll have to watch it to find out what it's legacy will be for you.
Legacy: Black Ops is out in cinemas across the UK now.
Share this with others on...