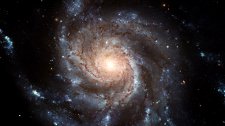 Nostalgia For The Light
Thursday at the Glasgow Film Festival was technically a day off for me - not that I didn't have a lot of writing to do, but there were no events booked into my schedule. Still, I had errands to run in town anyway, so I popped into the GFT to see Nostalgia For The Light, an unusual Chilean documentary which has also been featured at Sheffield DocFest and the San Sebastian film festival. The audience wasn't all that big but was very enthusiastic, with several people saying that they were there because they'd heard it had particularly beautiful cinematography. They weren't disappointed, though there were fewer shots of the stars than some had expected. The film draws together a number of threads, looking at the ancient history of the area, the ongoing search for those who disappeared under the Pinochet regime, and the astronomers whose telescopes provide them with a view of the universe. Since it takes thousands of years for light from the stars to reach us, they too are looking into the past. They base their telescopes in the Atacama desert because the air there is so thin and dry, and the same qualities contribute to making this film so remarkable to look at. It's well worth catching.
On my way out afterwards I bumped into director Robert Adanto, who was eagerly handing out flyers and trying to persuade people to return the following evening for his documentary Pearls On The Ocean Floor. I told him that he didn't need to persuade me as I've already seen it, but if I were less busy I'd happily watch it again. It's a smart, incisive film examining the careers of female Iranian artists, some of whom now live and work in exile; it has a lot to say about art but also presents some very different perspectives on Iran as a country from those we are used to in the west. It will certainly give you a different picture from the bulk of films currently produced within Iran for export, and I recommend it.
The trouble with spending so much time watching films when one is also an editor is that it can be difficult to keep up with managing one's team. On my way back home I was getting a text message every three minutes and I eventually had to sit down in a bus shelter to answer them all. Stuart came round shortly after I got back to update me on his news and get some food before hurrying off to a photoshoot for Treacle Jr. Susanna visited too, catching him just in time to get his help with our new sound recorder for her interview the following day. She'd just been to see Meek's Cutoff, which she described as unrelentingly bleak but just her kind of thing. Meanwhile, back at the festival itself, Eye For Film's David Graham was attending a screening of new Polish film Essential Killing, which explores the journey of an Islamic insurgent who finds himself increasingly brutalised by the situations he is caught up in.
After my people had gone I spent the evening writing, and later on Drew came round to eat cake and sushi and go over short film stuff. He left at around one, which still gave me a few hours to catch up on sleep before I had to start again the next day. First up was liaising with PRs and editing the morning's reviews; then Stuart, Donald, Drew and I went out to West End restaurant Mother India for lunch. The restaurant is sponsoring the Indian strand at the festival, where an effort is being made to show attendees that Indian cinematic tradition includes much more than the lightweight song and dance Bollywood capers with which most of you will be familiar. Films like Road, Movie have been making a great impression on audiences and it is hoped that this will make it easier to introduce a wider range of Indian films to the UK.
Mother India is always a great place to go anyway, so I was very happy to find vouchers for it in my festival goodie bag. I had chani peas and mushrooms followed by a delicious lamb karahi with properly blended spices - not just hot but providing many different flavours in a single mouthful. I also made sure to swap for some of Stuart's paneer, as it's among the best in Glasgow, nicely textured and not as homogeneous as the imported stuff most restaurants use (and that we buy to cook at home). It certainly made a nice break from all the running around.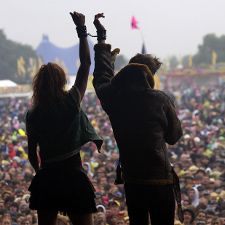 Donald had to go straight home afterwards to get ready for Frightfest whilst the rest of us drove over to the South Side to collect Susanna from her interview with the stars of You Instead (which you'll soon see published here). She's been a huge fan of Luke Treadaway for years, ever since she first saw him in Brothers Of The Head, so I was glad of the opportunity to set this up for her and she was very pleased that she also got to interview Natalia Tena and Mathew Baynton. It sounded as if everyone was very friendly and she had a great time.
She and Drew had things to catch up on later so he dropped me and Stuart off at Cineworld. Stuart wanted to walk off his dinner and I just had time to dart upstairs to screen 16 for the start of The Piano In A Factory. It's the story of what happens when a Chinese former steelworker splits from his wife and is told by his little girl that she'll live with whichever one of them provides her with a piano." Let's see which parent doesn't buy her a piano first," Drew had commented, but as the child is very small and has been prompted to choose rather than coming up with an extortion scheme all by herself, it's not as exploitative as it sounds. So we follow our hero as he decides to get together his old co-workers and try to make a piano from scratch. Needless to say, things don't quite go to plan. It's a lighthearted, entertaining film, laugh out loud funny in places, but I didn't think it quite pulled off its big idea. Still, the packed audience mostly seemed to enjoy it.
The GFT was looking unusually quiet as I swung by on my way home, though there was already a perceptible increase in the amount of black clothing around as people gathered for Frightfest. David is our principal Frightfest correspondent this year and you can read his Frightfest Diary today and tomorrow - full reviews will follow when he's had a little time to recover from what is quite a taxing strand, with eight films in two days (ten if you acknowledge that one is a triptych). I spent the rest of the evening at my desk and was in bed by two but woke up when Donald came home to tell me his thoughts. He hadn't been as impressed by Little Deaths as David evidently was, and he felt that I Saw The Devil didn't really have anything new to say, but he loved Machete Maidens Unleashed - as, so it would seem, did most of those in attendance. It's the latest film by Mark Hartley who explored the secret history of Ozploitation cinema in Not Quite Hollywood and has now turned his attention to the glory days of pulp film making in the Philippines. I'm looking forward to getting the chance to see it myself.
Whilst all this was going on, Susanna got the chance to actually watch You Instead, which she was pleased to say she really enjoyed and thinks will go down very well with the festival crowd. It's a romantic comedy about the singer of an indie band who accidentally gets handcuffed to a big time American rock star and is stuck that way for the duration of T In The Park. The cast went off to new Glasgow film development centre Film City later for a party also attended by Robert Carlyle.
Also on that night was the biggest musical event of the festival, a live show by famous giallo soundtrack band Goblin. "They just looked like these wee old guys, and a bit like Seventies porn stars," said Stuart, who was filming it. "Then they started playing and it was incredible. People just went nuts for it." The set included classic numbers from Dario Argento's Suspiria as well as other favourites.
After the show, Stuart had to rush off to a fashion show being held to celebrate Japanese documentary Pyuupiru. It was introduced by the glamorous Lady Munter and hosted by Pam Hogg, with catwalk contributions from Rebecca Torres, House of Black and Obscure Couture - we hope to bring you a photo feature on it shortly. Stuart was praised for his yellow jumpsuit and found the time to do a bit of dancing in between taking pictures. Despite problems with the DJing system the night was considered a great success and the party went on for some time after the official venue closed.
With just two days left to go, the festival remains as busy as ever and new events keep being squeezed into the schedule. Watch this space for our final report.
Share this with others on...