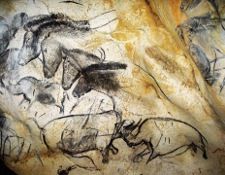 Cave Of Forgotten Dreams
It feels somewhat peculiar going to see a 3D film at a festival, especially with what is clearly an arthouse crowd, but by the time I got to Friday's screening of Cave Of Forgotten Dreams I had already heard so much buzz about it that I was prepared to see Werner Herzog do something quite different from the usual. Indeed, there were no hyperactive guinea pigs or blue-skinned hippies here (though we did eventually meet some albino crocodiles); the film starts in a ditch, immediately assuring us that we are in the real world and that documentary cinema can use this form to great effect. What followed wasn't always successful but certainly gripped the audience, with chuckles often breaking out at Herzog's dry wit and surreal perspective. Perhaps the real test of a film is what happens when the credits roll, and in this case most of the audience remained seated, even though all they were looking at was a series of names scrolling across a picture of a wall. It was only when they finished that a spontaneous round of applause broke out.
Outside, I briefly caught up with Eye For Film's Amber Wilkinson, who had also thoroughly enjoyed the film. She had a date with a curry, so I headed up the road to meet Andrew Robertson (known to friends as Drew) who is covering over 50 short films for us at this year's event. Ensconced in Antipasti with a rocket and goat's cheese salad, he updated me on how his day had gone. He was smitten with the inventive Madagascar, produced by a video game animator experimenting in film for the first time, but a little disappointed with the new work by Paul Wright, who just scooped a BAFTA for Until The River Runs Red. BAFTA nominee Lin had impressed him up until what he felt was a misjudged final scene. Overall, perhaps not as strong a selection as in some previous years, but with interesting moments nonetheless.
Before we finished our meal we were joined by Stuart, who had just been photographing director Richard Ayoade as he introduced his new film Submarine. "This is a bad film," Ayoade warned the audience before it started. "In fact, it's so bad that when [festival director Allison Gardner] first saw it, she punched me in the throat. Then she just kept on punching me until I was quite badly injured and eventually aroused." Poor Allison, who is always a little shy about these things, didn't know what to do, but the audience seemed entertained - and, indeed, enjoyed the film itself.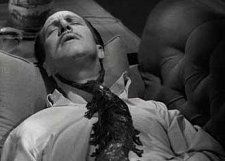 After food we headed back to the GFT, along a street thronged with middle aged Shakin' Stevens fans waiting to see their idol at the ABC. We had time for a quick drink in the bar, meeting up with various friends, before going upstairs to get ready for The Tingler. We hurried to secure seats at the end of the front balcony row so that Stuart would be well positioned or the photographs he had to take, and I inadvertently found myself seated in front of John Letham, whose company, Park Circus Pictures, restored the film. He promised not to scare me during its tenser moments. The Tingler is, of course, famous for being an early audience participation film, in which the original audiences were given electric shocks from buzzers hidden beneath their seats. There were to be no shocks of that kind on this occasion, partly due to health and safety concerns but mostly because it would cost too much to ship the necessary system over from New York, but New York comedian and film historian Bruce Goldstein did make it over and promised us we would still be in for a nerve-racking experience. Just to get us in the mood, he started by showing us the original trailer, in which director William Castle warns of the dangers of dying of fright.
If you are afraid, scream to release the tension - it could save your life. That's the idea at the heart of the film, though one audience member took it a bit too seriously and screamed almost continually throughout despite pleas from those seated nearby. Overall, most people seemed to feel that they had not got quite as much excitement as they hoped for, but there was still plenty of fun. A skeleton dropping down from the top of the screen elicited laughter as it fell apart halfway, and of course, in the latter half, we got to meet the tingler itself, with a large portion of the audience leaping us and screaming as it fastened itself about the throat of an unfortunate victim. Well, they had been warned.
When it was all over, we swung by the CCA to see what was happening at the Digicult party. Digicult has been a major contributor to the production of short films in Europe over the past decade and has lots of fans. The venues was still crowded and everybody seemed to be having fun, but Stuart was exhausted, so we declined to stay - he urgently needed tea and sleep. It was two in the morning when I got home and got to my desk to catch up with urgent work before I could sleep.
My screening the following day as in the early afternoon and was unfortunately underattended, but I was glad to see some fellow critics there, especially as this is a film that really deserves to have a fuss made about it - it's one of the best of the festival. I'm talking about Viva Riva!, a fast, hard-hitting, sexually charged Congolese film about fuel smuggling, gangsters and that old cinema staple, falling for the wrong woman. It's also really well written with an impressive degree of character development. It's due to go on general release in May and if you're a fan of action cinema you'd be a fool to miss it. This wasn't one that I went into expecting something special, so it was a very pleasant surprise.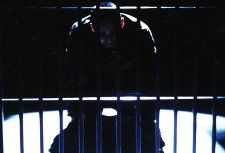 Drew, meanwhile, was covering more short films, and I caught up with him briefly at the CCA. He told me that the short film programme had been beset by technical problems and, indeed, some of the directors in attendance were quite unhappy, with one demanding that they run her film in front of her right then and there before showing it to the audience. This after a film about a chorus of singers was shown with the sound in mono and another film was shown with no soundtrack at all. It's a real shame because this kind of event is often the only chance short film directors have to show their work and it was well attended, with lots of members of the public there who have discovered how exciting and different the short film experience can be. Perhaps inevitably, they were also bothered by delays, with the series of screenings eventually finishing 45 minutes later than scheduled.
Eye For Film's Donald Munro spent the afternoon in Confessions Of A Dog, which he was generally positive about, though not amazed by - he reports that it's quite a daring film for Japan as it deals with police corruption in a social context where questioning authority is still strongly taboo, which is probably why it was banned there. Stuart was covering its launch and met up with director Gen Takahashi outside afterwards to provide him with a couple of pictures for his memoirs, but caught up with me later and we still had time to grab some food before he went to the Arches to cover a gig by 65DaysOfStatic, who were providing a live soundtrack to Seventies science fiction classic Silent Running. He was very impressed by their performance, describing the music as reminiscent of Godspeed You Black Emperor! or of Mogwai during their more soundtrack-style moments. The event was well attended and everyone seemed to thoroughly enjoy themselves.
I spent the evening on more mundane activities, catching up with review writing until after the gig, when we got some curry together and Donald found Babylon AD on television. A bit of Vin Diesel action could be a good antidote to watching lots of films one has to think about, but I was shattered before it had reached the halfway point and had to retreat to bed. There are, after all, another eight days of festival to go. I fear I am coming down with a sore throat, for which I blame the tingler - I was giving it my best movie-style scream - but with the aid of tea and plentiful biscuits I am sure I can make it through the adventures to follow.
Share this with others on...