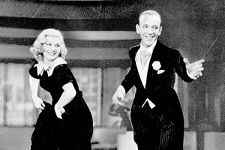 Ginger and Fred in Swing Time
Do you ever ask a girl up to dance? Or maybe you like to be asked? What has to happen before she says yes?
There is something about Ginger Rogers' characters that puts one at ease. If Fred Astaire is the perfect gentleman - albeit a little stiff at times - Ginger is that perfect girl-next-door. You kind of like that quirky little smile. You start chatting to her. Then, as you're having fun, you suddenly notice how beautiful she is. You're a little lost for words perhaps - but she's so friendly and natural - you simply stand up and carry on talking! She stands up too, and your hands touch. Before you know it, you are dancing. Maybe you're even falling in love...
Now if, for some strange reason (!) you don't happen to find yourself in that song-and-dance movie of your very own, Ginger still looks so approachable that you'd doubtless talk to her anyway. There's a sincerity, a vulnerability, a touching and charming humility. Perhaps some of this was her true personality. She was also an Academy Award-winning actress and had 73 films under her belt, not to mention leading roles on Broadway and in London's West End. But the studios, as we shall see, had no small part in 'making it happen.'
Ginger's mum, ever supportive, was already turning down public appearance opportunities for her daughter at the age of six. At 14, Ginger debuts professionally with Eddy Foy's vaudeville troop, and a year later wins a Charleston contest. After that, she sings and dances on the vaudeville circuit. Her career is underpinned with hard work and, even after taking Broadway by storm (earning $1000 per week even at the beginning of the Great Depression), she becomes a star again with Fred Astaire, but continues to work on her dramatic and comedienne skills. Sometimes she turns in three pictures for one of Fred's. Whether singing, acting or dancing, she exudes a sense of ease and even intimacy. In racier (pre-censorship) roles like Gold Diggers Of 1933, or Busby Berkeley's 42nd Street (with its sexy, voyeuristic lingering on dancing girls' bodies, front and back stage) she still has the charisma to get noticed among a large chorus. Covering up somewhat to partner Astaire, the mere movement of an eyebrow and other perfect comic timing grabs our attention and makes us warm to her. In later roles, like her (Oscar-winning) Kitty Foyle, Rogers' full range of acting talents are shown. By this time, the studios have successfully merged public perception of Ginger Rogers with the personality of characters she plays.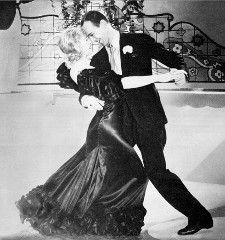 Watch how the studio - and Fred and Ginger's films save RKO from bankruptcy - carefully manages the character development from one film through to the next. After the whirlwind affair of Flying Down To Rio, right up to Swing Time, our audience has never for one minute doubted that Ginger and Fred's characters are in love. It was so convincing that much of the general public believed they were a couple off the screen as well as on (They weren't, although they may have flirted heavily in the days before their screen partnership.) Frustratingly, it has been four years now and the audience has never seen them properly kiss. In Top Hat he 'won' her in dramatic Venice and at sword point, no less. It was this movie that gave her the famous 'Feathers' nickname - on account of the extravagant ostrich-feather dress. In Swing Time, we get as far as their first implied romantic kiss. Once behind a door that is opened just in time to block the camera angle (a lipstick-covered Fred emerges triumphantly); and again at the end when Fred has his back to the camera, blocking what we believe is happening. Two films later, and we see the real thing in plain sight. In Carefree, it is lovingly drawn out by slow motion photography as a romantic dance moves to dreamlike fulfilment.
There was careful audience identification with both Fred and Ginger, but especially Ginger. Notice how the main characters in all their films are slightly more 'real' than the (frequently caricatured) supporting ones. We are convinced in each movie that Fred and Ginger are the only 'normal' people - just right for each other - and just like us! Yet while Astaire is a straight man to Rogers' comic double-entendres, and he dazzles us with his technical dance skills, Rogers - an actress at heart - knows acting doesn't stop when dancing begins. The reason so many women have fantasised about dancing with Fred Astaire? Probably because Ginger Rogers tends to convey an impression that dancing with him is the most thrilling experience imaginable. She can, as Fred Astaire will say years later, "Make every man in the audience wish he was in my shoes." It is a line, ironically, in Easter Parade: a film he will make in 1948 with Judy Garland, whose dancing skills were clearly competent rather than outstanding.
But a break-up is on the cards. The studios prepare us. Ginger wants more than just to be a dancing partner. RKO play Rogers against James Stewart in Vivacious Lady, before re-uniting her with Fred for a fateful kiss in Carefree. In Shall We Dance? there is a curious omission of any romantic, partnered duet for Astaire and Rogers. Rogers' separate persona is now being more clearly defined than Astaire's, dramatically and symbolically. Astaire dances with a female chorus, each wearing 'Ginger' face-masks. He at length unmasks the real Ginger Rogers and they dance a brief duet in the coda. The two will only make one more movie together in this period after Carefree. The Story Of Vernon And Irene Castle is a musical biography in which Fred and Ginger seem more 'real' than ever: but whereas Vernon (Fred) will then be killed off, Irene (Ginger) has to carry on alone. And carry on she does!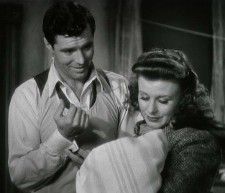 A year later, Ginger Rogers triumphs as Kitty Foyle - The Natural History Of A Woman. She is now more mature, more sexy, and has to deal with real life problems - not least of which includes every woman's dilemma of finding a real and reliable new suitor. Her dramatic range exults from comedy to pathos, sensuousness to tragedy. If The Story Of Vernon And Irene Castle felt like the 'real' Ginger, the dancer, then Kitty Foyle is not only a monumental persona in a film of weight and substance, but one which the audience is free to swallow as the 'real' woman behind a Ginger they love. Rogers picks up a well-deserved Oscar for the performance and a new fashion is born- the 'Kitty Foyle' becomes a 1940s dress style of the same name, characterized by dark fabric and contrasting (usually white) collar and cuffs. It's also the year nylon stockings are introduced to America, and a year before the epoch-changing bombing of Pearl Harbour. In these changing times, the 'Kitty Foyle' becomes the standard working woman's attire.
After 1940, big song-and-dance musicals are on the wane. New audiences no longer crave the social world against which Fred Astaire had defined himself. A new stage is set. Ginger Rogers rises from its footlights.
After re-defining herself in Kitty Foyle, Rogers goes on to three more marriages; an unbelievable but highly entertaining Scottish Highlands reunion with Fred in The Barkleys Of Broadway; and a lovable screwball comedy with Cary Grant (Monkey Business). After more movies, she returns to her roots on Broadway and the West End. She will become a fashion consultant to the major American chain JC Penney. She will paint, inspire generations of dancers with her skill, and live on through the memories, the costumes and her irrepressible lightness of being. As Madonna sang in Vogue: "Ginger Rogers, dance on air!"
Not everything about her history is 100% lovable, and it would do Ginger Rogers an injustice if we summed up her life solely in populist glowing colours. She was human after all. Controversially, she was a founding member of the Motion Picture Alliance for the Preservation of American Ideals. It was this right-wing group that subsequently supplied witnesses for the communist witch-hunts of the McCarthy era and the House of Un-American Activities Committee. But her global and mass appeal has never been tarnished or fragmented. Her face is one of many famous women's featured on the bedroom wall of the Anne Frank House in Amsterdam. There is a gallery of magazine cuttings pasted on the wall by Anne and her sister Margot while hiding from the Nazis. When the house became a museum, the gallery which the sisters created was preserved under glass. Now, Rogers' image is one of the larger and more prominent. In many ways, Rogers continues to represent an ideal of the woman in social partner dance that has rarely, if ever, been equaled: that this was probably down to a side of her that brought the best of acting - and something of her soul - into the dance, is a treasure that is too easy to overlook.
"Dancing is not rising to your feet painlessly like a speck of dust blown around in the wind. Dancing is when you rise above both worlds, tearing your heart to pieces and giving up your soul." - Rumi
Share this with others on...