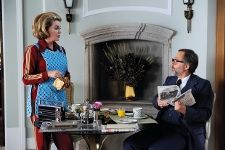 Potiche opened this year's festival
"Be there by seven," I am advised when given my place on the guest list at the red carpet launch of the seventh Glasgow Film Festival. On my way there I am caught up in an attempt to rescue a lost kitten (is anybody missing Smoky?) and I fear I shall be late. Billy's Mini Market is blaring out jazz as I walk up the hill; it mingles surprisingly well with what sounds like Lebanese music emanating from the nearby community centre. Down at the Glasgow Film Theatre, though, things are quiet. It turns out they haven't yet officially opened. I go in anyway and chat to the staff as they set up. A band arrives, with a skinny guy in a stripey cardigan bearing some kind of bongo drum on his shoulders. Do they want to play inside or outside? they are asked. That's a no-brainer. It's a chilly night. Getting there later, a guy with a mouth organ is given the spot by the doors where he plays frantically as if trying to generate heat.
Upstairs where the show begins I am offered a glass of champagne which I respectfully decline (I am later told by several people that this was a wise choice, even if I were able to safely drink alcohol these days). The idea of a journalist who doesn't drink confounds people as always. I make my way to my seat, a comfortable spot at the end of a row. Two large goodie bags are positioned there. Only in Glasgow can one go to a film festival and encounter bags like these. In mine I find shampoo and conditioner, eye shadow, a clock-faced pendant, birthday cake candles, an arts magazine, a squashed cupcake, a miniature bottle of whisky and a copy of Great Expectations. Other people have different but similarly odd assortments of stuff. The swapping begins at once. I phone Eye For Film's Stuart Crawford, who is the festival's official photographer this year, to let him know I'll need assistance carrying all my loot home.
Slightly later than advertised - fashionably later, of course - the crowd is hushed as festival directors Allison Gardner and Allan Hunter appear in front of the screen. There are no guests tonight, they regretfully announce, though having noticed how dishy François Ozon is Allison had considered spending her time looking for look-alikes (there are, of course, still assorted celebrities in the audience). Allison is looking pretty good herself in a dramatic red and black dress, though she's camera-shy as always and Allan's joke that no-one would ever call her a potiche (or trophy wife) somewhat misfires. The Potiche they are here to introduce, of course, is Ozon's latest film, starring Catherine Deneuve and Gérard Depardieu. It's facing it's first UK audience and nobody is quite sure what to expect.
There was no need for concern. From its opening scene, the film wins over most people in the audience with its quirky humour and - as is the case in all Ozon's films - the superior quality of the acting. It takes real finesse to play farce this well. Deneuve clearly enjoys herself and it's delightful to see une femme d'un certain age getting to play such a sexy character - she's certainly still got it. The overall mood is buoyant, the perfect thing to energise everyone at the start of a ten day festival. After the credits roll the cinema is re-lit with blue, green and purple lights and dancers flood to the front. There's a spot of disco, then the DJ switches to Soft Cell's Sleazy Films and everybody starts to move around; the free drink is flowing. The party has definitely started.
Securing my loot on my seat, I make my way through to the VIP bar for a drink. L.A. bartenders are doing their thing with cocktail shakers, creating a variety of interesting things using the Angostura rum provided by one of the festival's sponsors. Other guests drink bottle Blue Moon. Everybody is ignoring the free Coors; I even meet people who have paid for drinks in preference to consuming it. It is surprisingly hard to get water, and as I stagger back to my seat with it (getting around using a walking stick in that kind of crowd is never easy), a helpful stranger offers to assist if I need anything else, emphasising that there's plenty of available alcohol. Although the party is only scheduled to last until one, I have no doubt that my fellow guests can succeed in taking care of that. After all, last year there were still people lying on the floor in Cinema One at five in the morning.
Over the course of the evening I catch up with several old friends and industry people whilst Stuart runs around photographing them. Sean Biggerstaff is there with his new girlfriend, looking very glamorous, and John Letham of Park Circus Pictures complains that the tights he received in his goodie bag won't fit him. I also catch up with the lovely people from Muvizu who sponsored this year's Youth festival. Unlike everyone else, they are winding down at the end of a event, as the Youth festival runs right up to the start of this one. From now on they will be able to relax a bit and enjoy themselves at the comic-based events.
The Youth festival, all agree, has been a massive success. I attended its final film the day before (or perhaps the day before that - at some point, midnight happens) - Wasted On The Young, which was perhaps not as strong as I had hoped but which showcased some promising acting talent. The Youth team have certainly done a good job of connecting with their target audience. I apologise for not being able to attend more of their events and explain that I have been swamped by screeners. People look slightly startled when I explain how many I've worked my way through; by contrast, I have rather fewer films to see over the course of the next ten days, but of course there will be lots of other things happening as well.
All that coverage will, of course, come straight here to you at Eye For Film. I am looking forward to another ten days of minimal sleep (with the Oscars to follow). I left last night's party around one; Stuart had obtained a quarter bottle of rum from one of the bars and it did not seem advisable for him to continue working under that influence. We phoned the lovely people in West End Barbecue and persuaded them to wait for us to we could get take-out before they closed. Back home, I checked my email. An invitation to a press screening of The Adjustment Bureau the morning after the Oscars, after the festival's closing party. Perhaps I should have ordered my burger with added caffeine.
Share this with others on...