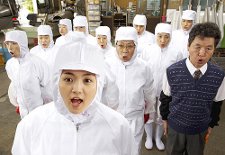 Sawako Decides is among the films touring
The Japan Foundation's annual touring programme of films returns to London, Belfast, Edinburgh, Nottingham, Bristol and Sheffield in February-March 2011 (for dates and venues see our festival homepage).
This year it focuses on the key directors and movies from the last 20 years that helped give Japanese cinema a shot in the arm following a slump from the end of the 1980s. The films are a diverse mix, their directors now popular and well regarded in their native country, but many of their works have been little seen in the UK.
By 1989 cinema attendance was in free-fall in Japan, audiences were at only eight per cent of their 1958 peak - an era ruled by great directors such as Kurosawa and Mizoguchi and which saw Japanese cinema gain international acclaim (such as Kurosawa's Rashomon earning the Golden Lion at the 1951 Venice Film Festival). By the end of the Eighties, half of all film releases in country were softcore pornography, and no new talent seemed to be being nurtured by the larger studios.
But beneath the surface, the building blocks of a new wave were being put in place, as a series of young, tradition-busting directors combined with the uptake of cable TV, direct to video film, DVD and the internet to reinvigorate the industry at home and abroad. In 1989 itself, two films were released which marked this new energy and the new players on the block. Takeshi 'Beat' Kitano made waves with his Violent Cop, and Shinya Tsukamoto unleashed his now-cult 16mm Tetsuo: The Iron Man.
Two of the directors who's work features in this year's festival grew out of the new fertile ground provided by Toei V-Cinema series (launched in 1989), which may have churned out largely low budget horror and Yakuza fare but played its own essential role in the new renaissance. Kiyoshi Kurosawa and Takeshi Miike made plenty of films for this market but this festival showcases two particularly striking works from this pair. Kurosawa's Cure (1997) is a Se7en-style murder procedural that explores the soulless modern metropolis, while Miike's The Bird People of China (1998) is a more poetic and rural take on the much-mined Yakuza genre, which he is well known-for dabbling in and twisting.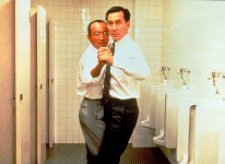 By the end of the Nineties both the above directors and others were benefiting from the rise of the internet, internationally available DVD formats and web retailers and fansites that turned them into international cult figures. Notable signposts include 1996 director Masayuki Suo's 1996 Shall We Dance? beating all box office records for an Asian film upon its release in the USA, and directors Takeshi Kitano and Naomi Kawase picking up major festival wis throughout the decade including a Golden Lion for Kitano's 1997 offbeat yakuza picture Hana-Bi and a Caméra d'Or award at the 1997 Cannes Film Festival for Kawase's first 35mm film Moe No Suzaku.
Though the Nineties saw the Western film markets hoovering up J-Horror hits such as Hideo Nakata's Ring (1998), other films of note emerged. Go (2001) from director Isao Yukisada and also showing in this year's festival, was that year's contender from Japan for the academy awards and confronts the issue of ongoing racial prejudice against Asian minorities within Japan itself.
Also showing in this festival is Isshin Inudô's Josee, The Tiger and the Fish (2003), a tale of characters on the margins in which a college student becomes entranced by a disabled girl with an eccentric sense of humour.
The alternative filmmaking center of Osaka also gave rise to a new set of filmmakers in the 1990s, including Nobuhiro Yamashita whose feelgood high school band film Linda Linda Linda (2005) is also showing at this festival and deserves note for its placing of a Korean character at its heart, a sign of the kanryu boom of interest in Korean pop culture that Japan was going through.
One Million Yen Girl (2008) director Yuki Tanada's success was also a marker of another new trend in Japanese cinema - a new wave of female directorial talent inextricably linked to the availability of cheaper digital film making technology. Such new independent filmmakers were also increasingly aided by support networks and film festivals designed to showcase their talents, such as the PIA Film Festival, whose stated purpose is to champion independent "Jishu Eiga" (self-made) films and nurture young talent.
Another PIA veteran (his Bare Assed Japan won the grand prize at The PIA Awards in 2007) also celebrated by the current festival is director Yuya Ishii, whose Sawako Decides (2009) is a quirky comedy that demonstrates the freer and more irreverent style that can be found in the work of many of today's Japanese filmmakers such as Shion Sono (the multiple award-winning Love Exposure, 2008) and Yoshihiro Nakamura (Fish Story, 2008).
With thanks to Jasper Sharp, Programme Advisor, for this information. (www.jpf-film.org.uk)
Share this with others on...