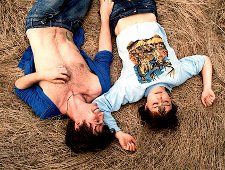 Brown and Trotter Landry in the film
Brilliantlove - or The Orgasm Diaries as it is to be rather more prosaically renamed on release in the States - tells the story of Noon (Nancy Trotter Landry) and Manchester (Liam Browne), two young lovers who are in the full blush of first love. The film tracks their exploits over one long, hot summer that will involve euphoria, romance and quite a lot of mistakes as Manchester- a would-be photographer - finds himself wooed by a porn baron who will come to threaten his relationship with Noon. The film doesn't hold back when it comes to depicting sex, with the pair's love-life shown in considerable detail.
Catching up with director Ashley Horner and stars Trotter Landry and Liam Browne just after the film premiered at Tribeca Film Festival earlier this year, Horner was convinced that there would be a strong reaction to the sex scenes in the film from the right wing press, but equally sure that the film would find its audience.
"I think once you see the film, it's really clear it's a love story that happens to have elements of every facet of a love story, which involves people making love," says Horner. "You can have good sex scenes in pornography, but the fact is here you connect with characters, there's a story, it's beautifully made, it's cinema. I don't think the porn charge will ever stick."
It certainly seems that the sexually frank subject matter meant it was difficult for Horner to get the film off the ground, as he admits it was "incredibly difficult to cast.
"Everybody was frightened," he adds. "I couldn't get people to audition for it, I couldn't get agents to return my calls, I couldn't get casting directors to even think about how it might be put together. So I cast it myself. So I basically went to London and ran seven or eight days of open auditions. I showed the script to everyone before they came to a casting, so everybody knew what they were getting into it."
Despite this upfront attitude, it would be understandable if the young stars had a qualms about appearing in such a full-on film.
"I had kind of bitten and was interested in it," says Trotter Landry "And then saw the script and was, like oh my God. My jaw did drop a few times reading the script."
Horner laughs. "My jaw dropped twice when we were writing it," he says.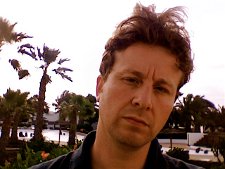 Browne, however, had no such concerns. "When I first read the script the story took me past thinking about how graphic it was because I loved the story," he says "I live a bit in that indie world - I have a lot of friends who are artists, photographers and musicians - so it was right up my street in that respect. It was just quirky and interesting."
And every care was taken over the shooting, with Horner admitting he was grateful for having a 27-day shoot along with two weeks of rehearsals.
"It was a very supportive environment to make the film in," he says. "Everyone on the crew was fantastic, everyone had the greatest respoect for the actors and we had enough time. Often when you make a film like this, which obviously hasn't got a lot of money behind it, you don't have the time. But because I had already made a film, I knew we needed more time to do the things I wanted to do. We were lucky to not have to make scenes quickly. We had the time to get to the right emotional place and make beautiful cinema together."
So, who does Horner feel is the ideal audience for the finished product?
"Me," he says. "For me, it's a classic date movie for 19 to 29-year-olds. I remember seeing Sex and Lucia and I loved the film so much that when I met the woman who became my wife, the very first date I took her on was to see Sex And Lucia. Now that's a very clear indication of what sort of man I am and I thought she was the sort of woman who would appreciate it, too. And that's exactly what the audience is. It is going to be people who know what it is, who are broad minded but who are actually romantic - it's an incredibly romantic film. It's about the all-conquering power of love."
Brilliantlove in is selected cinemas across the UK now. For further information visit the official site
Share this with others on...