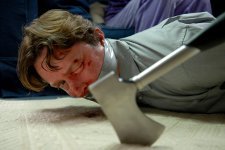 Tom Butcher in the film
Cherry Tree Lane is a nerve-wracking urban horror that sees a middle-class couple terrorised in their own home by a gang of youths. We caught up with director Paul Andrew Williams to talk about his brand of thoroughly modern mayhem.
The movie had its premiere at the Edinburgh Film Festival, and you've just shown it at FrightFest. Both crowds reacted to it quite strongly...
Yeah, you know it was always going to be one of 'those' films. There was a division between people saying nice things and people saying bad things. But you just have to remember that this is a medium that is so subjective. I understand it caused a fuss in Edinburgh, but the FrightFest audience were great. I really enjoyed showing the movie there.
It's strange it did cause such a fuss, as a lot of the violence is quite implicit.
Sure. I'm not playing games with the audience - I'm just not into that. And, you know, I'm just not a big fan of movie violence. It's not something I like to watch a lot of. There are some things you don't want to see and although it was important to the story, there are lots of things you can do as a director or as a writer to suggest the violence. I tried that instead.
Is it a comment on the nature of violence? The film compares in some ways to the middle-class home invasion aspect of Michael Haneke's Funny Games.
You know, I've never seen Funny Games. When I was in production, there were all these people telling me that I should see that movie. They wanted me to know what I was up against. But I don't think there was much of a point - from what I hear it has a certain message to do with screen violence, a moral standpoint. I didn't want that with this movie. I didn't want a moral standpoint, or to display a political agenda. This is just a story and I'm interested in this one version of how you can see the events.
So what were your intentions for the movie? Well, it's about something that could happen. It's all about 'potential'. I wanted it to feel real, and I didn't want Bruce Willis to come through the door to save people at any second. It's about how these events really might be and not how the media might portray it. The only time you ever hear about stuff like this is through the media, in various ways. They want heightened drama, some extra excitement.
So, you wanted the story to speak for itself?
Yes, definitely.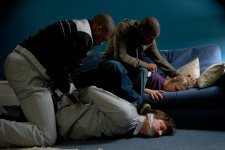 Because it does seem in the vein of the recent hoodie horror... I wondered if you saw this as an extension of these movies?
People can look at it, or categorise it, the way they want to look at it or categorise it. People have agendas. Factually it may or may not be right. Not all the kids wear hoodies in the movie - only two have hoodies on. I think that the critics, or whoever, slapping on this label, are looking for the common denominator that categorises the movie. I mean, I don't come up with this. It's just some journalist somewhere.
This is a very different film from the comedy horror of The Cottage. And different again from the social realism of London To Brighton. These seem very disparate, unconnected films. Are there any ongoing threads?
I have an eclectic taste in films, so I guess that is what would show in the films I make. Why wouldn't I make different films? They're all stories, although maybe quite different stories. I don't look at the project and say this is this and that is that. What kind of films do you like? Do you have any cinematic idols?
Well, I wouldn't say I have any idols. But I have great respect for James Cameron - that guy is a genius. Look at Avatar. I mean, you can pick a lot of what he's done and hold it up as great work. That guy is very, very clever. Aside from him, I really like the Director of Photography Conrad Hall [Marathon Man, American Beauty]. He produced some great images. It's a great shame he died recently. Does this mean you'll move to Hollywood?
I'm not against the idea. If the right thing came along, you know. At the end of the day I have got a family to feed - so if a project comes from Hollywood I think I would be interested in, then I'd go ahead and do it. Never say never.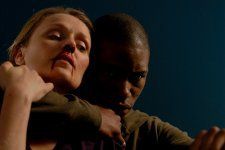 You planning this next?
Well, I have various films I am attached to. But in this industry who knows what I'll be doing next. Things do fall through, you know. I have this genre movie, featuring a choir, which is set in Scotland. It's called A Song for Marion. And I've also written a play, which I hope will be put on. I'm quite excited about that.
Any projects involving the now-defunct UK Film Council? What do you think about the government's decision there?
Well, I haven't had a huge amount of experience with those guys - although what they have helped me with has been great. I think it's only a problem if its abolition means it'll be harder to get funding or harder to make a film. You know, as long as it's replaced in some way or the money is still there. As a filmmaker - in my experience anyway - you are always up against it. There's the whole issue of piracy for example. You just hope you can still keep making films.
Cherry Tree Lane is out in cinemas across the UK now. It will be released on DVD by Metrodome on September 13.
Share this with others on...