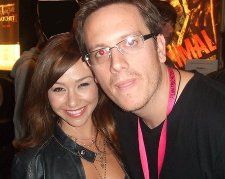 Danielle Harris is snapped with our critic Darren
After 24 films, countless energy drinks and limited sleep, FrightFest is finally over - and this first-timer's experience at the UK's premiere horror film showcase was, in a word, goresome.
FrightFest, which runs over the course of five days, is the friendliest festival I've been to. It prides itself on a welcoming atmosphere. The opening night's attraction was the UK premiere of Hatchet 2, the original - a nod to old school slasher films - was a film I first discovered on DVD.
Before the movie, stars Tony Todd, Kane Hodder, Danielle Harris and director Adam Green mingled with fans in the foyer, taking pictures and signing autographs. All were very approachable and happy to be there. Harris is a particular favourite of mine and she obliged by having her picture taken with me.
Watching Hatchet 2 was like being at a rock concert, in-between each kill - there were many, around triple the number in the original - people roared their approval in the aisles. This sequel easy surpassed the original, it had plentiful amounts of gore, more screen time for returning characters - step forward Tony Todd, who delivered his best performance in years - and proved that Harris is the new 'scream queen' for this generation.
Australian films featured prominently in this year's programme and I can honestly say the majority of them were fantastic. Red Hill and The Loved Ones both made my top five films from this year's slate. Red Hill is a highly satisfying supernatural-tinged western, which proves Ryan Kwanten would soon be a top movie star. A special mention also has to go out to director Patrick Hughes, whose eye for visuals was astounding, he evokes a tremendous atmosphere - and as the movie moved towards its climax I even saw a few tears from one audience member and I can tell you it wasn't through terror. A terrific debut.
The Loved Ones was the perfect late night screening choice. Hats off to the organisers because each night's film in the 11.30pm slot was magnificent, - just when you were starting to falter and your eyes were beginning to close, these ensured that you left with a late-night smile on your face.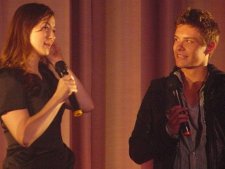 Boasting a wonderful soundtrack and pop art photography The Loved Ones has been likened to Pretty In Pink meets Misery. The film is slick and sick, laced with black humor and wince-worthy moments - a wonderful piece of dark entertainment.
Sadly the same couldn't be said for the British films included, Dead Cert. This East End gangster vampire movie sucked (pardon the pun), with lead Craig Fairbrass looking the mostly likely actor to come through this unscathed.
13 Hours is a haunted house werewolf movie that featured bald werewolves - I kid you not. During the Q&A, director Jonathan Glendening stated this was always in the script, but after watching the movie, I would suggest the real answer was they had no budget for hairy ones! Not even the eye candy of Isabella Calthorpe and Gemma Atkinson could save this "not even fit for television" movie.
Isle Of Dogs didn't fare much better. It is a mish mash of spaghetti western and giallo horror, which sounds awesome, but has no bite or staying power.
Luckily F came along to become the British saviour, a spin on John Carpenter's Assault On Precinct 13.
Johannes Roberts' film is set in a British school, which is under siege at night, as the characters try to survive an attack from a hooded gang of youths. I once savaged Roberts' TV mini-series When Evil Calls, but F is a nail-biting, high tension, claustrophobic thriller that really delivers.
The biggest surprise of the festival for me was the remake of I Spit On Your Grave, a film I, in all honestly, had no real interest in. The first half was extremely tense and awkward to watch, mainly due to a specific scene, which causes the recipient of a heinous crime to take revenge on her assailants. The kills for this were inventive, gory and crowd-pleasing and the final act really brought me back into the film.
The same could not be said for The Clinic, a prison survival film which criminally underused Spartacus television actor Andy Whitfield. He owns the film when he is onscreen but, sadly, the director didn't agree and kills off his character early on.
The third choice film from my top five would be The Dead, a zombie road movie set in Africa. A stunning looking film by The Ford Brothers - who have been likened to Tony and Ridley Scott for their early commercial work - they have a succinct style. The, largely unknown leads, Prince David Oseia and Rob Freeman give captivating performances. The final result is a relentlessly intense movie with great FX.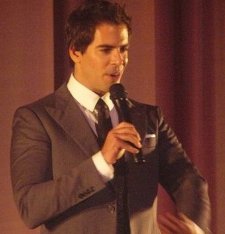 Most notable disappointments, were Damned By Dawn, which promised to be the answer to Evil Dead 4 - it wasn't, not seeing A Serbian Film which was pulled at the last minute (read our news story here), and finally not being able to stay awake to fully appreciate Dream Home because the five previous films I'd watched and my tiredness caught up with me. The 'guilty pleasure' of the festival though had to be Alien Vs. Ninja, which featured killer kung fu, splatter and slapstick comedy in the tradition of Tokyo Gore Police.
My fourth choice would be Red, White And Blue, a slow-burner that really holds your attention, featuring wonderful performances from Amanda Fuller and Noah Taylor. It's a film that leads to a phenomenal emotional investment and is a true 'must-see'.
Finally my fifth favorite film and, co-incidentally, the final film of festival is The Last Exorcism produced by gore god Eli Roth. The exorcism movie has been done to death but what elevates this from the mediocre others is the talent involved. Visionary director Daniel Stamm (read his interview with us here), tightly weaves together this possession nightmare, ably assisted by Patrick Fabian as a renegade preacher battling his own demons and Ashley Bell as the possessed girl in question. The ending might divide audiences but will provoke further questions and discussion upon viewing and there is nothing wrong with that.
So that's it, this year's festival is over, and what a festival it was, the line-up included films from 13 different countries proving that horror really is a universal commodity.
Farewell for now, new FrightFest family - I'll be back to see you all next year!
Share this with others on...