Director Daniel Alfredson
It's not often that a film made in Swedish grabs the attention of mainstream British cinemagoers, but last Spring's The Girl With The Dragon Tattoo made a big impression. Some of this was of course down to the success of the book it was based on, by Stieg Larsson. What hooked readers and viewers alike was its central character. She had the same effect on director Daniel Alfredson, who worked on the second two films in the trilogy. With The Girl Who Played With Fire out this week, he spoke to Eye For Film about how it all started.
Daniel's involvement came earlier than you might think. "I was working in Swedish TV at the time and the publishers sent over the manuscripts for the books, before they were even published, so I was involved with Stieg Larsson's work from an early stage," he explains. "I found them really compelling. Then I was approached by the producers who asked if I would do The Girl Who Played With Fire, and of course I did the third one as well." The Girl Who Kicked The Hornet's Nest will be out at the end of November. He tells me that he didn't feel pressured at first because the books didn't become popular until he had already started filming - that was when the pressure kicked in.
"Lisbeth Salander was the key thing for me," he says, referring to the books' heroine. "She's very unusual. You want to get to know her, to uncover her whole background. You want to see her and know her secrets." Directing the actors wasn't difficult because they became very involved with their characters, "Especially Noomi [Rapace] and Michael [Nyqvist]. Noomi in particular had practically the same reading of the book as I did. When we shot the love scene, I felt it's important to have that scene in the film because it's very explicit in the book. In the film, after 15 or 20 minutes Lisbeth is all alone and I think it's important to see another side to her, a caring and loving side. I talked to Noomi about it at a really early stage and it was something she really wanted to do."
I comment that I thought much of the style of the film, and particularly that scene, was reminiscent of film noir. Daniel agrees. "I was interested in the dark side of the novels. I think Stieg Larsson really dug into the dark side of Sweden."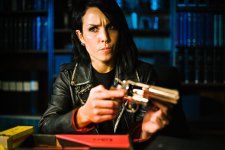 It was perhaps a difficult film to approach stylistically because there's such a shift of emphasis from the story in the first book. Daniel tells me that he saw the first book as a mystery drama, the second as an action thriller and the third as more of a courtroom drama. Does he think audiences will stick with the films through all these changes? "I hope so! I think they will become attached to the characters too, so hopefully they will."
Another challenge for Daniel was finding a way to present a story in which much of the dialogue is internal, with characters spending long periods of time on their own. There are no clumsy voiceovers in the film, but he admits it was tough to keep Lisbeth's perspective in particular.
"I tried as hard as I could," he says. "I thought about different ways to approach it but I really didn't want to introduce any new characters or give her any more friends because I think part of the thing we like about her is that she's alone so much, that she's vulnerable. That's where a lot of her appeal comes from."
Did he succeed? You can judge for yourself at the cinema this week.
Share this with others on...