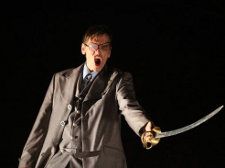 Bill Moseley in 2001 Maniacs: Field Of Screams
Bill Moseley is no stranger to portraying psychotic redneck 'hellbilly' types, having breathed life into several of the most memorable and downright nasty horror movie characters in recent memory - including the deranged Chop-Top from The Texas Chainsaw Massacre 2 and the mercilessly sadistic Otis Driftwood from Rob Zombie's The Devil's Rejects and House Of 1000 Corpses.
With the release of Tim Sullivan's 2001 Maniacs: Field Of Screams, Moseley looks set to add yet another barnstorming oddball to his already engorged menagerie of freaks. Field Of Screams is the sequel to Sullivan's remake/sequel of Herschell Gordon Lewis's 1964 splatter movie Two Thousand Maniacs! The film, a twisted take on the legend of Brigadoon, features the exploits of the residents of a Deep South ghost town who lure unsuspecting Northern 'Yankees' to their splattery doom, in order to avenge the town's destruction during the Civil War.
"I loved the original Two Thousand Maniacs!," explains the actor in that distinct and compelling drawl of his, as we chat over the phone on a balmy Tuesday evening - he in LA, me in Belfast - and I ask him how he became involved in Field Of Screams. "I also really liked Tim Sullivan's remake.Tim is a friend of Rob Zombie's and he liked my performance in The Devil's Rejects and wanted to work with me."
When Sullivan initially approached Moseley about Field Of Screams however, it wasn't for the role of Mayor Buckman - who was played by Robert Englund in the first film - but the part of the drunken town doctor. When Englund dropped out prior to filming, however, Sullivan asked Moseley to replace him as the deranged leader of the maniacal town.
"Robert Englund is an iconic character and an amazing actor," Moseley says, as he explains his initial hesitancy picking up the baton from the man most famous for portraying child-killing dream demon Freddy Krueger. "I expressed my concerns to Tim (Sullivan) and he said not to worry, just to find my own way with the character. So, the first thing I did was to go to You Tube and look up clips of an old cartoon character named Foghorn Leghorn - he's a big old bombastic rooster - just to kind of get into that aspect of the character. That started the character for me."
Shooting over a period of only 12 days, the filming of Field Of Screams was actually a pretty mellow experience the actor revealed. "I had just come over from Cornwall where I'd been making a movie. So I was pretty much on the tired side. I flew from England over to Omaha, Nebraska. We shot on the Iowa side of the Missouri river, in a little public park. It was a lot of fun, and I think a lot of that comes down to the spirit of the director. Tim was all smiles, all of the time, which was a little disconcerting to begin with. I wasn't sure if he was on drugs, or just pretending to be happy. Then I realised after a day or two that he just loved everything. He was in heaven. When you have a director who puts out that kind of energy it just makes it so much easier to work, because then there's not so much tension."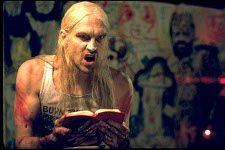 Field Of Screams bleeds from the same blackly comic vein of its predecessor, mixing grotesque and dark humour with splashy and cartoonish violence. Splat-stick, if you will. "To tell you the truth it actually comes pretty naturally to me," Moseley says when asked about the potential difficulties in balancing horror with humour. "I do have a good sense of humour, but it's also a pretty dark sense of humour."
With the current glut of glossy Hollywood horror remakes, reboots and reimaginings, Field Of Screams stands as a good old-fashioned throwback to vintage splatter movies and old-fashioned grind house horror, complete with trashy humour and a distinct lack of political correctness. In other words, those of a delicate disposition (and a subscription to the Daily Mail) beware. How does Moseley see it fitting in - what can it give blood-thirsty horror hounds that other current horror flicks can't? "For me, the saving grace really is the use of imaginative kills in the movie," he says. "There's a scene where a woman gets sawed in half, and a couple of other things that kind of remind everybody that this is really a horror movie after all."
Even though Moseley has appeared in films that span a surprising number of genres, it is his work within the blood-dark realms of horror that has received most critical accolades. The actor revealed that he is not only a huge fan of horror, but also believes it to be the most rewarding genre in terms of the kinds of challenging roles it offers up. "For me, I get to do the widest range of characters in the horror genre, because somehow I have been successful in the genre" he explains. "People tend to give me some of the more, shall we say, demanding roles. It's very easy to do it badly, but when you do it well, it's actually lots of fun and can quite often be very powerful."
As a stalwart of the genre, Moseley must by now have a pretty good idea of the ingredients for an effective horror movie. "You know, what scared me recently was Paranormal Activity. It was a great homage to the likes of The Blair Witch Project. The supernatural is always scary, particularly in a commonplace setting. It was interesting because it really let the audience use their imagination. I loved that about Blair Witch; everything was psychologically disturbing. That's great horror. A far cry from the cutting-people-up of 2001 Maniacs: Field of Screams. I guess, for me, horror is something that really upsets the balance of a steady life and I would have to say that the scariest kind of horror is suggested."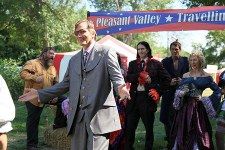 In terms of the extremes Moseley often has to go to as the characters he plays, I asked him if there was anything he has been required to do in a movie that he would deem 'too far' in terms of depicting violence or exploitation. "Well, not yet!" he says. "The only thing that I absolutely refuse to do is smoke. That's about it."
Portraying such dark and disturbing characters as frequently as Moseley does, provides the actor with an abundance of challenges that he obviously relishes, not least the process of getting into the mindset of such disturbed and depraved individuals as Chop Top and Otis - something he does with deceptive ease. "It's a lot of fun" Moseley reveals, when I ask him if he enjoys it and how he prepares for each new role. "It's not always fun though, but the challenge is certainly fun. I sit with the material and read the script so that everything the character does has a logic and a certain naturalness to it. Whenever I play psychotic characters, my rule of thumb is, 'I'm the only sane one here.' Once I do that, I'm not playing somebody 'crazy' because that always looks fake, but 'I'm ok and everybody else is crazy.' When you do that, then you basically follow an internal logic which makes the character believable."
Surely such frequent visits to 'the dark side' must take their toll, though. When I broached the subject of how he keeps his own sanity Moseley left no room for doubt - when dabbling in such darkness, its important to be able to separate work from your personal life. Then just go for it.
The scene he talks about features the sexual humiliation, degradation and eventual murder of two couples in a grotty motel room at the hands of Otis Driftwood and Baby Firefly (Sherri Moon Zombie) - and must surely rank among Rob Zombie's most excruciatingly taut and upsetting.
"If I have to go to dark and scary places, so be it. Most of the time I'm pretty comfortable with it. There are times, however, when there's an intersection between the dark and scary places and the reality of acting in a scene. One of the more disturbing instances I've experienced in terms of this was in that scene in The Devil's Rejects - the one in the motel room with Priscilla Barnes.
"That scene was disturbing because you're actually working with real people, and the situation is that in order to play it right, you really have to just do it. That was quite scary. I'm not that guy, but in that moment I was that guy and that was a scene that really bothered me. I remember going to work that day and really kind of dreading that scene and worrying about how it was going to work out. My hat is off to Rob for writing the scene and directing it, and especially to Priscilla Barnes who was really just right there with me. There wasn't any self-consciousness in that scene, we really just leapt into the fire and had a good dance."
2001 Maniacs: Field Of Screams is out now to own on DVD and Bluray.
Share this with others on...