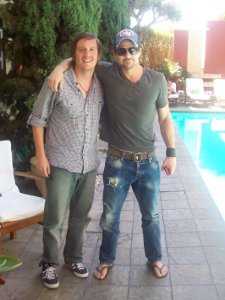 Eye For Film's Darren with Sean
Sean Patrick Flanery is an actor I've admired for a long time, who's been working solidly in Hollywood for 20 plus years. I was lucky enough to sit down with him for well over an hour, poolside at the Grafton on Sunset Hotel in LA, to talk about his career.
The first thing I must say about Sean is how gracious and humble he is. We start off talking about Comic-Con and how he made his first appearance there to promote The Boondock Saints 2. He recalls how the place was raucous and it was clear he was quite overcome by all the 'Con Craziness'. In particular, the feeling of being like Tom Cruise for the day - something he doesn't experience very often, but embraced.
Its crazy to think the original Boondock Saints movie was well over ten years ago. It was a film that helped Sean develop a cult following. The sequel was a long time coming and for most fans it was a welcome return. "This time around the scope was bigger. Everyone had a fucking ball doing it," he said.
I must admit to first coming across Sean well before Saints, when he first appeared as Young Indiana Jones. When I ask Sean if he had a favourite episode in the series, without hesitation he replies "Verdun." It was an episode helmed by young French art house director Rene Manzor, who at the time he thought was "fucking bizarre", who hardly spoke English - which Flanery at first found very frustrating - but whose composition visually was 'poignant' and 'special'.
The series was shot all around the world. If Sean had to pick one favourite place it would be Prague, but he loved living in London, where he kept a flat for six years. Rome and Phuket, Thailand, were also highlights.
The great appeal for me about the Young Indiana Jones Chronicles was it spanned so many genres. Being a horror fan I inform Sean I loved the episode where Vlad the Impaler appeared. Enthusiastically he replies "Me too man, I mean you and three other people saw the show, that's it, but I fucking adored doing it."
I had to ask Sean about his female co-stars. He's worked with a bevy of beauties throughout his career including Sarah Michelle Gellar and Amanda Peet. "Have you ever read books on those actresses that never come out of their trailers?" he asks. I smile and reply "Yes." "Well I've met those," he laughs.
One of his first girlfriends as Young Indy was Elizabeth Hurley; he also snuggled up to Catherine Zeta-Jones, and he refers to them both as cool people. "I've worked with a bunch. Personalities run the gambit of good, interesting, horrible, tyrannical."
So what was Sarah (Michelle Gellar) like, I ask. Smiling, Sean replies slightly awkwardly "I worked with a lot of different people," before breaking out into laughter.
A film I discovered recently of Sean's was The Insatiable, a small low budget vampire movie that he co-stars in with Michael Biehn, which he informs me was shot for $700 grand. A 'fun little film' by two directors who he refers to as 'little Spielbergs', guys who are so talented he would do a fruit loops commercial with them.
Sean was really pleased I'd seen it. Like many features he's appeared in lately, it has slipped under the radar, which is a real shame. Fortunately his fans know that it's worth seeking them out. Flanery is 'blown away' that he is paid to do this for a living; he knows fully well how lucky he is, and constantly gives advice to struggling actors, some who he regularly encounters at the jujitsu academy he runs in West Hollywood.
Sean Patrick Flanery has worked across many different genres. When I ask if he has a specific favourite he replies "Anything good. I mean, I've done some steaming big piles of shit, you know? Whether it be horror or a romantic comedy, as long as its well-written then it's something I can plug into.
"I like to be a part of films, where I read the script and I'm like, shit, even if I don't do this I'm going to go see it. For the most part I'm a fan, I like to do movies I would go see."
We also talked about the recently released Deadly Impact, a psychological thriller that he shot in 'steaming hot' Albuquerque, New Mexico. Flanery costars with Joe Pantoliano (The Matrix) in a cat and mouse thriller that really keeps you on the edge of your seat, right up until the very last frame.
It seems that no matter what subject we discuss the conversation always leads back to a certain young adventurer. Flanery tells me that everything he has learnt to this day about acting he discovered on that show. At the time he knew nothing other than that he was surrounded by lots of talented people who were playing second fiddle to some dude from Texas.
When I ask Sean who was one of his favourite directors to work with he replies "Victor Salva, who directed Powder. Put aside the controversy, - that guy is a fucking director, man! This guy was one of the most talented directors I worked with, what he shines in is something delicate like Powder, when I look back on it that movie was something really special, you get into the business to do films like that."
During the interview we discuss Sean's love of horror. He recalls memories of working with horror icon Tobe Hooper, whom he calls one of the best people in world and just a funny dude. In between takes, Hooper would fall asleep in his director's chair. "He's just a solid guy who's been around the block, who knows what he wants, and I really like that."
I learnt from our interview that Sean doesn't consider himself a celebrity. He says nobody really knows who he is and that opportunities to work on huge films don't often come his way. "I mean, Boondocks is coming out in theatres which is weird for me, it's neat, but I do little films like The Insatiable which pop up on cable TV or DVD. Of course I would love to do big commercial films, even if only for my mom."
Throughout our highly informative, open and warm interview, Sean references his musical tastes and influences and reveals his love for British comedy, action movies and art house cinemas. He even throws in a hilarious Christopher Walken impersonation.
I felt like I was talking to a friend I'd known for years, which is a testament to his personality, dedication and professionalism. It is clear why he has had the career he has in the industry. Flanery has the talent to elevate even the most mediocre material - step forward Mongolian Death Worm, a 'hammy monster movie' (made way more enjoyable than it had any right to be by Flanery's mere presence) that recently debuted on the Syfy Channel. With the right script this guy could be a 'major movie star'. To his loyal followers, he already is.
Share this with others on...