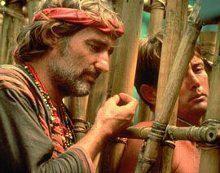 Dennis Hopper with Martin Sheen in Apocalypse Now
"I am just a middle-class farm boy from Dodge City and my grandparents were wheat farmers. I thought painting, acting, directing and photography was all part of being an artist. I have made my money that way. And I have had some fun. It's not been a bad life."
The story of the humble farm boy who takes on the establishment and changes everything is a familiar plotline from Hollywood films, but Dennis Hopper was something different. He became one of the industry's most notorious bad boys, his vision was all his own, and though he took a few heroic roles he is remembered most fondly for his villains and for his charismatic outsiders. He was never just another actor. He challenged the Hollywood idea and, through it, our perceptions of how stories ought to go.
Right from the start, the young Hopper, having up and left his dodge city roots, made his mark where it mattered. In his teens he studied at the Actor's Studio in New York and there befriended Vincent Price, who was just at the start of his own illustrious cinematic career following a memorable performance in Otto Preminger's Laura. It was Price who introduced Hopper to the art world, taking him to galleries and providing him with a rich cultural education. The passion this inspired would remain with the younger man for the remainder of his life. He worked hard to develop his skills as a painter and became an accomplished photographer, taking advantage of exotic filming locations to work on his hobby. In time he would go on to hold exhibitions of his own.
In the meantime, an acting career was calling, and Hopper's first film was characteristically revolutionary. Credited with inventing the teenager, Rebel Without A Cause set him alongside the equally intense James Dean. "Jimmy was the most talented and original actor I ever saw work," Hopper said afterwards. "He was also a guerilla artist who attacked all restrictions on his sensibility. Once he pulled a switchblade and threatened to murder his director. I imitated his style in art and in life. It got me in a lot of trouble."
The two worked together once again, in Giant, before Dean's death in a violent car accident. Hopper was deeply affected by his loss, but much of what Dean had taught him stayed with him, and it began to become clear that he would always be a rebel. To begin with it was a strangely self-conscious rebellion, carefully styled after the bad boys of Hollywood past, complete with drinking sprees and fights and champagne orgies, but gradually he began to find his own direction. Friendships with stars like Elvis Presley and Jack Nicholson helped him find a place in a new generation of angry young men.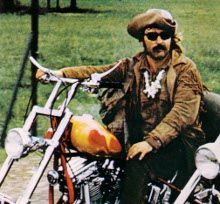 Hopper in Easy Rider
Though he made a strong impression in his supporting roles in True Grit and Cool Hand Luke, 1969 was the year it all came together - the year Hopper turned his passion for photography into direction and put together the groundbreaking Easy Rider. Along with Nicholson, Peter Fonda and Terry Southern, he created a work with enduring appeal, a challenge to the social order in America and a focal point for the millions of young people angry about what was happening in Vietnam. It was also a film that addressed the issue of drug use in America's counterculture head on, showing both the negative and the fantastic possibilities offered by psychoactive chemicals.
Of course, one notable thing about Easy Rider is that the drugs were real - and for Hopper, they didn't go away when the credits rolled. Reacting to a messy break-up with his wife of eight years, actress Brooke Hayward, he started drinking more and more, and descended into a decade of alcoholism. "The alcohol was awful," he admitted later. "I was a terrible alcoholic. I mean, people used to ask how much drugs I did. I said, 'I only do drugs so I can drink more'. I was doing the coke so I could drink more. I mean, I don't know any other reason. I'd start drinking in the morning. I'd drink all day long... My last five years of drinking was a nightmare. I was drinking a half-gallon of rum with a fifth of rum on the side, in case I ran out, 28 beers a day, and three grams of cocaine just to keep me moving around. And I thought I was doing fine because I wasn't crawling around drunk on the floor."
It was a difficult period during which, extraordinarily, Hopper managed to keep on working, creating an unusual Tom Ripley in Wim Wenders' The American Friend, taking supporting roles in indie pictures like Crush Proof and playing desperadoes like Mad Dog Morgan. In the meantime, his personal life descended into chaos. There were two more marriages, one of which lasted for only a week. At one point he locked himself in a coffin in an art gallery with several sticks of dynamite, and on another occasion he went wandering alone in the desert. "You want to hear about insanity?" he later asked. "I was found running naked through the jungles in Mexico. At the Mexico City airport, I decided I was in the middle of a movie and walked out on the wing on take-off. My body... my liver... okay, my brain... went."
His survival instinct, though, remained intact. In 1983 he went into rehab and changed his lifestyle overnight, completely cleaning up his act. It was an act indicative of the resolve with which he approached everything in life. Two successful films Rumble Fish and The Osterman Weekend - followed, but it was in 1986 that he really wowed audiences again, playing the unforgettable villain Frank Booth in Blue Velvet. Described by the author JG Ballard as 'a curious innocent', Frank is a character whose self-serving aggression and pitch black sense of humour terrified a generation. Reportedly, when the script was first circulating in Hollywood, Hopper phoned up director David Lynch and demanded the role "because I am Frank Booth."
It was a film that made him hot property. Though he starred in a few turkeys in the immediate aftermath - from Super Mario Bros. to Waterworld - he had rediscovered his focus, and took on with relish roles like the villain in Speed and the hero's father in True Romance, where he gave an outstanding cameo performance opposite Christopher Walken.
Appearing in over 150 films in the course of his career, Hopper never really slowed down. He continued to work on his photography, to increasing critical acclaim, and had two more marriages, the latter complete with restraining order. He also took an interest in music, appearing in videos with Gorillaz and Puff Daddy, and in video games, lending his voice to one of Grand Theft Auto: Vice City's sleazier characters.
In January this year, Hopper announced that he had terminal prostate cancer. His death came just four months later. "This is such a rich time that we've just been involved in," he said of the cinema. "Film is still very young. This is the first hundred years of filmmaking. So I think it's important that we have some sense of history and continuity." There can be no doubt that he will go down in history himself.
Share this with others on...