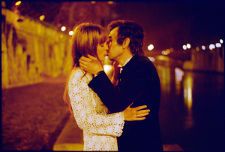 Gainsbourg: Vie héroïque
One of the odd things about Tribeca Film Festival these days is how little of it actually takes place down in Tribeca itself. It crosses my mind that this might be why, after years of the festival's slogan being "Think you've seen it all in New York... well you haven't seen this" it has been changed to "Here comes the neighbourhood" - but, if so, there's an irony to that.
The festival's line-up has improved considerably since it first started out, but there is still a sense that it hasn't quite settled on its identity yet. Despite this I'm not going to join the ranks of those who seem to feel that somehow this town doesn't need this festival. It's true that New Yorkers are blessed with an incredible choice of films to see from around the globe all year round, but there is a unique, young festival buzz about Tribeca, which you can feel crowds warming to. Somehow standing in line chatting about films you've seen or buying a ticket on the fly is more exciting at a festival and there's plenty of celebs knocking about meaning Starbucks star-spotting is enhanced. Plus, and perhaps most importantly for the health of the industry as a whole, lots of directors come to town, making it a great opportunity for those based here and those who work abroad to network and socialise.
Still, there is that identity problem - a sense that the festival is still something of a troubled an unruly youth - personally I'm hoping that, like so many teenagers, it will surprise us all in the next four or five years or so.
Notions of identity are strongly represented in the films here this year, too. Several of those I've seen so far have touched on the idea, from Idris Elba-starrer Legacy through to Serge Gainsbourg biopic Gainsbourg: Vie héroïque (Or Gainsbourg: Je T'Aime... Moi Non Plus as it has been renamed for its sojourn here). But where Thomas Ikimi's psychological thriller (which you can read more about here) confines itself to mind games, first-time writer and director Joann Sfar uses puppetry and caricature to explore the larger than life existence of the singer-soingwriter-cum-rabble-rouser-and-womaniser. Tracking Serge's origins in Paris under Nazi occupation - when he was simply Lucien Ginsberg - Sfar creates a complex picture of the man by using a Doug Jones puppet of him as his alter ego - his 'mug', or rather that part of him that has a devil may care attitude to everyone and everything.
Sfar's quirky device befits a man for whom conforming was not an option and there is much enjoyment to be had on this whistle-stop tour of Serge's life. Eric Elmosnino is excellent in the central role, bringing a real physicality Serge and finding aspects of humour even in Gainsbourg's more melancholy moments. The supporting cast - including British actress Lucy Gordon in her last role before her tragic suicide last year - are all very good physical matches to the real people they represent and put in a fine showing in the acting department.
Although, on the whole, accomplished, that the film is shown so much from Gainsbourg's point of view does mean that it skips along the surface more than you would like at times. It's hard, for example, to initially work out why women find him so very attractive, since we are only being treated to his perspective. Sfar also makes few concessions to audience in terms of introducing who is who, no doubt because Gainsbourg is so well known in his homeland, but this means that the more biographical information you know going in, the more you will get out. Still, an audacious and captivating debut.
Real-life identity issues are also explored in docu-fiction mix, Buried Land. Set in the small town of Visoko in Croatia it explores the impact on the locals of the possible presence of pyramids under hills near the town. It is also concerned with the disconnect those who fled due to the Balkans War feel when they return to their homeland. Although these ideas are interesting, sadly, the film is very 'flat' in terms of either narrative or documentary information, becoming more of a test of stamina for the viewer than very much else.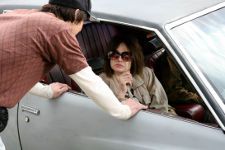 Fact and fiction also collide in The Chameleon, which is based on a true story. Teenager Nicholas Barclay turns up in France, claiming to be the kidnapped son of a Louisiana family, who has been missing for years. His Sister and mother claim him as their own... but an FBI agent isn't convinced and her attempts to prove he is a fake unearth long-buried family secrets.
There's no doubting that Jean-Paul Salome has talent when it comes to directing actors. Ellen Barkin, as Nicholas' mother, and Marc-André Grondin as the kid in identity crisis are compelling, and keep you watching even as the narrative becomes increasingly flakey. Sadly, they are not enough to keep this meandering movie on track and although initially gripping, it suffers its own identity crisis midway through, unsure whether to be thriller or drama, while the dreadful soundtrack and plodding pace make it feel more like a TV movie than a cinema release.
Share this with others on...