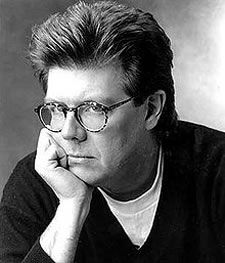 John Hughes
The death of John Hughes on Thursday night seems to have struck a chord. Though he had been retired from the movie business for some years, running a quiet family farm in Illinois, there was something about this iconic director that still kept him close to the hearts of many. In his début hit, The Breakfast Club, an unhappy teacher remarks that its teen heroes will be running the world someday. Now that they are, it seems they still think fondly of days when friendship was everything.
"Looking back, the thing I remember is that it was always the seven of us," says one character at the end of St Elmo's Fire, and it's a statement that sums up the Brat Pack phenomenon. It was The Breakfast Club which launched this group, introducing a whole new generation of stars, but it wasn't long until Hollywood at large sat up and took notice - what else could it do, with teenagers flocking to cinemas in unprecedented numbers? How did it all happen? What was different about these actors from those who had tried and failed to break through before them?
It's said that James Dean invented the teenager in 1955, with Rebel Without A Cause. At the time, though, Dean was 24, and he looked it. Despite a good script and a great performance, he never really convinced as a troubled adolescent, and he started a tradition of casting young people who were visibly too old for their roles. This went along with a habit of scriptwriting which airbrushed genuine teenage naivety and awkwardness out of the pictures, replacing it with a sort of encoded angst which had more to do with social circumstances than the complicated feelings being that age can incur. Hughes made it his mission to introduce real teenage characters, and the result was sensational.
Despite this, the Brat Pack films frequently came in for criticism centred on the lavish lifestyles enjoyed by many of their characters and the fairytale solutions often presented to their problems. Many people might have identified with the urge behind Ferris Bueller's Day Off, but rather fewer could find red Ferraris conveniently at their disposal. There was a heavy emphasis on female characters needing to be considered beautiful and to find the right relationships, and it was rare than anybody had to deal with an older character actually being right. Yet this dodging of deeper issues perhaps accurately reflected the way a lot of young people perceive the world, and it left room for other concerns to come to the fore. It acknowledged that how to present oneself, who to associate with and how to find one's direction in life are universal concerns of real importance, especially at such a vulnerable age.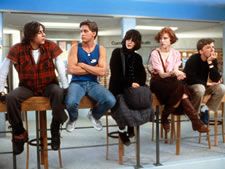 The Brat Pack was a loosely defined group, but was generally considered to include Emilio Estévez (who played the popular guy characters), Molly Ringwald (the sometimes haughty heroine with a heart), Rob Lowe (the heart-throb of the group, later the star of a bootleg sex video partly responsible for the popularisation of ecstasy), Anthony Michael Hall (the geeky one), Ally Sheedy (the quirky one), Andrew McCarthy (the shy one), Judd Nelson (the rebel) and Demi Moore (the daring one, whose desire to be treated the same way as Hollywood's male stars led to her continually pushing the envelope to see what strange demands she could ge away with). Tom Cruise, Matthew Broderick, Keifer Sutherland, Charlie Sheen and Robert Downey Jr. were also frequently linked with the group. As one might expect, a close association of people this age led to numerous romances and messy break-ups, and there were also several scandals involving drink and drugs. Yet the Brat Pack's messy personal lives only seemed to endear them further to their fans.
Alongside Hughes, they key director of Brat Pack films was Joel Schumacher, whose glossy style brought a kind of hyperrealism to the mundane (though inarguably dramatic) lives of his characters. The most important films were ensemble pieces, reflecting the complex interconnected pattern of teenage lives. In The Breakfast Club, our heroes were struggling to survive high school. In St Elmo's Fire, they were trying to figure out what to do with themselves upon finishing college. In and around these stories were woven the concerns of a generation.
Perhaps it wasn't until the Eighties that being a teenager really came into its own. Before that, young men were generally stereotyped as troublemakers, young women as vulnerable innocents or lost causes. The early Eighties were the early days of neo-liberal economics, an optimistic time when everything was focused on the importance of being young, energetic and (to a degree) selfish. They were also a time when traditional restrictions were beginning to break down. The Brat Pack produced a succession of sensitive male characters who stood their ground against old-fashioned masculine aggression, and it broached the subject of teenage sexuality in a way few had dared to before, yet without the heavy sexualisation of young characters which we tend to see today.
In his darker films, like Sixteen Candles and Pretty In Pink, Hughes seemed to suggest that everybody knew being young wasn't really a fairytale. Yet the gentle romantic endings and the powerful focus on friendship gave these films a nostalgic quality even at the time they were released - they were the perfect teenage dream. It wasn't until the end of the decade that Heathers stuck a knife in its back and let jealousy, obesity, anorexia, date rape and vicious bullying come tumbling through the door, no longer to be the subject of rose-tinted recollections. A new, more cynical generation of young people was coming to the fore. Most of the Brat Pack stars gradually faded into obscurity. Molly Ringwald and Andrew McCarthy became television actors. Ally Sheedy had an ill-fated Broadway career playing Hedwig of Angry Inch fame. Judd Nelson now provides voices for cartoon Transformers. Life may not have been as kind as they might have hoped, but what we will always remember is the group of them and the dreams they shared with us even if, in the end, it wasn't real fire at all.
Share this with others on...