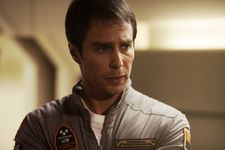 Sam Rockwell as astronaut engineer Sam Bell.
The Edinburgh International Film Festival kicked off its 63rd edition on June 17. It features a slew of films with their first British screening, including the international premiere of Ducan Jones's sci-fi film Moon. The film, which won the festival's prestigious Michael Powell award (read about that and other winners here), features Sam Rockwell as an engineer who starts to lose the plot at the end of his three-year mission to the moon. A couple of weeks ago, we caught up with Duncan to ask him about the difficulties of shooting a sci-fi film on the skinniest of budgets and about his anticipation of showing the film in the UK.
Q: Moon plays like a Valentine to 30 years of science fiction - from Outland, to Gerry Anderson - can you talk a bit about the reasons behind the various references (which even include your central character naming his plants after sci-fi directors?) and about the way in which you evoke the memories of these movies of the past in order to subvert them?
DJ: Well, its kind of tricky really. Sam [Rockwell] and I are both fans of a particular era of sci-fi. More than that, a particular type of sci-fi from a particular era: the gritty, thoughtful stuff that was being made in the late Seventies and Eighties; films like Outland, Silent Running and Ridley Scott's original Alien. I guess with such strong reference points, it felt natural that we wanted to pay homages to the various inspirations for Moon when and where we could.
Sometimes these would be direct references to films, and at other times, like the use of a "clapper" and a "flowbie" they were more indirect references to the era. One of the most obvious references is Hal 9000, and our own Kevin Spacey voiced robot, Gerty. Gerty is an intricate play on homage though, as we use the audience's expectations against them, and create a character who is wholly different from Hal, in a surprising way. To be honest, that became part of the game in making the film... to take expectations based on the films of the past and subvert them and create something new and unique.
Q: Can you tell us about your collaboration with Nathan Parker on the screenplay?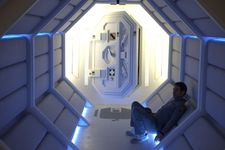 DJ: I had met with Sam to discuss another project about three years ago, and though that project didn't happen, we got on very well. At that meeting it had become absolutely clear to me that Sam was the guy I needed to work with on my first film. He was sensitive, smart, undeniably charismatic, and massively talented. As he had liked the script I had given to him before so much, I asked him if he would read something else if I wrote it just for him.
Leaving that meeting, I immediately set to work devising a story that we could do within the strict limitations we knew we would have to keep to; a tight budget, limited shooting time, specific cost effective special effects, limited cast and keeping the whole thing as a studio shoot. That was the hard part, but after i had the story down, I wrote an extensive treatment that really broke it down pretty specifically. After meeting with a few writers, Nathan was the guy I felt most comfortable with, and we started working together. Nathan did the first couple of drafts, working from my treatment and got the script into a good state, then I tooled over, making adjustments and then more extensive changes after a week of rehearsals with Sam where we had tried out a fair bit of improv.
Q: Although chiefly a psychological study of loneliness and morality, there is still science lying behind how Sam Rockwell's character comes to be on the Moon. How difficult/important was it to get the "science bit" right?
DJ:There are basically two forms of SF. Hard and soft. Hard tries to build on real science, soft is much more lax, and can dally with the fantastical. I've always been a hard SF guy myself. I think it was also important to me that I didnt have to bluff and bluster when Sam started asking me why things were the way they were. Sam is very inquisitive, and curious. He likes to prod and poke and try to find the holes in the reasoning. Knowing how the base and everything else in the story worked meant I was always prepared. I cant help getting annoyed with science fiction that doesn't take real science at least into account.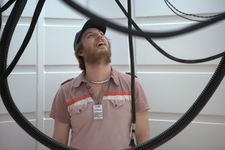 Q: You've said that you had a budget of just $5million - which even in terms of low-budget films, is incredibly tight (for example, Danny Boyle's 'budget' Sunshine was shot for five times that amount). How difficult was it for you to achieve the effects you wanted on that budget and was there an advantage to using models versus CGI?
DJ: Hah! Sunshine was actually shot for TEN times our budget. It cost $50M. Like you say, we were only $5M. One of the unusual things about this film is that we knew our budget limit up front and made the project fit that. So from the very start, we were thinking laterally, trying to come up with ways of putting stuff on screen that would excite and engage, but not cost Summer blockbuster prices. I was blessed with an incredible crew though, with VFX supervisors Simon Staley-Clamp and Gavin Rothery, (who was also our main Concept artist,) and with model miniatures guru Bill Pearson. There was a huge amount of experience around. Also, because we were a little British film, there was a huge amount of good will and enthusiasm to make it work.
Q: Speaking of the special effects, they are used in virtually every scene involving Sam Rockwell. Without giving anything away, how difficult was this to orchestrate and were you ever worried that you might run out of cash?
DJ:As you can imagine, I don't want to give too much away on that front, but as you say, we have an unfathomable amount of special effects for an indie film... and with Sam pretty much in every scene, he had a vast amount of hard work to do. All I can say is that we found an approach that allowed Sam to be his improvisational best, while still making sure I got the technical discipline I needed. I'm convinced I could not have done it with any other actor though.
Q: Sam Rockwell is one of the unsung acting stars of his generation, how did you attract him - and big-hitter Kevin Spacey - to the project?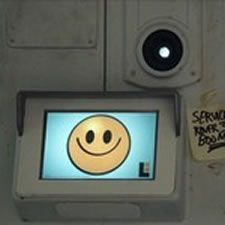 DJ: Well... lol.. Sam I just stalked! Basically I badgered his agent into taking a look at another, previous script until he read it. He did, liked it and agreed to meet. We ended up not doing that project, but that was the "in" that let me talk to him about Moon, when that script was ready.
Kevin Spacey was a very different apporach. Trudi Styler, Sting's wife, is a very well connected, and effective producer here in the UK. She became involved in the film towards the end of financing, and asked me who I had in mind for Gerty. Kevin was top of my list.
She was able to get him to read the script, which he liked, and then I met with him down at the Old Vic theatre here in London where he works. We talked, he told me how cool he thought it was, how great Sam Rockwell was, but that he was concerned that at the budget it was hard to believe it wouldn't look like crap. I totally understood. As it was just a voice performance we were looking for form him, he suggested I get back to him when we had finished making the film. We did, he loved it, and the rest is history!
Q: Before you moved into film you were studying philosophy, specifically looking at applying morality and artificial intelligence to sentient machines, did you draw on that for the development of the 'helper' robot in Moon, Gerty?
DJ: I did...but in a strange way. My studies were about applying morality to thinking machines, but in Moon, Gerty is only of partial interest... the real question becomes, should we be applying the same morality to Sam?
Q:Was Kevin Spacey on the set at the same time as Sam Rockwell or did you fill in the role of Gerty in pre or post-production?
DJ: Kevin Spacey was not on the shoot, no. Basically all sorts of people would read Gerty's lines for Sam! Poor guy... Either me, the script supervisor, or Sam's acting stand in, a young actor called Robin Chalk. During the edit, I recorded my own version of Gerty so that we could get our final cut done, and then Kevin came in at the end and did his version. It was a quick half day of work, but was a lot of fun, and the guy was prepared, and happy to try out all sorts of ideas.
Q: It isn't long ago that you were being hailed as the hot new thing in advertising, thanks to your post-watershed 'kung-fu lesbian' ads for French Connection. How hard was it for you to move from that world into more 'serious' filmmaking?
DJ: Well it was always part of a plan. Working in commercials was a terrific experience, and I certainly hope I will have the chance to keep doing them occasionally, but in some ways it was always a means to an end. I had had the chance to work with Tony Scott briefly when I was younger, and had been the one who suggested that that was as good a route as any into feature films. You learn, you get paid well, you get to play with the latest toys and work with great crews. You get to address all sorts of issues and things that will come up in feature films, and he was right! Commercials and music videos were like a film making finishing school.
I do know other directors in commercials who seem to be trapped there. Guys and gals who are incredibly talented, but who either, for the lure of money or force of habit, are not ready or willing to take the leap into features. I do understand... it takes a certain personality type. You work on a commercial for a couple of months at most, then go on holiday, come back and work on the next thing.. with a feature... well I have been on Moon about two and a half years!
Q: So far the film has screened in the US - at Sundance and Tribeca - it will have its UK premiere at the Edinburgh Film Festival, how do you feel about being able to show it to an entirely British audience? Do you think they will react differently to those Stateside?
DJ: I really don't know... I hope they appreciate and can feel proud of what we have done. Britain has massive amounts of talent in the film industry on both sides of the camera, but rarely get the opportunity to show it in films of British origin. I'm hoping that if the film does well in the US, the UK audience will breathe a sigh of relief and be able to stand up proud behind this little British indie sci-fi film that proved it's possible.
Q: And finally, can you us a little about what you're planning to do next - you said at Sundance it was the "spirtual sequel" to Blade Runner... which is certainly intriguing?
DJ: Well, I am a huge Blade Runner fan... but I am also puzzled why no one has really grasped the bull by the horns and made a film that has the same feel as that film did. I've said it before and people throw film titles at me and say that lots of other films have been like Blade Runner, but I totally disagree... there is something about it that I don't feel anyone else has captured.
I really believe I know how to bring the feeling I had watching Blade Runner, back, for a new audience. It's a very different story, and Berlin is a very different city... but it's going to be something special. Trust me. ;)
Share this with others on...