Natasha in Patty Hearst
It's a tragedy when anyone dies young, and perhaps all the more so when it happens so suddenly. Natasha Richardson, the award-winning star of films like Asylum, The Handmaid's Tale and Maid In Manhattan, was taking a beginners' skiing lesson when she fell and hit her head. What seemed like a minor bump at the time led to a headache and then to collapse - it is thought she died from an internal brain haemorrhage.
Starting out at the tender age of four, Richardson enjoyed a sparkling career on both screen and stage. She was a flower girl in The Charge Of The Light Brigade, directed by her father, Tony Richardson, but she kept her parentage secret for some years thereafter and graduated from the London Central School Of Speech And Drama entirely on her own merits. Her hard work and versatility, coupled with her preference for complex dramatic roles, soon won her fans in the theatrical world, where she starred in productions like High Society and A Streetcar Named Desire, winning a Tony award for her work in Cabaret, in which she demonstrated that she also had a powerful singing voice.
Richardson's first part as an adult in the world of film came when she played Mary Shelley in Ken Russell's Gothic, which (with some embellishment) recounts the legendary story of the writing of Frankenstein. Although the film was not particularly well received, her performance stood out, leading to winning the title role in the controversial biopic Patty Hearst. She brought sympathy and understanding to the kidnapped heiress, but didn't shirk from revealing her darker side and the uncertainty about her real intentions. This revealed an intelligence and daring that ensured she would continue to get challenging roles, and would not just be sidelined as another blond love-interest.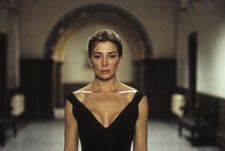 Natasha in David Mackenzie's Asylum
Perhaps Richardson's most impressive work was in 2005's Patrick McGrath adaptation Asylum, in which she played a woman gradually losing her grip on reality under the influence of the men around her. It was a role to which she brought real depth, enabling viewers to sympathise even as her character became more fractious and distant on the surface, and it won her an Evening Standard British Film Award for Best Actress. Though she often had difficulty finding roles in which she could make the most of her talents, everyone who worked with her felt that, in time, she would have gone on to claim many more such prizes.
Alongside this challenging work, Richardson also enjoyed lighter roles, appearing in the likes of The Parent Trap, Maid In Manhattan and the recent Wild Child. When she wanted to turn on the charm, she was always bright and engaging and full of life.
Richardson received prompt medical attention after her accident but, thinking it was nothing, sadly declined to have it investigated further. Though this kind of thing happens all the time with no serious consequences, it's an important reminder that it's wise to avoid being alone after receiving a head injury, and that at the first hint of pain, dizziness, slurred speech or blurred vision, it's important to get to a hospital. Unfortunately Richardson's location meant this couldn't be done quickly enough, and she fell unconscious. She was later flown to a New York hospital where her family could say goodbye.
Richardson leaves behind two young sons, Michael and Daniel, and her actor husband Liam Neeson, who has understandably described the family as devastated. Her mother Vanessa Redgrave and sister Joely Richardson were also at her bedside.
Besides her film work, Richardson will be remembered as a dedicated fund-raiser for AIDS charities and a powerful and inspirational personality.
Share this with others on...