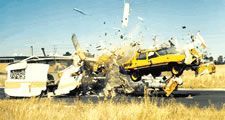 Documentary Not Quite Hollywood was one of the day's highlights
No genre is better suited to nostalgia than horror. With its resurrected dead, its ghosts from the past, its endlessly self-replicating (and self-regarding) sequels, and its eternal return to the womb-like darkness of an unlit cinema space, horror is always taking us back – and this turned out to be the unifying theme for the FrightFest Spring Awakening one-day event in London, on March 7.
For a start there was the venue. The Prince Charles, an independent cinema tucked away on the margins of Leicester Square, was the birthplace of FrightFest in 2000, and continued to accommodate it until 2005 when the size of the festival required a move to the more capacious, if altogether less charming, Odeon West End in 2005. So for loyal FrightFesters, seeing horror here was just like coming home one last time – before the festival proper moves into its new digs at the Empire for its 10th Anniversary long weekend this August.
Then there was the selection of films. We may be entering the season of renewal, but this event felt more like spring cleaning. FrightFest has carefully built a reputation over the years for screening the very best new horror out there, but quality control appeared to have been subordinated here to more opportunistic concerns, as several films in the selection merely piggy-backed off March's official genre release slate.
Repo! The Genetic Opera, for example, is out on DVD on March 9, Lesbian Vampire Killers hits cinemas on March 20, and the documentary [film]Not Quite Hollywood[/film] is showing, along with Eighties Ozzie sh(l)ocker [film]Turkey Shoot[/film], at the ICA from March 13 as part of their Ozploitation season, before coming out on DVD March 30. In other words, the event seemed to be a clearing house for whatever horror films, good or bad, happened to be lying around – and frankly, there were few treasures to be found in the trash.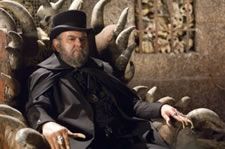 Embodiment Of Evil opened the fest
Here, nostalgia ruled the day. The opener Embodiment Of Evil (2008) saw the return not only of Brazilian cult director José Mojica Marins, but also of his on-screen alter ego Coffin Joe. This pairing first graced our screens in At Midnight I'll Take Your Soul (1964) and Tonight I Will Eat Your Corpse (1967), and they have since appeared in all manner of side-projects, spin-offs and compilations – but the last of those, Hallucinations Of A Deranged Mind (1978) was more than 30 years ago. Now, in this latest outing, Coffin Joe has just finished serving a decades-long sentence for his previous outrages and is released from prison, leaving it to his horrified jailer to state what we all know: "Of course he'll re-offend... Expect more victims."
Expect more victims we do – and half the problem with this trippy mix of sadism, satanism and social commentary is that so little is unexpected. Coffin Joe may now be rounder in the paunch, greyer in the beard, and longer in the claw (although extended fingernails have always been one of the character's trademarks), but he is still on the same old quest for the right woman to bear him a diabolical son, still on the same iconoclastic path of rape, torture, murder and black magic – and just about the only concessions made here to the post-1960s scene are a CG title sequence, a Ramones T-shirt spotted in the background (not that the Ramones are exactly modern...), and Marins' own conspicuously advanced years.
If Coffin Joe is constantly haunted by the ghosts of those he has killed, by flashbacks to his earlier film outings, and by survivors of his past out for revenge, all this serves to highlight both a character and a director who are rooted in their own history and unable to move forward. Coffin Joe may ultimately triumph as only he can, and even be able to boast his own small influence on posterity, but this oldest of oldschool films proves that as a horror icon, the caped killer is a spent force.
After Embodiment Of Evil came another UK premiere, Edward Anderson's Shuttle (2008) – only just released theatrically in the US, and due out on DVD in Britain in early May. Five travellers are abducted late at night in an airport shuttle bus and become involved in a life-or-death struggle with its mysterious driver (Tony Curran – who also played the driver in The Midnight Meat Train) as they try to work out what it is that he wants with them.
It is certainly a competent thriller, transporting the viewer along dark backroads with only Paradise Lost (2006) and Hush (2009) for a map – but writer/director Anderson has missed a trick by focusing entirely on the cat-and-mouse capers, while failing to reflect in any serious way upon the real-world issues that his plot exploits, so the end result is a disappointingly empty exercise in genre. Still, Shuttle stood out as the only film of the day that was not harking back to the horror of the past.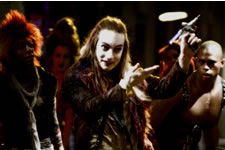 Repo! The Genetic Opera is exuberant but shallow
At first, Repo! The Genetic Opera (2008) might seem another contender for the forward-looking category of horror - it is, after all, set in a dystopian future – but in fact this gothic rock opera is a full- blooded attempt to resurrect the cultish cosplay spirit of [film]The Rocky Horror Picture Show[/film] (1975). Part shrill melodrama, part carnivalesque gorefest, part comicbook cyberpunk, and all song and dance, this is certainly a curio, even if its exuberant style cannot quite conceal the shallowness of its plot and the thinness of its characters (brought to a semblance of life by the unlikely ensemble work of Paul Sorvino, Anthony Head, Sarah Brightman, Paris Hilton, Bill Moseley and Skinny Puppy's frontman Nivek Ogre).
Interesting to hear director Darren Lynn Bousman, on hand after the screening for a Q&A with the two writers, championing the film as an antidote to Hollywood's current preoccupation with bland remakes and sequels – not least because Bousman himself was the man who brought us Saw II, III and IV...
Everyone already seemed to know that the evening's 'surprise' film was the world premiere of Phil Claydon's Lesbian Vampire Killers (2009) – and when Claydon himself, on stage afterwards with a parade of the film's female stars, revealed the writers came up with the title one night while drinking in a pub, and then built a screenplay around it, this, too, hardly came as a surprise. Films rarely come as lowest common denominator as this reductive Hammer parody, where wit is replaced with endless knob jokes, and where there are far more mammaries than memories on offer.
Lesbian Vampire Killers is so overtly oriented towards the Loaded readership that it features female antagonists who dissolve into giant creamy pools of cum-like goo, and a pair of bumbling mates (annoying men-of-the-moment James Corden and Mathew Horne), whose discourse repeatedly dances around their fear of homosexuality. For a film that is supposed to be funny, this is deeply depressing (and not in that good way horror can sometimes pulls off).
The event's penultimate film was perhaps its most backward-looking, but also its best. Mark Hartley's Not Quite Hollywood (2008) is a documentary trawl through the overlooked back catalogue of 'Ozploitation' films from the Seventies and early Eighties. Through extensive film excerpts, choice interviews, comic editing and sheer filmmaking brio, Hartley dredges this lost treasure trove of cringe-making softcore, outrageous horror and balls-to-the-wall action back to the surface, as he celebrates a nation humping, slicing and hammering out its modern identity through popular cultural forms. Not Quite Hollywood is as great as a film about film can be – but even so, when the type of documentary feature that one might ordinarily expect to find as a DVD extra turns out to surpass everything else showing that day, it suggests that the FrightFest folk may well be organising one event too many, and had better step up their game for the big August festival.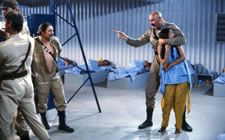 Ozploitation film Turkey Shoot
Last up was Brian Trenchard-Smith's Turkey Shoot, aka Blood Camp Thatcher, aka Escape 2000 (1982), an example of Ozploitation so misanthropically tawdry that even Not Quite Hollywood was unable to find anyone (including its original cast members) willing to defend it wholeheartedly.
In an Orwellian future, a group of criminals, dissidents and unlucky by-standers ends up at the draconian Camp 47, where beatings, rape and inventively cruel executions are standard methods of social rehabilitation. Five detainees (including Olivia Hussey!) are offered their freedom if they can survive a 'turkey shoot', or cross-country hunt, where the dice are impossibly loaded against them – but far from being a committed political exposé of societal fascism like Peter Watkins' extraordinary Punishment Park (1971), Trenchard-Smith's film is a sadistic mélange of cartoon villains, mutant monsters, over-the-top action set-pieces and ultra-violent sensationalism – in fact, it is the closest that Australian cinema ever came to the spirit of Jess Franco. In other words, the perfect guilty pleasure for the midnight slot – and better, for all its faults, than many of the newer films on the day's slate.
Share this with others on...