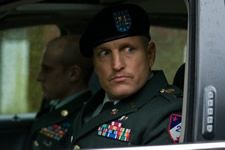 The Messenger was a surprise hit with our reviewers
Our 10-day cinematic odyssey has finally drawn to a close and so it's time to leave you with a few lasting impressions of the 59th Berlin Film Festival.
The bulk of last night's festival awards were scooped by Spanish-Peruvian production La Teta Asustada (The Milk of Sorrow), which took home the Golden Bear and German home grown production Alle Anderen. Unfortunately, due to their poor marketing and unpromising synopses, neither of us managed to catch these two films during the fest, so we thought it best to stage our own awards ceremony and celebrate the films which we think deserve to be celebrated and to condemn the ones which definitely don't!
Best Picture
Darren: Beast Stalker - a sharp, stylish thriller putting Hong Kong cinema back on the map.
Adam: An Education - impeccably acted and scripted Brit flick, which is sure to be a big hit with UK audiences.
Best Director
Darren: Dante Lam for Beast Stalker. A tightly directed film by an excellent exponent of the Hong Kong action genre.
Adam: Costa-Gavras for his passionate and intelligent treatment of the subject of illegal immigration in Eden Is West.
Best Actor
Riccardo Scamarcio for his stunning lead performance in Eden Is West, crafting a character with virtually no dialogue to work with.
Best Screenplay
Nick Hornby's intelligent, warm and witty script for An Education was virtually word perfect.
Best Press Conference
We saw some great stars throughout the festival, but this one has to go to the Pink Panther 2 for the free stand-up show with Steve Martin, not to mention his impromptu banjo solo.
Best Non-Film Moment
Darren: The High Life premiere which allowed me to see one of my favourite actors, Tim Olyphant, in the flesh.
Adam: This would have to be my round table interview with French legend Bertrand Tavernier (but special mention to seeing the Edge and Adam Clayton at the It Might Get Loud gala screening)
Worst Non-Film Moment Darren: Missing out on a photo op with Tim Olyphant when I saw him outside the Grand Hyatt Hotel.
Adam: Nearly missing aforementioned interview with Monsieur Tavernier due to a mix up with the location!
Best Surprise Film
Darren: Eden Is West, our final film of the festival, for which I had no expectations, but which really impressed me.
Adam: The Messenger - I feared that might be either horribly clichéd or very underwhelming but I was very pleasantly surprised as this turned out to be one of my festival faves.
Missed Opportunity Award (The film we missed which we would most like to have seen)
Darren: My Dear Enemy, a Korean film about the story of a destitute woman searching for an old lover who years after their break-up still owes her the sum of 3.5 million.
Adam: Beast Stalker following Darren's rave review
Last (and deservedly least)
Worst Picture
Absolute Evil, for a script so much on autopilot that it could've been written by a spaced-out chimpanzee, direction worthy of the legendary Ed Wood, and acting that would've made a porn star blush.
Our Berlin adventure has come to an end, so it's time to say Auf Wiedersehen, Pet.
Share this with others on...