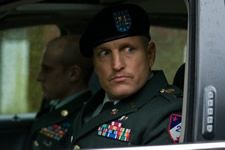 Woody Harrelson in The Messenger
Adam writes... To maintain our sanity amid the wonderful chaos of the festival, we decided to take the morning off with a little trip to Tiergarten - Berlin's equivalent of Central Park. On a glorious, clear morning we had great fun checking out the park and the famous Siegessäule tower, all the while snapping away and doing our best Japanese tourist impression, so please check out our adventures on Eye For Film Facebook (you've got to love a bit of cross promotion!).
From there, it was straight to a screening of The Messenger, an excellent film about the consequences of war, which deals with the families of soldiers killed in action, centring on two ex-combatants whose job it is to inform the next of kin of their loss. A sensitive and thoughtful film, which also included some well-executed lighter touches, this was one of my favourite films of the festival so far.
The press conference was also very enjoyable with both Ben Foster and Woody Harrelson present, alongside director Oren Moverman. The leads were clearly very much at home in the festival atmosphere and it looked like they'd had great fun making the movie together. Foster's first comment of the conference was (referring to Harrelson): "He's got a great ass hasn't he" and Harrelson joined in the fun by saying not only that: "I'd take a bullet for this guy" but also telling Foster "when we get outta here, I'm gonna kiss you," after Ben had heaped praise on his performance in the film.
It is hard not to enjoy yourself when the participants are clearly having so much fun but the conference also had a more serious side, as befits the subject matter. The director was evasive when asked if this was in fact an anti-war film, as he argued that while the film was 'pro-peace' it was not intended to address the decisions or politics of the Iraq war itself; it was concerned with the victims and their loved ones. In a statement shared by his co-star, Harrelson, a vocal anti-war campaigner, admitted that the film had given him a new found respect and understanding for the troops and the bond they shared as well as the sacrifices they were prepared to make for one another.
In the afternoon I was fortunate enough to attend a round table interview with legendary French director Bertrand Tavernier, a past winner at the Berlinale (Golden Bear in 1995 for L'Appât) , whose film In The Electric Mist is in competition this year. This was my first 'real' interview situation (albeit with about seven other journalists in the room) and a genuinely surreal experience, but one which I'm very keen to repeat in the near future. What I would prefer not to repeat was the unfortunate (albeit in my case fairly common!) pre-match panic when I realised that the hotel at which the interview was being held was not where I had originally believed but was in fact located several tube stops away. Furiously reading my press notes and intended questions as the tube roared on towards my new destination I wondered if this was the way all journalists feel before the apathy and cynicism creeps in...
In any case, I needn't have worried as Tavernier was a pleasure to spend time with. A genial, intelligent and funny man with a very clear passion for cinema and a willingness to talk at length about his new film and his love of James Lee Burke, the author from whose novel the film was adapted. I'll go into more detail when I get the chance to write this up but here are a couple of quotes to whet your appetite:
When discussing Tommy Lee Jones' performance he talked about the realism and vraisemblance of his characterisation, comparing him favourably with Alec Baldwin's performance in a previous Burke adaptation, who Tavernier described as a 'tourist', much to our collective amusement. He shrugged off the film's negative press in Screen magazine, by saying that !They think that it doesn't end like a 'thriller'. Ok, that's why I like it!".
Darren writes: Today was Hollywood Day and the movie stars came out to play and I got a chance to see them live and in living colour. Before all that press conference shenanigans I firstly went to see The Messenger with the hope of erasing the awfulness that was Rage. I smiled when I came across many other critics panning the latter - I wasn't surprised at all, it was horrific, like going to the dentist and having a tooth out.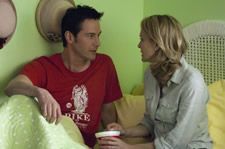 Keanu Reeves and Robin Wright Penn in The Private Lives Of Pippa Lee
The Messenger was a powerful film, with two of the best performances I have seen so far at the festival. Ben Foster and Woody Harrelson are a dynamite pairing, the film at times was a little heavy due to its subject matter but their performances contained so much heart and humour that I was always going to be won over in the end. The story focuses on two soldiers who have the unfortunate task of delivering messages to families whose loved ones have died in combat and it's with the sad nature of their work that brings these two men together, a bond which will help both hopefully secure a normal life once all the fighting is over.
After the screening I dashed to the press conference to be entertained by Harrelson's natural charisma, Foster remarked when asked how they bonded before shooting that he could go nowhere without somebody coming up to Harrelson on the street and embracing him like an friend who has known him for years. Some politics were discussed and naturally war was addressed but as Foster pointed out its too complicated for him to fully understand.
A quick snack at a delicious German hot dog stand and it was back to my favourite screening room Cinemaxx 7, which I seem to have spent more time in lately than my own bedroom. I was here to check out Keanu Reeves' new film The Private Lives Of Pippa Lee, though I must say Reeves only has a supporting role in this.
The lead is Robin Wright Penn who is very engaging as Pippa Lee, a woman who's had quite the life. Currently married to an 80-year-old publisher, she isn't content with how things have gone and goes on a quest to rediscover her identity. She wasn't always the wife, the mother and generous hostess, at one time she partied like there was no tomorrow and until her memories of her childhood and growing up have been slightly repressed she finds it hard to move forward - even more so when she finds out her husband is having an affair.
The press conference for this afterwards was partly interesting, Keanu turned up with four women on the panel which I'm sure was torture for him given they are all extremely beautiful, I believe a Danish journalist even asked him about his thoughts on this! Reeves was quite chatty and explained he was lured by the excellent script. However, writer/director Rebecca Miller answered most of the questions and talked about the process of adapting the book to the screen and the usual comments on casting etc. I was most impressed by Blake Lively, who plays a younger Pippa in the film, not only was she incredibly beautiful but seemed warm and friendly and certainly an actress that will have an interesting career after Gossip Girl ends.
Tomorrow its Cheri time, a new film from Stephen Frears and one of my top five choices this year - fingers crossed its good!
Share this with others on...