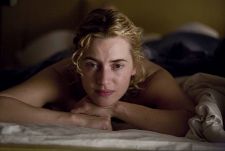 Kate Winslet in The Reader - playing in Berlin
Darren writes... Both Adam and I currently find ourselves frantically typing away in the press room, located on the first floor in the heart of the very plush Grand Hyatt Hotel. Space is limited but thankfully we have many more computers to play with than the seven press terminals on offer during Amber and Tony's recent trip to the Sundance Film Festival.
After an early rise we made our way over to the prestigious Berlinale Palast to pick up our freebies, which Adam was most excited by, with one item in particular getting the most attention, a fetching red press bag. You see, the cool kids all over the festival seem to have one and we naturally wanted to get our hands on our own.
My first film was Marin Blue, a story about two young outsiders, who meet in a Los Angeles mental facility, trying to find their way in the world. The movie was tightly shot, displayed luminous visuals and had a dream-like quality to it. Thematically, the film's main focus was on the past, present and future of these characters' lives. I personally felt the story lacked proper closure but even with that said it was a worthwhile entry and an intriguing piece of cinema.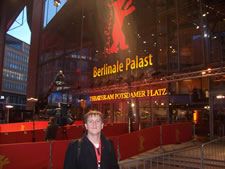 Darren soaks up the atmosphere at the Berlinale Palast
Sometimes at a film festival you have clashes with different films you want to see, which requires a decision to be made right there and then, which nobody who loves films ever really wants to make; we want to see everything. The flip-side to that coin is having time to kill when there really isn't anything you want to see and in this instance my time-filler was
Adam Resurrected
.
Paul Schrader is an accomplished writer who has been known to also be a competent film-maker with films such as Affliction and Auto Focus, but the same cannot be said for his latest effort. Waiting outside to gain entry to the screening I cast my eyes over the press card for the film, all very positive naturally with quotes stating it was riveting and intelligent film-making of the highest order. About an hour in I must have noticed at least five journalists walk out of the screening; I would have done the same had I not detested the thought of standing outside in the cold earlier than necessary.
I'll go into more detail with my upcoming review but I found the film - about a vaudeville star who is haunted by his past - to be incredibly tiresome with a slow narrative structure. There are some nice scenes towards the end but the movie had lost its appeal to me way before then, unfortunately.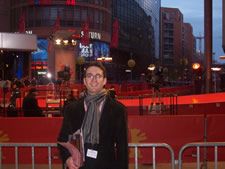 Adam gets to grips with some press notes
Adam writes... Early afternoon of festival day two and hoards of journalists descend on the conference room as we wriggle our way past the crowds for our first press conference of the Berlinale, Stephen Daldry's
The Reader
. A star-studded affair including both Kate Winslet and Ralph Fiennes, alongside the writer and director, this is an interesting if somewhat surreal experience for me (my first genuine press conference!) featuring a bizarre linguistic Anglo-German hybrid language. Questions range from the sublime to the ridiculous to the downright incomprehensible, to the increasing exasperation of the adjudicator, whose short fuse and disparaging remarks cut down several members of the press in their prime.
Although it would be fair to say the conference yielded no major revelations about the film, we did learn one or two interesting titbits along the way, including Kate Winslet's attitude to nude scenes and also how she felt about the sex scenes with her younger male co-star.
In typically down-to-earth fashion, she said that nude scenes were just another part of the job which had to be done (implying that, despite her apparent willingness to remove her clothes in front of the camera, she felt that they very much were something to be endured rather than enjoyed) and pointed out that she knew what it was like to be a young actress filming intimate bedroom scenes and that she was careful to make her co-star feel comfortable in this situation.
In addition to Marin Blue, which Darren has already mentioned, I went to see Ricky, the latest offering from French legend François Ozon - about an ordinary couple who have a very unusual baby - which is in competition here at the Berlinale.
Something of slow burner for the first half an hour, I was genuinely impressed with the way Ozon developed his material, retaining the naturalistic hallmarks of his cinema whilst venturing boldly into the realm of the supernatural. An intriguing mix of comedy and drama, this one went down very well with the press and is sure to be a popular choice for punters throughout the festival.
Share this with others on...