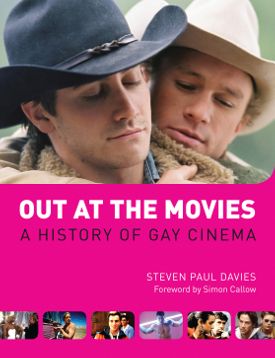 Out At The Movies - by Steven Paul Davies
It's a shame that (for the meantime, anyway) we don't have anywhere to review books on Eye For Film. If we did, writer and broadcaster Steven Paul Davies' new book, Out At The Movies, would get a good rating from me. It's a comprehensive yet easy-to-read history of gay, lesbian, bisexual and transgender films - that is, films with lgbt characters or themes. It also takes some time to ponder the careers of successful gay actors and directors. Yet if this sounds too ghetto-ish, think again. This is a wonderfully accessible book and, whatever your own sexuality, you're probably familiar with most of the films it includes. It's a fascinating read for anyone, particularly as it shows how important cinema can be in bringing about cultural and even legal changes.
A few days ago, I caught up with Mr Davies to ask him why he decided to take on such a large and complicated subject.
Steven Paul Davies: Well, I'm a gay man and I write books on film and TV so I've been wanting to do this for a long time. Most books out there on gay cinema are either too academic for film studies students or they are A-Zs or reference guides. I wanted to tell more of a story of the emergence of queer cinema. Celluloid Closet did that but the last edition of that ends around the time of Torch Song Trilogy.
I really started getting into film when I was about 15 or 16, watching Alex Cox's BBC2 series Moviedrome, lots of unusual quality films from around the world. I realised then I had a taste for the offbeat, genre-breaking stuff, films that were a bit different to Hollywood big bangs and boring rom-coms.
Jennie Kermode: Did you find that gay themes in films tend to be associated with particular genres or styles, or is that a misconception caused by the limited number of such films that get the attention of mainstream audiences?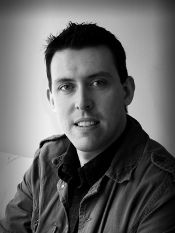 SPD: I think that before Brokeback Mountain, gay characters were always expected to be fun, camp, comedic and so on, or the leading straight man or woman's gay best friend - certainly in mainstream cinema. A lot of that expectation came through all the gay-themed comedy in the 90s - Too Wong Foo, Priscilla, The Birdcage and so on. But it's interesting that 2005 became a breakthrough year with Brokeback, Capote and Transamerica. Since then gay cinema is no longer automatically perceived as the cinema of camp by the mainstream. Now we have more serious gay-themed films emerging like Milk.
JK: Films like Victim are often considered to have made a big contribution to changing public attitudes about gay people, and perhaps even the law. The Crying Game had a big impact on perceptions of transgender people. Do you feel that this illustrates the importance of cinema in our lives? If so, does this give filmmakers a special responsibility, and what might that mean for negative portrayals of gay characters?
SPD: Cinema is hugely important in our lives. Victim showed the emotional lives of gay men as being in sync with heterosexual "normality" which disgusted many at the time but it helped influence government legislation.
The Crying Game was a truly great film, a never-ending circle of gender blurring, and it proved that, when handled in a sensitive and salient manner, any subject matter could be embraced by a broad based viewing public. So filmmakers do have a special responsibility because films can have such an impact and change people's perceptions for the better.
As for negative portrayals, there have been some pretty dismal representations of gay people over the years. Even after Victim, most gay characters were portrayed as victims or villains, full of self-loathing. Recently, even after some fantastic gay-themed films, there's been a glut of awful gay rom-coms and lame dramas that are loaded with stereotypes and clichés. I think the explosion of gay images on mainstream TV - Queer As Folk, Queer Eye, Will And Grace etc - has led to gay identity being scrubbed clean by a lot of filmmakers. Writers and directors need to remember that gay life isn't always pretty rainbows, Pride marches and Will And Grace reruns. Gay men can and should be represented in many different lights, some more flattering than others.
JK: Your book carries the subtitle 'A History of Gay Cinema', but you've tried to cover films relating to a number of sexual minorities, haven't you?
SPD: The bulk of the book looks at gay-themed films although there are some key lesbian-interest and transgender films in there too. I think some of the most intriguing voices to come from the independent cinema of the Eighties and Nineties have been those of lesbian filmmakers. Cheryl Dunye (The Watermelon Woman), Jennie Livingston (Paris Is Burning), Rose Troche (Go Fish).
JK: Do you think it's important for young gay people to be able to see characters they identify with in the movies?
SPD: Absolutely, you only have to look at the positive empowering effect a film like Beautiful Thing can have. I remember being overwhelmed by the film. And after growing up with extreme gay 'characters' on TV, all I wanted was to see gay characters who weren't mincing around camping it up. So Beautiful Thing and My Beautiful Laundrette were especially poignant. Queer As Folk on TV also came up with a bunch of truthful characters for young people to identify with I think.
JK: The cover of your book features a picture from Brokeback Mountain. Do you think this film was particularly important in demonstrating that films about gay people can have mainstream appeal?
SPD: I loved Brokeback Mountain – it is the romance film of the decade. Two of Hollywood's greatest young actors playing roles we would never expect - and doing so outstandingly. It was great that it did so well at the box office because immediately after the success of Ang Lee's film, producers began dusting off old gay-interest scripts. As a result we have Gus Van Sant's Milk with Sean Penn and I'm really looking forward to seeing how I Love You Philip Morris turns out. Ewan McGregor and Jim Carrey playing gay.
JK: What are your own favourite films? Does it matter to you whether or not the films you go to see have gay characters or themes?
SPD: My favourite filmmaker is Alex Cox who's straight and never made a gay film in his life, although come to think of it Straight To Hell is quite camp! I've been lucky enough to write books about some of my favourite filmmakers, including Alex, and Mike Hodges too who directed two films I love - Get Carter and Croupier.
In terms of gay cinema, as I mentioned earlier Beautiful Thing had an effect on me in my late teens. The main characters are believable and engaging, the story is compelling, and I'm a sucker for a (reasonably) happy ending. I think Jonathan Harvey is a fantastic writer – the play and film are very special.
Another favourite is Parting Glances. It's a film that never talks down to its audience, and the characters are never anything less than truly real. It doesn't make a big deal about these characters being gay, they just are. And even though it was the first feature-length film to prominently feature a character with AIDS, it doesn't sensationalize, or get maudlin, or make him a saint. It's a completely underrated gem. Sadly, writer/director/editor Bill Sherwood never lived to make another film.
JK: Finally, are you working on any other interesting projects at the moment?
SPD: I'm having a break from books this year but my various day jobs keep me busy - I'm a regional news correspondent for Pink Paper and I run a PR company in Manchester. I'm also currently working with VH1 in New York, who are looking to turn one of my books, Brat Pack: Confidential, into a TV documentary series on Eighties Hollywood.
Out At The Movies (Kamera Books, £16.99) is available from www.kamerabooks.co.uk and Amazon.
Share this with others on...