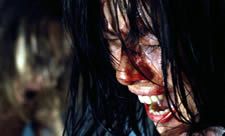 Pascal Laugier's Martyrs was the most divisive FrightFest film in years
Adam and Joe are the new comedy duo in town. No, not British television's Adam Buxton and Joe Cornish, but those Young Turks of the American horror scene, Adam Green (Hatchet, Spiral) and Joe Lynch (Wrong Turn 2: Dead End). The boys met at last year's Film4 FrightFest, hitting it off with each other and the audience, and this year they returned with a quintet of comic short films custom-made to be played at at the festival, one for each evening. Genre savvy, self-deprecating, diabolically reflexive, and genuinely funny, these five uneasy pieces are the best work the self-styled 'Douche Brothers' have done to date, and became nightly highlights of the weekend – the FrightFest equivalent of a love-in.
The material they framed – 27 features, plus sundry Q&As, shorts, trailers, preview reels, etc - comprised the best of horror cinema for the year to come, which perhaps also suggests that we are in for a year relatively lacking in direction.
Sure, there were certain themes discernible across films. For example, Phedon Papamichael's From Within, Sean Ellis' The Brøken and Alex Aja's Mirrors all use (smoke and) mirrors to reflect their particular horror. On the other hand, James Watkins' Eden Lake, Gonzalo López-Gallego's King Of The Hill (brought in as a last-minute, er, substitute for Ole Bornedal's The Substitute when the latter failed to materialise), Bryan Bertino's The Strangers and, to a degree, Johnny Kevorkian's The Disappeared, all play on society's current fear of children, and the terrible things that today's youth can be imagined doing to adults.
If it all sounds a bit like the pedophobia of David Moreau and Xavier Palud's Ils (aka Them) that showed at FrightFest two years ago (with The Strangers in particular playing like a well-crafted, if empty, remake of Moreau and Palud's taut shocker), that only serves to encapsulate a festival full of films that were markedly on the derivative side.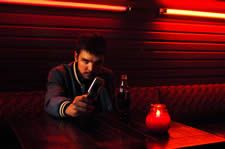 Freakdog offers a variation on the Eighties slasher
Yep, this year the 'homage', the rehash and the rip-off were king. Gregg Bishop's Dance Of The Dead, Joey Evan's Bubba's Chili Parlor and Kerry Anne Mullaney's The Dead Outside all went over the same zombie territory FrightFest did to death in 2005 (when it was already a revival).
Stacey Edmonds and Doug Turner's I Know How Many Runs You Scored Last Summer, Jed Weintrob's Scar 3D, Paddy Breathnach's Freakdog and Adam Gierasch's Autopsy all offered minor variations on the Eighties slasher subgenre so beloved of last year's FrightFest.
Meanwhile Steven Goldman's Trailer Park Of Terror, Patrik Syverson's Manhunt and even, in its way, Steven Sheil's excellent Mum & Dad, were all indebted to Tobe Hooper's 1974 classic The Texas Chainsaw Massacre. The festival's two closing films, Mirrors and Paul W S Anderson's Death Race, were both, at least nominally, outright remakes - of Kim Seong-ho's Into The Mirror (2003) and Paul Bartel's Death Race 2000 (1975) respectively – although they were so balls-to-the-wall bananas that almost all could be forgiven.
Apart from the thoroughly worthless I Know How Many Runs You Scored Last Summer and Bubba's Chili Parlor, neither of which should ever have made it onto the FrightFest slate, all of these films were perfectly watchable, but they did leave you hankering for something a little different, and unsurprisingly the very best films of the festival were less easily able to be pigeon-holed into a genre or absorbed into their adopted cinematic tradition.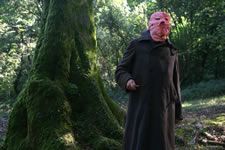 Time Crimes mixes science fiction and a morality tale to horrifically impressive effect
Nacho Vigalondo's
Time Crimes
is a domestic drama, an SF brainteaser and a noirish morality tale, in which an errant everyman is accidentally sent back several hours in time, and desperately tries to disentangle himself from the paradoxes he has left in his (future) wake so he can return to the straight and narrow. Following the male gaze through to an ingeniously inevitable conclusion, it is a twisted, at times darkly comic tale of flawless construction. It, too, is soon to be remade (with
George A Romero
currently interested), but Vigalondo's film is a true original.
Fear(s) Of The Dark showcases short films on the subject of fear by some of the world's best animators, all restricted to a medium of black and white, and is so varied in its visual styles and approaches to its theme that its flaws (chiefly the way the flow of its stories has been unnecessarily disrupted by intercutting) can be overlooked. In keeping with its title, Hong Jin-na's panicky psycho-noir thriller The Chaser races along through a gamut of twists and turns, moods and genres, at such a pace that, in trying to keep up, the viewer is left as breathless as the anti-heroic protagonist. It is also a downbeat corrective to the contemporary morality that regards sex workers as barely human.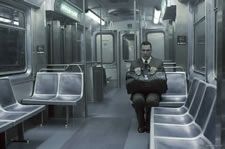 Vinnie Jones stars in Midnight Meat Train
Leaving aside the unforgettable vision of a sharp-suited
Vinnie Jones
holding up a tenderizing hammer for the fatal blow, the key image in Ryuhei Kitamura's
The Midnight Meat Train
is of an underground railway track that splits between two tunnels – and the film itself also offers two distinct pathways through its narrative ambiguities, one entirely rational, the other far less so. It is a stylish descent into madness, murder and the underworld itself, with an ending so devilishly mythic in proportion that it takes several days' reflection to retrace your steps back to ground-level normality. It is a hell of a ride and, in its bloody, bludgeoning way, a real crowd-pleaser.
Tomas Alfredson's Let The Right One In is another film that triumphs precisely by subverting (or at least de-emphasising) all the usual expectations of its genre frame. Tomas Alfredson may have crafted a vampire flick, but he has eschewed an obsession with the mechanics of the undead in favour of a lyrical tale of pre-adolescent alienation. Beautifully shot, poignant without ever becoming mawkish, restrained in tone and consummately performed, Let The Right One will appeal not just to horror fans, but to damn near everyone, and already feels like a classic.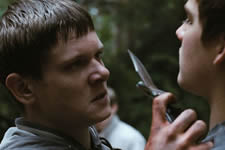 Eden Lake is likely to spark debate
Unabashedly exploiting this glorious nation's dread of hoodie-wearing youngsters, and apparently laying the blame squarely at the feet of working class parents (while also more subtly dramatising the sort of kneejerk responses that the film will itself inevitably provoke), festival opener
Eden Lake
is destined to spark a debate that will polarise the tabloids and the broadsheets. Accordingly it seemed a dead cert for most controversial film of the weekend – until, that is, Pascal Laugier's
Martyrs
turned up on Sunday, preceded by the well-earned notoriety that it had earned at Cannes. This was a film that divided FrightFesters like no other, leaving some morally offended, others (well, one or two, according to rumour) physically sickened, others wondering what all the fuss was about, and still others elevated and as glaze-eyed as the heroine in her final scenes.
Playing to a jam-packed theatre, Laugier's film pushes the extremity of previous French shockers like Baise-Moi and Switchblade Romance to new limits, as a (possibly) abused girl seeks awful vengeance on her (possible) one-time abusers – but then, about halfway through, there is a radical shift in tone, and the film adopts the disarmingly reflexive strategy of calling into question what it is to 'witness' such scenes of horrific human degradation.
Comparisons with Michael Haneke and his cake-eating critiques of the horror genre seem inevitable, but Laugier's preferred mode of audience interrogation is not a lecturing shout but an enquiring whisper. He holds out the promise of a transcendent experience to be had from his abject materials, and then leaves viewers to supply it (if they can) for themselves. It is a quasi-mystic reverie on sadism and suffering that eludes the 'torture porn' label precisely by examining what that term might mean, what appeal it might possibly have, and what questions – fundamental, spiritual questions - it might answer. Martyrs turns out to be about the crowd of filmgoers who watch it, in all the variety of their (our) desires, hopes and fears. No wonder, then, that it is so confronting.
Last but not least are the final films of each evening, filling the hallowed midnight slot and, as such, having a specific remit to be different. In fact, the first night's late show Scar proved to be an almost supremely average slice-up of Eighties slasher and Noughties torture, with a plot that played like a poor man's Waz (2007) – but who cares? Scar, you see, is in 3D – and so, little more justification for its existence is necessary (even if the resemblance of its beret-sporting villain to one Frank Spencer is one of its more horrifying elements).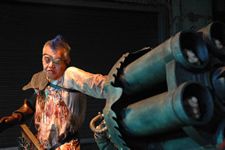 FrightFest bring out the big guns late at night... and there are few bigger than those in Tokyo Gore Police
Frank Henenlotter
's Bad Biology (2008) and Yoshihiro Nishimura's Tokyo Gore Police were more like it, and then some. Screening at the witching hour on Friday and Saturday nights respectively, these films were everything you want from a midnight movie: transgressive, outrageous, tawdry, taboo-breaking oddities that woke tarrying viewers the fuck up and sent their heads into an incredulous spin.
The former is a romantic comedy (with a casually high body count) about the slow-burning relationship between a sex-addicted, over-fertile woman with seven clitorises and a man whose steroid-addicted monster of a penis has taken on a life of its own. You can guess that it will end with a bang – and it really does - but you still will not believe your (no doubt watering) eyes.
The latter is concerned with a high-kicking female agent in a fascist police force of the future who has been assigned to stamp out a group of homicidal psychotics infected with a biomechanical virus that makes their bodily wounds sprout heavy-duty weaponry – or crocodile's jaws. Boasting endlessly over-the-top gore, subhuman depravity of every stamp, and a postmodern cuteness of style that both belies and affirms the baroque bad taste of it all, Nishimura's film makes the Eighties films that have inspired it – chiefly Robocop, The Terminator and Tetsuo – seem like child's play. Its tongue may be lodged firmly in its cheek, but it will leave your jaw rooted to the floor.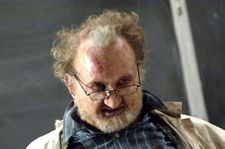 Jack Brooks Monster Slayer featured the best comic character of the weekend
Sunday's midnight movie was particularly well programmed. Jon Knautz's Jack Brooks Monster Slayer may have been altogether more amiable than Henenlotter's or Nishimura's offerings - and somewhat straightforward in its plotting - but it boasted the best comic character acting of the entire weekend (David Fox as old man Howard), and, coming immediately after Martyrs, was a welcome piece of light-hearted hilarity. It was not unlike the note on which the entire festival closed. For, while the last two films screened on Monday - Mirrors and Death Race - were determinedly mainstream studio offerings, they were too winningly daft to incur much ill will even from the hardest of hardcore FrightFesters.
It was, as always, a professionally run festival with a characteristically friendly atmosphere, even if this year's 'cutting edge' of horror did not, on the whole, live up to previous years'. The majority of the films on the programme seemed to be more about other horror movies of the past than about anything going on in the present. It may well be a sign that, in the run-up to the end of the Bush era, the world suddenly finds itself not quite sure what to be afraid of any more. Still, if history is anything to go by, such a false sense of security is bound to pass – – and remember that these films were all made before the Credit Crunch and its associated anxieties hit. So we can already look forward to next year's 10th anniversary FrightFest (in its new, bigger venue at the Empire, Leicester Square), in anticipation of fears unknown...
Share this with others on...