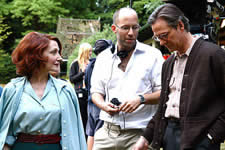 Patricia Clarkson, Ira Sachs and Chris Cooper on the set of Married Life
The Edinburgh International Film Festival is well underway now and things are hotting up in the race to see which film will win the coveted audience award. Top of the polls is still Summer, with controversial documentary Standard Operating Procedure in second place, but Somer's Town and A Complete History Of My Sexual Failures are both proving increasingly popular. Meanwhile, our reporters are out and about finding out what the filmmakers themselves have to say. Amber Wilkinson writes...
Around the halfway point in the festival comes a switch of personnel. It's out with most of the stars of the first week and in with a new batch. It's also at about this point of festival going that everyone starts to forget what day it is – well, I do at any rate, to spectacular effect when at 12.45pm I turn up at the right time and right place for my interview with Elite Squad director Jose Padhila, only to discover I'm a day early. Oops. Better than a day late, I suppose.
I manage to get my brain on track a little later, though, in time to interview director Ira Sachs about his film Married Life. Starring Chris Cooper, Pierce Brosnan, Rachel McAdams and Patricia Clarkson, it uses the tropes of film noir but also has plenty of melodrama to get your teeth into. I ask him whether he intended to shift genres throughout the film and he tells me that the process was "organic". We go on to talk about the casting of the film and his approach to direction. He says Robert Altman's ensemble pieces are among his favourite films, and also declares the Martin Scorsese period including Bringing Out The Dead and Kundoon to have been cruelly overlooked by many. He says it is 30 years since he was last in Edinburgh – although I find it hard to believe it was 30 years since he was anywhere. Turns out he was just 12 at the time. We'll be bringing you the full interview nearer Married Life's August 1 release date.
I head over to the short filmmakers' happy hour once the interview is finished. These 'mixers' having been going on all week, but the way the EIFF name cards works makes it quite hard to mix. The trouble is that you have to be virtually standing on top of someone before you can see whether they are press, industry or staff. Not, of course, that it isn't nice to chat to some of the staff, but it feels a bit of a missed opportunity not to be able to talk to more filmmakers about their work. I chat to a couple of people about it and we reckon they should colour-code the neck lanyards so we could spot folk from afar. In any event, I fall to chatting to an artist, Mike, who has a 'magic igloo' in the corner of the room – as the evening wears on people are encouraged to draw on it, while slightly odd performance art/burlesque goes on inside and is caught on camera. In fact, the burlesque takes a particular turn for a surreal, when later in the evening a woman wearing nothing but tassles on her particulars is gyrating for the igloo camera, she turns round to reveal a pair of pink angels wings tattooed on her back and I realise it's a former barmaid from my local - amazing what you see at the festival.
I also speak briefly to Mehmet Can Mertoglu about his short film The Slope (Yokus). It hasn't had its press screening yet, but he gives me a disc with it on to take away so hopefully I'll get to watch it soon. He and his producer say they are going to have to screen the film from the DVD at the rest of their screenings, as the 35mm print quality isn't as good as they had hoped.
I take a brief respite from the bash and head over to the Filmhouse for some food. On the way I hear that the Surprise Movie was The Rocker – a Rainn Wilson comedy that will hit screens this August. Sounds as though it was quite good fun, although several members of the press are looking relieved, since they had feared it might be an early edit of Dark Knight and that they would be missing out.
While I'm eating, I get talking to a bunch of Americans on the next table. Turns out one of them is Alex Orr – director of Blood Car. We have emailed back and forth a bit to arrange an interview for the site so it's nice to put a face to a name. We chat a bit about what to see at the festival. I recommend Let The Right One In for what feels like the millionth time – worth it, though, if it gets some audiences. We talk a bit about his plans for his next film and he says it will definitely be an "exploitation" film. I guess we'll find out more from the full interview.
Meanwhile back at 'igloo central' things are hotting up. There's plenty of graffiti on it now and, in a fit of creativity, I add a fish. After that I have a natter with Scottish short filmmaker Stuart Condy. He knows our site as we reviewed his debut effort Loast. He says his mum has the reviewed framed (aww). We chat a bit about his up and coming projects, so hopefully we'll be reviewing more from him soon. I also chat – via an interpreter – with the director of Life Track, Jin Guang-hao. Because of the DJ and the general hub-bub, the conversation gets lost in translation a bit, but I'll try to see the film tomorrow.
So what's best film to see at the festival? Topping the Eye For Film poll at present is The Fall, which brings together a masked bandit hero and Charles Darwin in an epic adventure shot as imaginatively as it's told - we'll be bringing you an interview with its director when it comes up for general release. This Sunday you can get to see some other popular choices as Best Of The Fest gives you the chance to watch festival hits again for just a fiver each. Films on offer include Wall*E, Stone Of Destiny, Blood Car and Man On Wire. Book now to make sure you don't miss out.
Share this with others on...