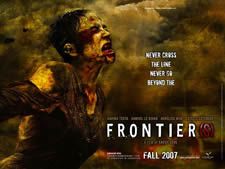 Frontier(s) will be released in the UK in 2008
Darren Amner: Please could you tell me a little about your directing background and the experience you gained before working on Frontier(s), your first feature film?
Xavier Gens: I began making home-made movies with zombies and vampires. After that I had the chance to work on Maximum Risk by Ringo Lam and Double Team by Tsui Hark. I was just a trainee assistant on those movies. That meant I blocked the door and made some coffee on the set. But I had time to look at how the directors worked. After this I made a lot of commercials and a short film, At Dawn, which won the prize at the Cognac film festival and was selected for the Venice film festival. I then began to work on Frontier(s), and then Hitman.
DA: What inspired you to create the story in Frontier(s)?
XG: It came from the events in 2002, when we had the presidential elections [in France]. There was an extreme right party in the second round. That was the most horrible day of my life. The idea of Frontier(s) came to me then, and in it I have put all that I love from the cinema horror of the Seventies and the Eighties.
DA: Have you always been a fan of the horror genre? If so, what films were an influence on you?
XG: I have always been a fan of horror movies. When I was young my mother allowed me to see The Exorcist with her because she was frightened. I was, too, being only six years old! The first movie that frightened me was Jaws and it's also the movie which gave me the desire to become a film director. After that, there's The Texas Chainsaw Massacre, Conan The Barbarian, Mad Max, The Evil Dead, The Thing, Bad Taste, Brain Dead, Shocker and A Nightmare On Elm Street.
DA: Could you tell us what Frontier(s) is about?
XG: It's about a band of young robbers who go the Netherlands to help Yasmine have an abortion. But they stop in an old hostel where they come across an old Nazi and his family who have been hiding there since the end of the Second World War.
DA: It looks to be incredibly violent and bloody. What can we expect from this film, and did you have problems with the ratings board?
XG: At the beginning of shooting, yes, we had a lot of problems with the violence of the film. But after Luc Besson came onto the movie he let us make the movie we wanted. And in the end I had the total freedom to make the movie I wanted. I have just cut the scene where the family cook one of the heroes.
DA: I have read elsewhere that the cinematography in Frontier(s) is incredibly beautiful to look at. Please can you tell me a little about your chosen visual style?
XG: Visually I have made what I want. I used a lot of shoulder camera and a shutter-effect technique which created a sort of medieval light, which gave the idea of a story out of time.
DA: Samuel Le Bihan is one of the stars in this film. I thought he was great in Brotherhood Of The Wolf – can you tell me a little about his character in Frontier(s) and what it was like working with him?
XG: It's great to work with Samuel because he was really invested in his character. He put on 10kg to appear in the movie. Every day he worked out and ate a lot of meat. He also shaved his head and became a real wild boar!
DA: Please could tell me a little about the other casting choices you made for this film and the characters they play?
XG: For Karina Testa, Yasmine, I searched for somebody who could dive in the mud, cut her hair and be a fantastic actress. She is all of that and much more. For Eva, the pregnant woman, I searched for somebody with a strange mood and a lot of emotions. Maud Forget, with whom I have already made a movie, was really great. For Von Geisler, I had to search for a great actor who could be an old Nazi and Jean-Pierre Jorris was like that. When he was young he lived in Paris under Nazi control. And he remembers how they proceded. That was very complicated for him to go into his difficult past. For the others I looked for actors who could give me a range of emotions, which is most important.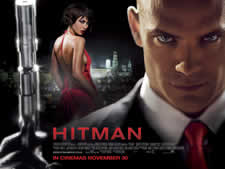 Luc Besson offered Xavier the chance to direct Hitman after seeing Frontier(s)
DA:
I believe that, on the strength of seeing Frontier(s), Luc Besson offered you the chance to direct
Hitman
– is this true, and what can we expect from that upcoming movie?
XG: It's totally true! When Luc saw Frontier he asked me to do Hitman. And I have made the movie I want. That was a great experience, and I thank Luc Besson for all he's done. He's a great human being.
DA: I think Timothy Olyphant is a fantastic actor and if cast in the right role could be a big star. Is Hitman his ticket to the top?
XG: I hope so, for the movie and for him. Tim is really great in the film.
DA: What was it like working on your first big Hollywood production? How happy are you with the finished film?
XG: That was a great experience because they let me do the movie I wanted to do. I wanted to keep my vision on this movie. I love the video game and I have respect for everything on it. It was very complicated because of the schedule but I think we have made a great movie.
DA: Finally, what is next for you once Hitman is complete? Will you be stepping back into the horror genre?
XG: Hmmm… You want to know? My next movie is about a shipwreck on the island of Vanikoro in 1788. The movie opens with a scene where there is a massive shark attack on the sailors on the sea. The survivors have to build a new boat to leave. But there is tribe of cannibals on the island and you can imagine what happens…
For more information about Hitman - released on November 30 - visit the official site. For more information about Frontier(s) visit the official site.
Share this with others on...