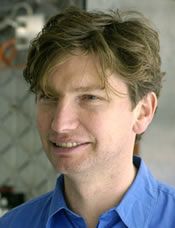 Producer Andrew Macdonald
Producer Andrew Macdonald has had a busy year. He was executive producer on his brother Kevin's multi-awardwinning feature debut The Last King Of Scotland and The History Boys and also found time to produce Notes On A Scandal and Danny Boyle's latest Sunshine, with 28 Weeks Later waiting in the wings for release on May 11.
He seems fairly relaxed about it all when I catch up with him in Edinburgh - but one supposes a cool, collected manner is pretty essential when you've got an eye on the budget of several films simultaneously.
But the Glasgow-born producer says that each film is different, with some of his involvement less hands on than others - such as that on Last King Of Scotland, for example.
"My company DNA has a deal with Fox. I wasn't in Africa - I was there for three days - I just helped put the film together at the beginning and at the end. And while they were doing that I was producing, every single day, Danny's film."
The end result of all the daily hard work on Sunshine is a stunningly glossy sci-fi movie that looks as though like it cost several times more than the £20 million budget. All the more amazing when you consider it was the first time the team had tackled this sort of digitally-heavy movie making.
"The thing with the CG is that we've never done a movie like this," says Andrew. "There a bits of the screen that have to be black because of the CG. There are bits of the sun and the whole spaceship was created in CG. Particularly for Danny - he's the creative man who makes the film - that's going to be a challenge. From my perspective, I just underestimated how big a job it was going to be - it's a massive job.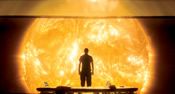 One of the many excellent CG shots in Sunshine
"But I'm incredibly proud of the visual effects, not just because they look great, but they work well with everything else. They don't feel particularly CG. We had a lot of debate about whether to use models and stuff like that but I'm glad we didn't, frankly, because I think what we've got is incredible."
The film tracks a team of astronauts on a mission to save the earth from global cooling and it seems that teamwork also lies at the heart of Andrew's operation.
"We did have a bit of a head start on Sunshine, because Danny and I have worked together before with writer Alex [Garland]. You've got a pretty good team and that helps a lot. We've also worked with Fox a lot, so we know them and that helps. With film-making, the more collaborations there are, the easier it is."
"It gets easier when you work with a team you've been with before, you know strengths and weaknesses - I mean, if they have too many weaknesses, you don't want to work with the again - but I think it helps a lot. That's the key to the success of the film. It's a real team effort."
Certainly Team Macdonald seem to have been doing very well lately, with Kevin's Last King winning gongs left, right and centre and Andrew's Notes On A Scandal also getting several nods. But what's it like to be the one holding the purse strings for your brother? Andrew is a little reticent on the subject, although in a positive way - and then his mobile rings.
He apologies and picks up as a voice at the other end booms "Hello, Kevin."
Andrew chuckles: "You've got the wrong brother, mate. How embarrassing."
There's a brief, "Oh my God" from the other end followed by some small talk before the inevitable hang up.
Andrew laughs, "That's my life now. There's an anecdote for you, that's the head of Working Title, after my brother - how embarrassed was he?"
So, does he feel the weight of the film dynasty which began with their granddad, writer, director and producer Emeric Pressburger, who along with film-making partner Michael Powell was responsible for a string of cinematic hits including Black Narcissus and The Life And Death Of Colonel Blimp?
"No, I feel the weight of my children," he laughs, "You just have to keep pedalling. I guess that my brother and I are in the film business partly because of my grandfather, because that made it feel possible.
"But we've had a pretty great time of it. Things have been going well for both of us. People used to say he was my brother... but now it's certainly changed, I'm his brother now, everyone says, 'are you Kevin's brother?'"
He's clearly proud of his younger brother's success, however, particularly the Oscar for Forest Whitaker at this year's Academy Awards.
"I think it's amazing," he says. "It's a small film made, cost less than £5 million - which for a film is tiny - and it wins best actor, which is the third best prize, and for a film set in Uganda by a guy who hasn't directed a feature film before and everything, it's absolutely fantastic. I couldn't be more happy for him and for him and the film and, it's my company's film, too.
So when Kevin wants cash and Andrew doesn't think he needs it on a film, who wins?
"You don't want to know, it's horrific," he jokes. "To be honest, what we did was fantastic and it worked out great but I don't think for either of us it's something we'll do all the time in the future. You're always at odds with directors over finances and stuff, so you have to be careful with personal relationships. I mean, I've worked with Danny a lot but we don't see each other outside work.
"Who knows, you don't know what is going to happen next. You're planning something and it's all about so many people crossing over."
But for now, Andrew is just enjoying promoting the latest and - rather fittingly for Easter - his thoughts have been turning heavenwards.
"I'm praying for two things. I'm praying for 300 to fade by the middle of next week - no chance, since it seems to be doing so well and that's what all the young people are going to see - and secondly, that we don't have a very sunny Easter. I know I'm mean for saying that but if it's a beautiful weekend no one will want to go to the cinema."
Well, they always say that those with Sunshine, pray for rain.
Share this with others on...