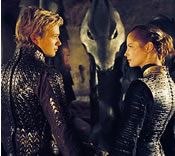 Eragon (Ed Speelers) and Arya (Sienna Guillory) prepare for battle.
The great thing about press conferences is that they're usually held in swanky Park Lane hotels. This time the cast and crew of fantasy extravaganza Eragon are staying at the Dorchester, and it's great to see the looks on other customers' faces when met inside the lobby with people who don't exude opulent wealth. While we wait for the stars, an old couple dressed in black tie wander into the room with bemused looks on their faces. They look absolutely horrified at the horde of journalists wearing T-shirts inside the hotel. This can't be the room they were looking for. Muttering reassuring nothings to themselves, they retreat.
As I finish my last Dorchester biscuit, the stars enter. I recognise most of them: Robert Carlyle, a bobbed Sienna Guillory, Jeremy Irons wearing a scarf indoors, Ed Speelers, the young lead and a large Germanic fellow who turns out to be the director, Stefan Fangmeier.
The questions start off fairly run of the mill: what difficulties did filming Eragon pose? Fangmeier is quick to point out the difficulty of meeting expectations. "The pressure to differentiate from what's come before. Lord Of The Rings had an inbuilt audience, but there's a pressure to live up to. Ten years ago we wouldn't have been able to make the book into a film. The Lord Of The Rings films are a two-sided coin: there's an audience but great expectations also."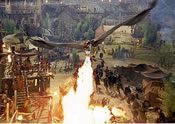 Eragon tells the tale of a farm boy who, after finding a dragon's egg, discovers his destiny is to become a dragon rider and save his kingdom - and acting in this fantasy setting proved difficult, too. Carlyle says his make up for the evil sorcerer Durza took three and a half hours to put on. "It was really hard to go for a slash," he admits with Glaswegian bluntness.
Of course, more of a concern in a film about dragons is that there are none until the CGI is added. Thankfully, according to Fangmeier, Speelers was "quite a natural in acting with nothing there". Ed, for whom Eragon is his first acting role outside of school productions, was pleased with the results too. "For so long I had to put up with tennis balls, but now the dragon's a CGI masterpiece. Saphira [the female dragon whom Eragon hatches from an egg] has something to give, she's someone with emotions."
Fangmeier was keen to have naturalistic elements in the shooting to make up for this, "to give them a reality, and a real setting". The climactic battle scene was shot with extras in an abandoned quarry. Fangmeier wanted "a smaller battle, as lots of people lose relevance".
The cast are keen to stress the importance of relevance, as the books are about the trials of growing up as much as about magic and dragons.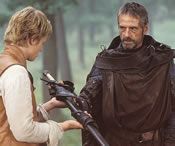 Irons (pictured right, with Ed Speelers) explains why he took the role of Brom, Eragon's Obi Wan type mentor: "The strength is the story written by a 16-year-old for 16-year-olds. Kids who read it really feel empathy – about growing up – this is universal. And Stefan Fangmeier's designs were mindblowing: I've worked with dragons before, and those films flopped. If anyone can excite the nippers, he can. Here, there is a real relationship with the dragons."
Sadly I'm unable to get my questions in, as the host is systematically ignoring anyone but the two journalists at the front. The cast is by now running low on Dorchester carbonated mineral water, and so the conference is brought to a close.
Clearly everyone involved is hoping the film will win audiences over. Fangmeier is well aware of the problem he faces in delivering something similar after Lord Of The Rings. Irons asks at one point "Why do so many dragon movies flop?" – in the humanity behind Eragon, they're hoping to have found a remedy.
Share this with others on...