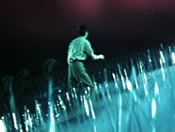 One of the torments of hell in Jigoku
Until less than a decade ago, Western awareness of Japanese cinema had been largely confined to the stately samurai epics and staid domestic dramas of Yasujiro Ozu, Kenji Mizoguchi and Akira Kurosawa, or else to rubber monster movies (with any anti-nuclear sentiments tactfully removed to avoid offending American sensitivities).
Now, however, that the wider world has begun to notice the innovations and exuberance of contemporary Eastern cinema, there has also been a reassessment of the lost years - falling between the immediate post-war era and the here and now - that enabled Japanese cinema to move from the classical humanism of Akira Kurosawa to the cool irrationalism of Kiyoshi Kurosawa (no relation) today.
The missing link is the cinema of the 1960s and 1970s, a period when a new generation of directors began to rebel with a vengeance against their society's fragile conformity by radically rewriting the rules on filmmaking. Comparisons to similar revolutionary movements in European (and later American) cinema are both apt and inevitable - but where France kick-started the New Wave in the West, in Japan it was more like a New Tsunami, obliterating all received notions of style, structure and, indeed, good taste. Put simply, Japanese cinema went wild, and without this metamorphosis, today there would be no Sogo Ishii, no Takeshi Kitano, no [director]Shinya Tsukamoto[/director], no Takashi Miike, no Hideo Nakata - and Quentin Tarantino's Kill Bill would have only its second volume.
Still, even in the era of the DVD, it requires a certain perseverance to track these lost treasures down, and it is next to impossible to see them in their full splendour on the big screen - which is what makes this year's Wild Japan: Outlaw Masters season such an essential event in the film calendar. Twelve ultra-rare prints of Japanese cult classics from the Sixties and Seventies will be screened from November 3rd at London's National Film Theatre, then in late November/December at Edinburgh's Filmhouse and Glasgow's GFT, before finally making their way in early 2007 to Bristol's Watershed, Sheffield's Showroom, and the Irish Film Institute in Dublin.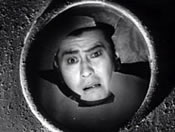 Wild Japan: Outlaw Masters offers a unique opportunity to see genre cinema at its most unhinged and its most aesthetically exquisite. Horror, yakuza and samurai may be genres that can be traced right back to the very beginnings of Japanese cinema - but then your run-of-the-mill J horror has little connection to Nobuo Nakagawa's infernal vision of Japan's moral descent Jigoku (1960) or Nobuo Nakagawa's pop-art haunted house movie Hausu (1977). Similarly Masahiro Shinoda's Pale Flower (1964), pictured left, Seijun Suzuki's Branded To Kill (1967) and Kenji (Battle Royale) Fukasaku's Yakuza Graveyard (1976) each put their own stylised spin on the yakuza flick, which was later to be much imitated by the likes of Kitano and Miike.
In the meantime, the period samurai film may have become Japan's best known genre abroad thanks to the enduring appeal of Akira Kurosawa's Seven Samurai (1954), which for decades defined Western perceptions of Japanese cinema - but the familiar genre receives an austere, thoroughly bleak makeover in Eiichi Kudo's The Great Melee (1964) and Kihachi Okamoto's Sword Of Doom (1966), both making a rare appearance here.
The Sixties also saw the emergence of an all-new samurai-era hero, the blind swordsman/gambler/masseur Zatoichi, who would go on to accumulate a staggering 25 films to his name, not to mention Kitano's 2003 reimagining. Here he is represented in his fourth (and arguably best) outing, Tokuzo Tanaka's Zatoichi the Fugitive (1963).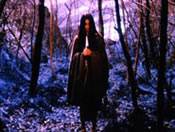 Perhaps most intriguing of all in this season are the films that colonise genres otherwise foreign to the Japanese cinematic tradition. Female Convict Scorpion: Jailhouse 41 (1972), pictured right, the second in a trilogy of films by Shunya Ito starring Seventies cult icon Meiko Kaji (Lady Snowblood), falls unquestionably into the trashy women-in-prison subgenre, but somehow manages also to draw heavily on classical tragedy, the women's liberation movement - and spaghetti westerns! It is way beyond wild. Meiko Kaji stars again in Stray Cat Rock: Sex Hunter (1977), directed by Yasuharu Hasebe (who had previously directed her in a fourth 'Female Convict' film). The film is in recognisable delinquent-girl-gang territory, but also offers a highly reflexive exploration of Japan's uneasy commerce with the outside world.
Norifumi Suzuki's School Of The Holy Beast (1974) is that most unlikely of filmic creatures, a Japanese nunsploitation pic, taking the sub-genre to new depths of blasphemous depravity, while at the same time elevating it with imagery and cinematography worthy of the most sublime arthouse fare. It is the guilty pleasure par excellence. And last but not least, defying all categorisation, is Toshio Matsumoto's extraordinary Funeral Parade of Roses (1969), a queer retelling of the myth of Oedipus whose vibrant visuals and formal experimentation are said to have been a direct influence on Stanley Kubrick's A Clockwork Orange (1971).
The films in this season are bold, vital, stunningly stylised products made by artists who all realised that the trappings of genre, far from being a constraint, could be used to disguise all manner of political, social and sexual subversions. They are thrilling, cruel and very cool - but most importantly they still seem as revolutionary and fresh now as when they were made. So catch this selection of Outlaw Masters and take a walk on Japan's wild side.
Share this with others on...