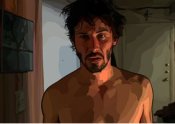 Keanu Reeves in the mind meltdown thriller A Scanner Darkly
The seminal impact of Philip K. Dick's work on the silver screen can be charted from the release of Ridley Scott's Blade Runner in 1982 right up to the impending premiere of Richard Linklater's adaptation of A Scanner Darkly. In terms of diversity, the cinematic interpretations of Dick's work range from Steven Spielberg's blockbuster Minority Report to Jérôme Boivin's dramatic comedy Confessions d'un Barjo. In terms of significance, despite suffering relative obscurity in his lifetime, Dick's work has inspired films generating nearly $1billion. His subsequent global popularity has seen his novels translated into nearly all major European and Asian languages.
With more than 40 novels published, Dick is regarded as not only one of the most prolific science-fiction novelists of our age but one of the most enduring literary figures of the 20th century. In light of the fact that his work is still a source of inspiration to literature and cinema, it's unsurprising that his novels and stories remain so widely popular and relevant more than 20 years after his death. To date, eight feature length films have been adapted directly from his writings, a record which makes him the most filmed science-fiction writer in history. In addition to this, the themes and imagery of his work have played an intrinsic part in shaping the evolution of the sci-fi genre as a whole.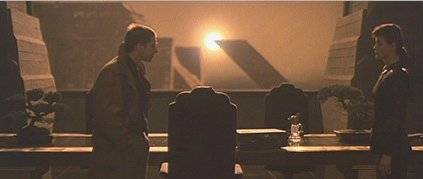 The films begin with Blade Runner, Ridley Scott's adaptation of Do Androids Dream Of Electric Sheep? Dick's first brush with Hollywood left him initially cynical and reticent. The author's misgivings over the adaptation of his work ran so deep that he was openly critical of the film and its director. He received little contact from Warner Bros during the film's production. Dick's concerns led him to write an article in the Los Angeles Select TV Guide condemning the film's initial script. Following this the author also refused to write a highly lucrative novelisation of the screenplay, much to the annoyance of the studio, who were chasing money-spinning tie-ins. At the time Dick was working on what would ultimately be his last novel, The Transmigration Of Timothy Archer, and was highly reluctant to shelve this in favour of a project he referred to as 'El Cheapo'.
The film itself retained some of the characters and ideas of Dick's original novel but was, compared with future works, a relatively loose adaptation. The character of Blade Runner, Rick Deckard, played by Harrison Ford, is dispatched to 'retire' a group of rebellious replicants who have escaped from one of Earth's off-world colonies. Led by Roy Batty (Rutger Hauer) the replicants arrive on terra firma seeking the extension of their deliberately limited life-span. Like the novel, Scott's film dealt with the division of life where, while animals are revered as an exclusive luxury, the highly sentient and intelligent replicants are deemed abundantly dispensable.
The author's disdain for the first script, penned by Hampton Fancher, added to a growing list of problems with the film's production, including a budget crisis that resulted in a late scramble for funding. Eventually Scott drafted in David Peoples (Twelve Monkeys, Unforgiven) to make changes to the script which Dick proved much more receptive to. Sadly the author died four months before the film's release but, after seeing a forty minute special effects test reel, was so pleased with Scott's futuristic environment that he became an avid fan.
The film opened on 25th June 1982 to a tepid box office reception of only $6,150,000, despite producers' expectations that it would rival sci-fi predecessors Star Wars and Alien. This was compounded with critical division over the film, some describing it as slow-moving while others felt its intricacy and unique cyberpunk verve would lend it longevity. In spite of its mixed reception the film received numerous Oscar nominations and won BAFTA awards for production design and cinematography. It was one of the first films to be transferred to DVD and has since been through seven versions including a Director's Cut in 1992 and the long anticipated re-mastered and definitive Final Cut to be released next year. Of all the adaptations of Dick's work, Blade Runner remains a firm favourite for film fans and critics alike and is firmly entrenched in the cannon of science fiction cinema.
Among other adaptations of Philip K. Dick's work is Total Recall, released in 1990 and directed by Paul Verhoeven (Robocop, Starship Troopers). This outright action blockbuster, starring Arnold Schwarzenegger, truly marked the emergence of the author's work into mainstream Hollywood. The film was based on the premise for the author's short story We Can Remember It For You Wholesale, first published in 1966. Much of the plot was changed for the feature film, with Arnie tackling aliens and government spies in explosive set pieces, but the central topic of memory manipulation remained. The film, although a huge box-office success, was something of a disappointment to fans of the novelist who learned that David Cronenberg had originally wanted to direct the film much more in line with Dick's original vision.
The short story We Can Remember It For You Wholesale was first published in 1966 in The Magazine of Fantasy & Science Fiction and concerned a futuristic world where a man seeks to live out his greatest desires through memory implants. While in the process of having his memories modified he learns of his suppressed double life as an assassin. As a short story, the expansion into an action feature understandably blurred some of the original themes but retained the central subject of reality versus illusion. This has gone on to become one of the central components in other science fiction movies including The Matrix, Dark City and The Thirteenth Floor, testifying to the lasting relevance of the author's work and its significance in the evolution of the genre.
Due to its massive success in the box-office TriStar Pictures green-lit Total Recall 2, where Schwarzenegger would resume his character of Douglas Quaid, now a reformed law officer. The screenplay was to be based on another of Dick's short stories called Minority Report, a story of pre-cognitive visions being used to predict murder in a future society. For a number of reasons this film was never made but the script survived and, after numerous re-writes, emerged in the hands of Steven Spielberg, who opted to remain more faithful to the author's primary ideas.
In 2002 Minority Report premiered to critical acclaim, widely regarded as one of the finest films of the year and Spielberg's most darkly noir film to date. Dick's novel was carried onto the big screen with Tom Cruise taking on the central role of John Anderton. As Chief of the Pre-Crime Police Division, Anderton intercepts the visions of the Pre-Cognitives Agatha, Dashiell and Arthur who are able to predict when and where murders will happen. The noir ambience of the film only serves to promote the image of a dystopia synonymous with the author's sense of ambivalence at America's future, a central aspect of much of his work.
At a cost of over $100million Minority Report represents the most expensive film ever based on one of Dick's novels but, having more than tripled this figure at the box office, it is also easily the most popular. In terms of budget, it dwarfs the latest in the collection of films that take inspiration from Dick's work, but the hype surrounding A Scanner Darkly suggests it may yet be one of the most popular.
First published in 1977, A Scanner Darkly is considered by many to be a semi-autobiographical account of the author's experiences with amphetamine abuse. Set in a dystopic future California, the novel tells the story of Bob Arctor/Agent Fred who, having been appointed on a drug sting operation, becomes highly addicted to the narcotic Substance D. The side-effect of the psychoactive drug is that each hemisphere of the brain acts independently, leaving the character effectively split between his persona of Agent Fred and Bob Arctor. The 'Scanner' referred to in the title of the film is the device with which Fred/Arctor uses to spy on his alter ego despite being unable to remember any of the clips he views.
A Scanner Darkly represents what many fans of the writer regard as the first truly faithful adaptation of one of Dick's novels. Where as previous films like Blade Runner and Minority Report have, while achieving popularity, removed elements of his story and setting, Richard Linklater's film remains loyal to his work. The novelist's ardent fans will, no doubt, view it as most fitting that his uniquely personal novel will enjoy a cinematic adaptation with a richly talented cast including Keanu Reeves, Winona Ryder, Woody Harrelson and Robert Downey Jr.
In the true spirit of Dick's work A Scanner Darkly also employs the revolutionary animation process of Rotoscoping. The film is shot in digital and then animated over, giving each frame a vaguely haunting yet stylised look that heightens dream-like feel of the story. With every minute of footage requiring five-hundred hours of animation it is easy to understand why the release date of the film was delayed by nearly a year. In keeping with the award winning special effects work of Blade Runner, A Scanner Darkly looks set to continue the tradition of innovation in the cinematic adaptations of Dick's work.
Dick's written work still proves to be universally popular, with worldwide sales making him one of the greatest American writers of our time. With such a long-standing effect on both the literature and cinema of the science-fiction genre, the author is, and shall remain, one of its truly prolific talents. The appeal of films like Blade Runner, Total Recall and Minority Report only serves to emphasise the popularity and continued significance of his creativity. In his 1978 essay 'How To Build A Universe That Doesn't Fall Apart Two Days Later' Dick said:
It is my job to create universes… I have to build them in such a way that they do not fall apart two days later… However, I will reveal a secret to you: I like to build universes which do fall apart. I like to see them come unglued, and I like to see how the characters in the novels cope with this problem. I have a secret love of chaos…
From the lasting legacy of his work and the ever-expanding impression he has left on the silver-screen, it's clear that Philip K. Dick succeeded in building one universe that, far from falling apart, can only ever continue to grow.
Share this with others on...