Eye For Film >> Movies >> Breathless (1960) Blu-Ray Review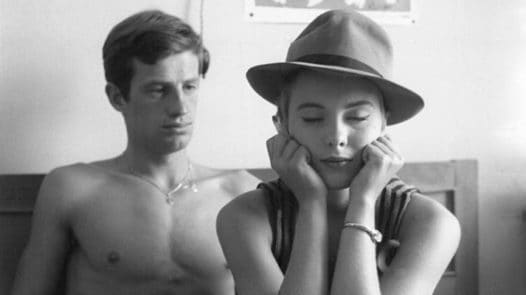 Studio Canal have pulled out all the stops for this 50th anniversary edition of Jean-Luc Godard's classic. The 1080p/24fps print looks terrific, with barely a blemish in sight.
The extras - although differing substantially from other blu-ray editions elsewhere (see DVD Beaver for an excellent guide to the ins and outs of those) - are of an exceptionally high quality and well worth owning in their own right.

Some, have been released in DVD form previously, but that doesn't make them any less entertaining. Kicking things off is a strong introduction by Colin McCabe, talking about a "revolution that works".
Room 12, Hotel De Suede, is a fascinating 1993 documentary (1hr, 18mins), which sees director Claude Ventura take a very personal and poetic quest to explore the making of Breathless. He rents the very room scenes that the film was shot in just a week before the hotel is due for demolition and begins exploring, with the aid of production notes, interviews and phonecalls, the circumstances surrounding the shoot.
Godard proves a man of very few words on the phone, but others are more forthcoming. Claude Chabrol offers a fascinating insight into the Cahiers du Cinema crowd, talking about how they - Truffaut, Rivette, Chabrol and others - "were almost a mafia" and were "convinced we were all geniuses". He reveals that his role as artistic advisor on the film was, largely, "a sham" put in place to help Godard get it made and that they "complimented each others films" to help build positive critical momentum.
Ventura's film also gives a sense of what it was like to work with Godard and a feel for the ideas and people who inspire the director - even travelling to the Swiss auteur's hometown of Geneva to check out his 'roots'.
A second 50-minute documentary - Godard, Made In USA - is equally interesting and released for the first time in this collection. It explores the impact Godard's style of filmmaking had on up-and-coming writers and directors in the US. Kramer Vs Kramer director Robert Benton talks about the debt his script for Bonnie And Clyde owes to Godard, while its director Arthur Penn says it was like being "let out of jail".
The documentary goes on to consider the lasting ramifications of Godard's style, with writer/director Paul Schrader asserting that his influence on cinematic form has never been greater than in the last 10 years. It's worth noting that this is no hagiography to Godard. Several of those included here, including Peter Bogdanovich, talk about falling out of love with the auteur as his work became more polemical.
Jean-Luc According to Luc is a quirky eight minute consideration of the auteur by his friend and fellow director Luc Moullet. It touches on one or two interesting ideas but is, at heart, a bit daft.
Rounding out the package are a wonderful selection of almost 80 HD photographs taken on the set by Raymond Cauchetier, posters from various countries and the original trailer.
All in all, a pretty breathtaking set.
Reviewed on: 14 Sep 2010
Share this with others on...