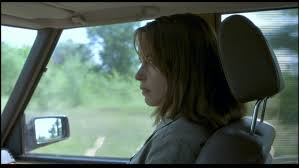 Christian Petzold's latest metaphysical thriller is the sort of film that you want to watch again straight away as the final credits role. Sadly, I only had time to see it once before writing this review but I am very interested to see how its integrity holds up on subsequent viewings and am almost sure that Petzold's mystery would be well worth a second watch. You sense layers of intrigue lying waiting to be discovered.
The eponymous heroine Yella (Nina Hoss with the sort of performance that should garner her a clutch of awards in addition to the one she won at Berlin) is on the cusp of a new life. Her marriage to Ben (Hinnerk Schoenemann) is over – but he hasn't quite got the hang of the idea yet and seems to be stalking her at every turn. With an air of finality she is moving to Hanover to start a new job and all that attends it. His last ditch effort to keep her with him leaves her in no doubt of his frightening potential and his actions have an echo that resonates.

After a lucky escape she finds herself facing more pressing problems than Ben, when, on arrival in Hanover she discovers the job she was supposed to be taking is no more and very nearly loses the room in her hotel. A chance encounter with venture capitalist Philipp (Devid Striesow) sees an initially uneasy alliance form, as Yella discovers her potential both for wheeling and dealing at the sharp end… and for criminal acts.
Everything about this film is off-kilter. Yella keeps hearing things and experiencing a vague déjà vu, while things in her life seem to be not quite right. Petzold's film is all about his characters, their potential, their failings, their spirit and his plot is frequently used as a device to explore their motivations rather than with any real sense of furthering the action.
At the risk of taking a one-way ticket to Pseudsville, Yella genuinely does work on several levels. The emotionally volatile performances by Striesow and Schoenemann are the perfect counterpoint to Yella's mental fragility - delicately explored by Hoss, so that even simply taken as a character drama there is much to appreciate. The thriller aspects are also appropriately gripping, although some may see the ending before it arrives.
I rarely read much about a film before watching it, although in this case I rather wish I had, since the geography of Yella is also important and likely to be completely missed by non-German audiences. For Yella is a product of the old eastern bloc, moving from what was on the east side of the wall, Wittenberge, to the capitalist Hanover. There is clearly a statement being made as this move sees Yella lose something of herself even as she stacks up cash, although simply viewing it as the country mouse selling out to the city is probably high-concept enough.
This is, in places, a deeply disturbing film, touching as it does on several less than edifiying themes such as desire, greed and selfishness. Yet the touching scenes, when they come, have a surprising emotional depth. Petzold employs a sinister subtlety, suggesting things in ways are almost too ephemeral to grasp, which may be a turn off for some. That you need to see the film again to make proper sense of it is its blessing and its curse – but if you like a good puzzle, it's definitely for you.
Reviewed on: 13 Aug 2007
Share this with others on...