Eye For Film >> Movies >> What Happened, Miss Simone? (2015) Film Review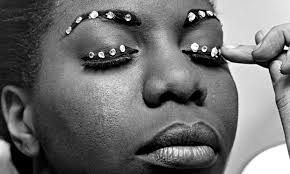 The voice of Nina Simone runs like a river through this documentary about her life, sometimes flowing in passionate rivulets as she talks about herself or the Civil Rights Movement, at other moments running sweetly through a blues song or cascading in an angry torrent against the racial inequalities of America. Her writing also enters the dialogue in the form of highlighted passages from letters and diaries, some of which have not been seen before. But despite this first-person intimacy - and a wealth of archive footage showing some of her most magnetic performances - it is more like a primer on her life than an in-depth study.
Liz Garbus takes a workmanlike and traditional approach to the life and times of Simone - born Eunice Waymon in segregated North Carolina - tracing her from her first piano lessons to the bitter rejection she felt from classic music college, not because of her lack of talent but because of the colour of her skin. But the director relies heavily on the emotion of Simone herself - alongside strong supplementary interviews with her daughter Lisa Simone Kelly and previously unseen interviews with ex-husband Andrew Stroud - to keep you with the story, which is frustratingly lacking in context.
Take, for example, the Maya Angelou quote that the film is named for. It is clipped from an essay by the author on the blues and jazz genius but no comment is ever given about the rest of the contents of the essay or why Angelou chose to write it. Garbus refuses to linger so we can find out more. So that when Simone talks about "taking a yellow pill" before going on stage, there is no discussion of her Valium use and later possible consequences of medication she took for bipolar disorder are mentioned as a factual checklist and as a list of her daughter's fears but not really considered in the context of what actual impact they had on her. Nothing to see here, please move along. The same is true when we come to discussion of her lovers and even in terms of the development of her music. Mention is made but no detail is given of her shifting style. More reflections from her contemporaries in the equal rights movement would also have been welcome, despite time passing, there must surely be some voices left.
Garbus' hook is the idea of "fear". In an opening piece of archive footage, Simone walks on stage, looking somehow amazed that she finds herself there, a sense of trepidation and stillness about her stance. An interview underlines the point as she talks about hoping for "no fear" and how if she could spend half her life like that it would be wonderful. Her daughter talks of her father "wrapping himself around Simone like a snake" and the one area the documentary doesn't shy away from is their abusive relationship. Lisa's conclusion? "They were both nuts."
Spending the runtime of a film in the company of Simone's music, from I Loves You, Porgy (noticeably she never used the ungrammatical and belittling 's') through to anthem Young, Gifted And Black is never going to be a chore for the audience but it's a shame Garbus cleaves to the Way of Wikipedia rather than striking out on her own.
Reviewed on: 23 Jan 2015
Share this with others on...