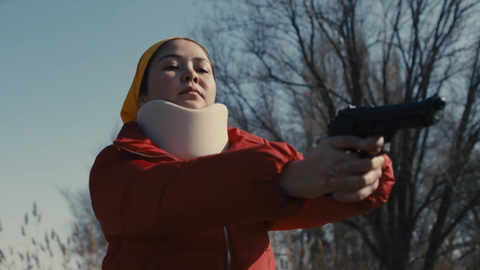 Kazakh writer/director Adilkhan Yerzhanov has the sort of work-rate that Michael Winterbottom would be proud of, directing a whopping six features in the past couple of years, with two more currently in post-production. His films, including Night God and A Dark Dark Man, have an absurdist sense of humour, Kafkaesque settings and a whiff of noir about them as they play with classic ideas - police corruption, vengeance, small-town politics - while satirising Kazakhstan's rural backwaters.
His latest film also has a fairy tale vibe - a sort of modern take on cumulative stories like The Old Woman And Her Pig -  offering a spare approach to a kidnapping that spirals into a saga for his heroine Ulbolsyn (Asel Sadvakasova).

We meet her before the kidnapping, as she returns from the city to her home village with a plan to take her younger sister Azhar (Dinara Sagi)  to study abroad. Stopping off at a school to pick up Azhar's file, she comes across the first strand of a bureaucratic web that will become increasingly tangled as the film progresses, stonewalled because she is considered a "townie". Later, we'll learn - and see on the TV - that she has also achieved a sort of notoriety by being in an advert "naked", although as she repeatedly points out, that's just a close-up trick of the camera.
When she returns to her car to find her sister gone, the Kafka kicks in as she comes up against one man, then several, then most of the masculine members of the district in a bid to stop the 16-year-old Azhar being married off to local faith healer Urgen (Yerbolat Alkozha). "Everyone knows him, everyone respects him," Ulbolsyn is told, as though that should be the end of the argument, the absurdity of the situation reinforced by the soft power he wields over others while appearing to be a very nondescript individual. It's telling that Ulbolsyn wears a neckbrace throughout, although it is never explained, its physical restrictiveness mirrors the patriarchal claustrophobia she is up against.
The film also operates a strict colour code - indicated by stripes of paint on the police station wall, which one hapless officer is gradually covering grey - so that Ulbolsyn's red coat is mirrored by the vibrancy of her sister's yellow outfit, while the men are mostly presented by darker blues and duns - a coding that may well carry added significance for a local audience. Although the film is damning about small-town closed mindedness and corruption, Azamat Dulatov's camera also finds moments of haunting beauty, including horses captured against the mist.
Yerzhanov explores the pernicious tenacity of the status quo, with Azhar already groomed to be happy with her lot and others all too willing to fall in line. Her older sister repeatedly turns to other men for back-up, telling them "You're the only one who can help me", but even when they come mob-handed and armed, it seems that the only person who can ultimately help Ulbolsyn is herself. The lean story is pushed onwards by periodic injections of energy from the drumbeat of Donna Summer's I Feel Love, which is playing on Ulbolsyn's car radio, the thought of 'feeling love' another irony underscored by a kid who pops up in random situations yelling the taunt, "You feel love!" By the end of the film, we'll realise that is in short supply when the only answer seems to be violence.
Reviewed on: 24 Nov 2020
Share this with others on...