Eye For Film >> Movies >> Two Weeks Notice (2002) Film Review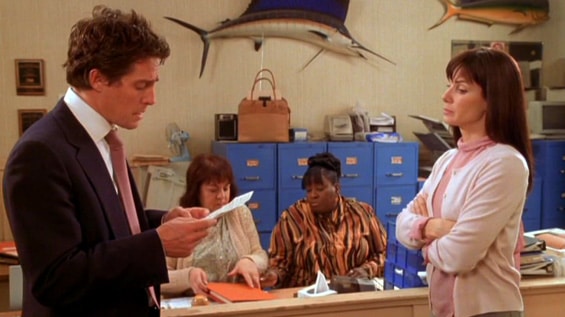 It worked for Tom Hanks and Meg Ryan (Sleepless In Seattle, You've Got Mail). Why doesn't it work for Hugh Grant and Sandra Bullock?
Grant isn't Cary and Bullock isn't Katherine. The chemistry is lopsided. She's the bossy bright one and he's the laid-back spoilt one. Charm goes so far and then it hits a wall. The door in the wall has a lock and to find the key, you need intelligence. That's what's missing. Blame it on writer/director Marc Lawrence.

Five minutes into the movie and you know how it's going to end. Grant is a millionaire New York property developer, who lets his brother run the business, while he makes the speeches and networks the media. Bullock is the daughter of radical lawyers, who spends her time helping to save endangered communities from robber barons like Grant.
Guess what? You know already. He hires her; she runs his life. Romance? He plays the field and she, well, works. She hopes to influence the decisions of his company from within. She's already tried protesting from outside and that was fruitless. Will he listen now that he needs her to make all his personal decisions?
It comes down to personalities, as the plot is half-arsed and predictable. Grant looks uncomfortable, being upstaged by the girl who drove the bus in Speed. Bullock is not a natural comedienne. She can do sincere, concerned, organised and single. She's not good with kids and she's not funny. The only kid in the movie is Grant - "I thought she was going to kill me and feed me to the poor," he quips. You see the problem.
After the wonder of About A Boy, this is a giant step back for Grant. After her highspot in Miss Congeniality, this is a shuffle to the side for Bullock. No one loses, except the audience.
Perhaps, they can't make 'em like they did in Frank Capra's day. Perhaps, the gentle art of light comedy died with James Stewart. Certainly, contemporary double acts don't match up.
Reviewed on: 05 Feb 2003
Share this with others on...