Eye For Film >> Movies >> Tragedy In A Temporary Town (1956) Film Review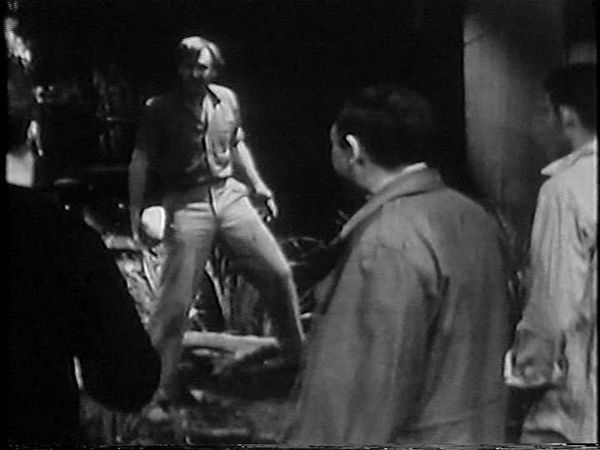 This television drama is getting a much-deserved fresh lease of life as an extra on Criterion's excellent Blu-ray release of 12 Angry Men and showcases an early example of writer Reginald Rose and director Sidney Lumet working together (although the two had already collaborated on TV anthology dramas The Elgin Hour and Danger).
Shot live as part of the regular Alcoa Hour/Goodyear Hour sponsored slot on NBC, it's comical now to see such a hard-hitting drama followed by a smiling housewife extolling the virtues of foil, but it also illustrates how much less anodyne sponsored programmes were back then.
Rose's story is set in a temporary camp of dam builders in the middle of nowhere, a set-up that is as cut off as his later jury room for all the impact that 'civilisation' can have on events. Interestingly, the Blu-ray extras note that the cabins the workers live in were originally supposed to be made from aluminium, the switch to wood an example of the effect a sponsor can have and of Rose's willingness to not sweat the small stuff in that regard.
We see a teenage girl (Betty Lou Keim) 'attacked' in the film's first few moments, although we don't see the perpetrator, we do see it amounts to not much more than scaring her. Nevertheless, she screams blue murder and it's not long before a group of the workers who were standing nearby decide they can find the culprit.
Head of the hastily organised mob is Frank Doran (Jack Warden, who would later join the jury of 12 Angry Men), who proceeds to traumatise the girl more than the attacker ever did by dragging her around the camp, insisting she single out the man she barely glimpsed. Opposing him, although not particularly successfully, is Alec Beggs (Lloyd Bridges), who sees this impromptu lynch mob for what it is.
You don't need to be a master of television to know that the father (Rafael Campos) and son (Will Kuluva) of the camp's one and only Puerto Rican family are going to be in trouble in this sort of situation but Rose handles the tension build-up well.
Although 12 Angry Men is the more detailed work, a similar sort of group dynamic plays out here, as we see the way a couple of hot heads can soon win others over. While on the surface, the film is tackling the way everyday prejudice can easily spiral into something much worse, it is also, surely, having a sly dig at the hysteria of McCarthy and his trials. That subject would be very 'alive' to those involved here, including Lumet, who narrowly dodged the blacklist and Bridges, who was, albeit briefly, not so lucky. The way Rose refuses to let his 'liberal good guy' off the hook is also worth noting, as Beggs is shown both to harbour prejudices of his own and to act in a way many would consider 'too little, too late'.
The direction also shares some DNA with Lumet's jury room classic, as we are able to see his early command of large groups, often filling the frame with them to generate tension and threat. He also makes striking use of back lighting, so that the mob become physically as well as emotionally shadowy at key moments. Bridges is good as Beggs, working up a terrific head of steam for the film's climactic scene but it is Ward who really steals the show here, his almost casual sense of threat much more chilling than the mob who stands behind him. The restoration of 12 Angry Men is immaculate and it's to be hoped that someone might see fit to fund the scrubbing up of this TV gem at a later date - it certainly merits it.
Reviewed on: 25 May 2017
Share this with others on...