Eye For Film >> Movies >> Torte Bluma (2005) Film Review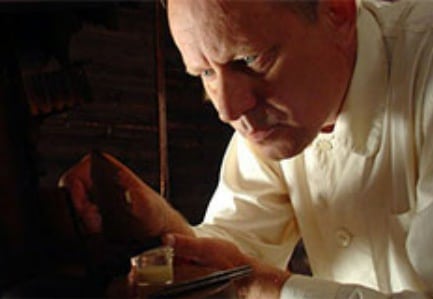 Every now and then a short film comes along with such a fantastic story that you wish it was feature length. Torte Bluma is one of those films.
Putting a personal perspective on the horrors of war, this little gem looks terrific. The cinematography is equal to that of far more expensive undertakings and the look is matched by the content, the details of which I won't go far into for fear of spoiling the great number of surprises.

A middle-aged man is doing a spot of woodwork. He calls to his butler for tea and everything smacks of the genteel upper-middle-classes until he bites into a slice of cake and ants scurry out.
What happens next turns the film on its head and makes for something a very long way from Merchant Ivory. This fantastic drama is made all the more powerful and chilling by the fact that it is based on a true story. Want to see man's humanity - or lack of it - exposed?
You should. If you dare.
Reviewed on: 11 Sep 2005
Share this with others on...