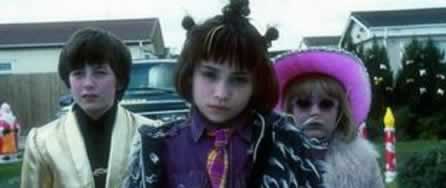 Imagine the worst children's TV programme you've ever seen. Now remove any residual plot, replace the professional crew with children and halve the effects budget. Finally, throw in some talented actors, looking extremely embarrassed. You are now imagining Tooth and hopefully, therefore, have no possible reason to actually inflict it on any innocent kids.
Tooth, the eponymous heroine (Yasmin Paige), is an annoying tooth fairy, who for no good reason, gives away all the money that the fairies were planning to spend on Christmas to two children, Tom (Rory Copus) and Tolly (Maisie Preston). Unfortunately, the children seem equally determined to lose the money, which means that no one will get any presents this Christmas, so Tooth and the children set off to find it. Along the way, they meet a cast of unamusing characters, including the fairies of Fairytopia, led by the Easter Bunny (voiced by Jim Broadbent, but played by a man in a sub-pantomime rabbit suit), and a group of fairy hunters, led by the sneering Plug (Harry Enfield).

This film is quite beyond belief.
It's a children's film set at Christmas, yet released for the box office stampede that is Valentine's weekend. It's set unspecifically in America, yet quite obviously shot in England, with interiors showing UK exit signs and fire extinguishers and exteriors of stately homes and rolling countryside. A few of the cast start out with American accents, but quickly realise that no-one else is bothering and give up the ghost.
Vinnie Jones and Stephen Fry share top billing, despite the fact that their parts are mere cameos. Harry Enfield, the unfortunate star, seems to give up acting altogether half way through, and reverts to parody. You can hardly blame him, given the dialogue. When the villains break into Fairytopia, he's expected to shout "It's showtime!". Geeeuuugghh!!
When Tooth explains her origins, which constitute the premise for this embarrassment of a British film, Tom responds, "That is the dumbest story I ever heard."
At least, he didn't have to sit through it.
Reviewed on: 29 Jan 2004
Share this with others on...