Eye For Film >> Movies >> The Water Diviner (2014) Film Review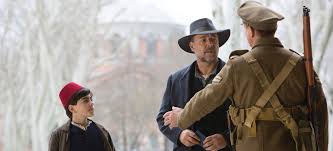 Anyone who doubted Russell Crowe's sincerity, after Les Miserables and Noah, fear not. This inspirational "based on true events" story of an Australian farmer's search for the remains of his three sons, who fought at Gallipoli but never returned, will be reminded that his elevation onto the A-list, following Gladiator and A Beautiful Mind, was no fluke.
And yet this is not a Hollywood picture. Like Baz Luhrmann's Australia it may contain elements of Tinsel's sentimental grandeur yet has a toughness with which only a nativeborn can empathise.

Connor (Crowe) loses his wife and sons as a result of and during the Dardanelles Campaign. The defeat at Gallipoli was a precursor, or rather a reflection, of what was happening in France - the horror of the trenches, the disdain for human life, the futility of war.
He leaves his isolated homestead in the Australian North West for Istanbul and from there to the battle grounds where British soldiers are attempting to put names to the multitude of corpses that litter the hillsides.
He is denied access and rebuked by officials at every turn until a chance encounter with Major Hasan (Yilmaz Erdogan), who was responsible for many of the Anzac dead, changes everything. Their collaboration and eventual friendship, especially when the Greeks attack the Turks and they find themselves in the thick of it, elevates the film to a higher level of excellence.
This and Ayshe (Olga Kurylenko), who might loosely be labelled the love interest, although her position as war widow, hotel administrator and vassal of an authoritarian brother-in-law, makes any romantic connection even harder than the quest for closure.
Crowe's commitment to Connor's story goes further than you might expect. He directs with conviction, taking risks that work for him - and for us.
A-list be damned. Crowe has come home.
Reviewed on: 03 Apr 2015
Share this with others on...