Eye For Film >> Movies >> The Sign Painter (2020) Film Review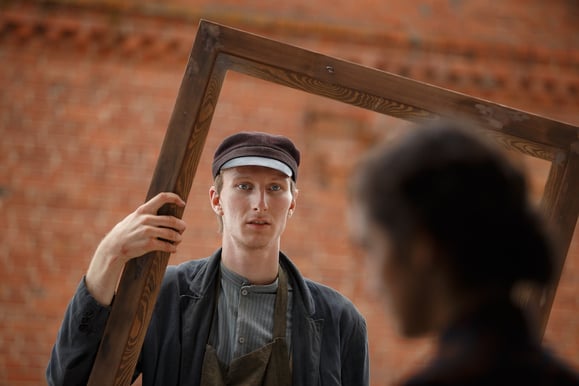 Latvian director Viesturs Kairiss takes a literally and figuratively off-kilter view of his country's turbulent history in his latest feature, that considers the rise and fall of the various dictatorships from the perspective of small town sign painter Ansis (newcomer Davis Suharevskis). Ansis is torn less by politics than the affairs of the heart as he falls for local girl Zisla (Brigita Cmuntova), much to the horror of her Jewish shopkeeper father, at the same time as being tempted by new girl in town Naiga (Agnese C?rule).
In terms of that literal off-kilter view, cinematographer Gints Berzins shoots almost nothing square on, the Dutch angles adding to a sense of the skewed viewpoint of Ansis and, more generally, a world that is not quite on the level for anyone. Kairiss, who has a background in theatre, takes an episodic approach to his narrative - adapted from the novel by Gunars Janovskis - dipping in and out of Ansis' small-town passions, while marking the wider political manoeuvring via his sign painting, as Soviet rule changes shop names to "trade enterprises", while the arrival of the Nazi's sees "Unity House" renamed "Culture House", as statues come and go.

Initially, Kairiss grounds the film in the humour of hapless Ansis' life - underscored by jaunty Lativian dance music from Juste Janulyte that breaks up the interludes - but as the runtime progresses, a more serious undertone about forced and shifting allegiances begins to hold sway. While the humour works well in early scenes, the episodic nature of the film prevents the love triangle between Zisla, Ansis and Naiga gathering the head of steam, it might. Although Kairiss' point is that Ansis is carried on the tides of his country's fortunes, his character could do with more flesh on the bones, while the inner lives of neither woman is revealed - they are little more than pawns in a male game - so it's hard to forge a connection with what should be the emotional crux of the film.
The director fairs better in considering the way that communites can both hang together and fall apart under duress like this - an idea given an altogether more serious treatment in the recent Czech film Shadow Country - with the shifting relationship with Zisla's father (Gundars Abolins), the most touching element of the film. While the tone proves slippery for Kairiss to fully control, more generally the lighter approach does make this an accessible consideration of the brutal impacts of the various shades of dictatorship in Latvia for wider audiences who might be turned off by darker treatments of the material.
Reviewed on: 19 Nov 2020
Share this with others on...